With Shadowkeep on the horizon, Xur has returned to provide us with some wares. Be sure to always take a look at his inventory to see if he has something you need for your collection, or maybe that perfect roll on your favorite armor to add that extra OP touch you've been looking for. Take a look at our rundown of Xur's inventory to decide if he has what's right for you.
This week, Friday 9/13/19, Xur is located at the Rig on Titan. He'll be in a building on the left-hand side, for those who haven't visited him in the Rig before. If you don't have a complete collection of exotic gear, don't forget to pick up the Fated/Isochronal Engram! Those really help in completing your exotic inventory for any exotics normally available as random drops prior to Joker's Wild and Season of Opulence. Now, on to the inventory!
Hunter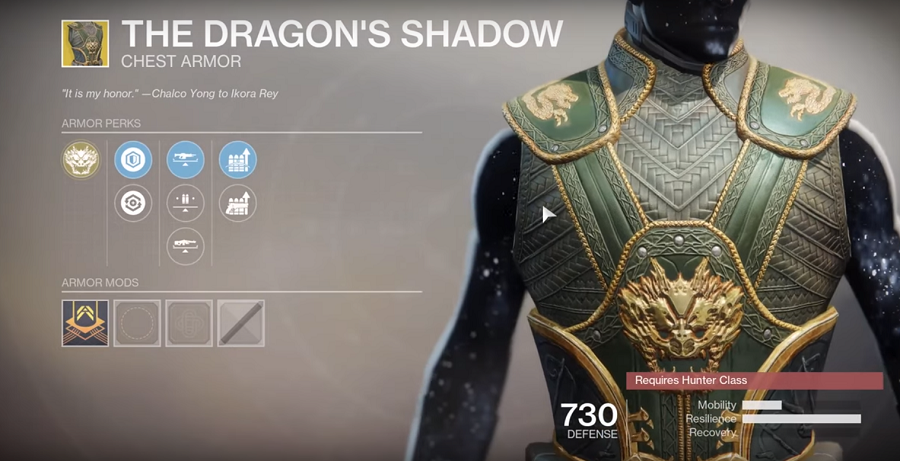 For the Hunters, you can purchase the exotic chest armor: The Dragon's Shadow. If you're a Hunter main, this is a must-have armor piece. Its intrinsic perk Gambler's Dodge works as thus: when dodging, every equipped weapon reloads. The other perks include Unflinching Auto Rifle Aim, Unflinching Energy Aim, Unflinching Machine Gun, Bow Reserves, and Hand Cannon Reserves.
Titan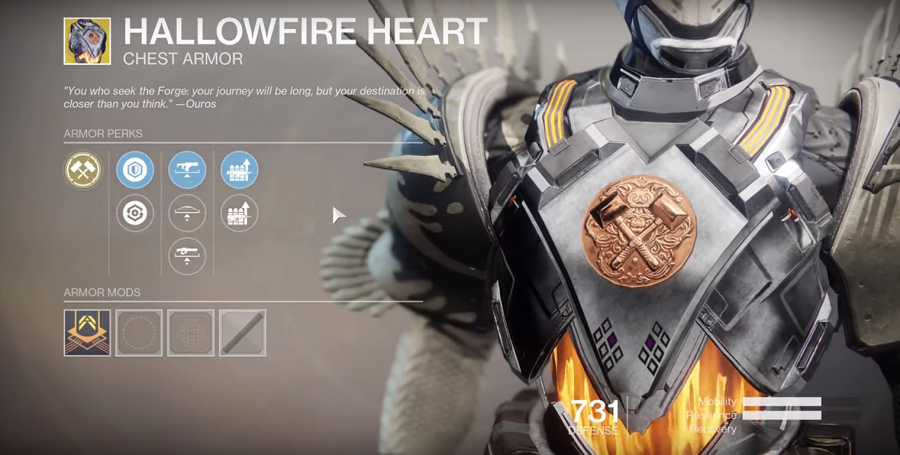 The Titans can purchase the exotic chest armor: Hallowfire Heart. Its intrinsic perk Sunfire Furnace greatly improves the recharge rate of your Solar abilities while Hammer of Sol is charged. It also includes Unflinching Fusion Rifle Aim, Enhanced Unflinching Bow Aim, Enhanced Unflinching Linear Fusion Aim, Auto Rifle Reserves, and Scout Rifle Reserves.
Warlock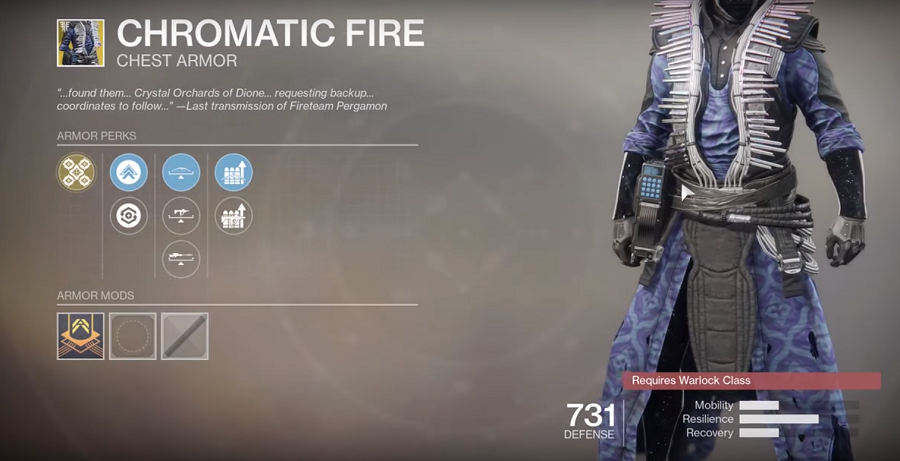 Warlocks can purchase the exotic chest piece Chromatic Fire. Its intrinsic perk, Crystalline Transistor allows players to weapon create an elemental explosion based on your current subclass when precision kills are obtained with a kinetic weapon. Other perks this week include Unflinching Bow Aim, Unflinching Submachine Gun Aim, Unflinching Sniper Aim, Bow Reserves, and Submachine Gun Reserves.
Weapon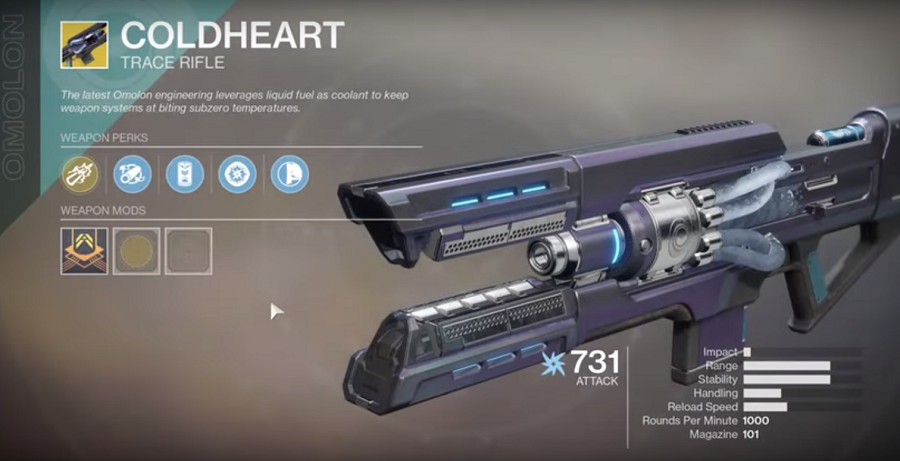 This week's exotic weapon is a Destiny 2 base-game original, Coldheart. Its first exotic perk, Cold Fusion, allows the Coldheart to fire in a beam made of Arc damage. Its secondary perk, Longest Winter, allows Coldheart to deal more and more damage the longer it remains on the same target. It used to be a must-have for Leviathan runs back when that was the only raid in Destiny 2!
You can buy each of the exotic armors for 23 legendary shards a piece and Coldheart for 29 legendary shards. 
Weekly News 
This reset brought 2x the Infamy, so if you're looking to complete any Gambit activity related quests, hop in! Now is the time to boost that Infamy score. TWAB informed us that the emblem being granted to those who participated in the Mars Community Event last week will be dropping next reset. Another weapon, activity, and quality of life changes are upon us too. Be sure to read the TWAB for more information.
Shadowkeep is three resets away and there are still events and activities to tackle before then. If you're looking for a mature group of Guardians to play some endgame activities or need some help with a difficult quest, consider joining our clan "Mules of War"! You can find more information about it in our Discord. Until the next time, Xur decides to grace our presence, remember: When in Doubt, BLOW IT UP!