In the gaming world, summer is usually a great time to work on those backlogs of old games you haven't had a chance to finish, but not this summer! Thanks to Xbox's Summer Spotlight, a plethora of new Xbox One games continue to release. This week, Xbox One owners have 9 new games to choose from. Offering a vast array of different game types, there's bound to be something for everyone. See below for complete descriptions, pricing information, trailers, and affiliate links to purchase these Xbox One games digitally (if available).  Please note that Mulehorn Gaming receives a small commission for purchases made through affiliate links. We appreciate your support of MHG!  Now, on to the main event!
Release Date: August 1, 2017
$49.99 USD
Shadow Tactics is a hardcore tactical stealth game set in Japan around the Edo period. Take control of a team of deadly specialists and sneak in the shadows between dozens of enemies. Choose your approach when infiltrating mighty castles, snowy mountain monasteries or hidden forest camps. Set traps, poison your opponents or completely avoid enemy contact. The group is composed of very different personalities. Working together as a team seems impossible at first. Yet over the course of many missions, trust is won and friendships are made. The characters develop their own dynamic and each member will have to face their own personal demons.
Release Date: August 1, 2017
$34.99 USD
The Long Dark is a thoughtful, exploration-survival experience that challenges solo players to think for themselves as they explore an expansive frozen wilderness. Monitor your Condition, search for life-saving supplies, and master survival skills like fire-building, maintaining your gear, hunting, fishing, and landmark-based navigation. There are no zombies — only you, the cold, and everything Mother Nature can throw at you. The hit Steam Early Access sandbox becomes the first survival game available on Xbox One!
Release Date: August 1, 2017
Free (Games with Gold)
Slime Rancher is the tale of Beatrix LeBeau, a plucky, young rancher who sets out for a life a thousand light years away from Earth on the 'Far, Far Range' where she tries her hand at making a living wrangling slimes. With a can-do attitude, plenty of grit, and her trusty vacpack, Beatrix attempts to stake a claim, amass a fortune, and avoid the continual peril that looms from the rolling, jiggling avalanche of slimes around every corner!
Slimetastic Features:
– Use your vacpack to vac up and shoot out anything you see!
– Explore a big, wild world in style… jetpack style.
– Your very own ranch to call home and customize!
– Countless slimes everywhere. Maybe too many if we're being honest.
– Create new slime types using slime science and PROFIT!
– Push your slime science experiments too far and PERISH!
Release Date: August 2, 2017
$19.99 USD
The Venturis Corporation wants their AI back. That's where you come in. Tacoma is a narrative adventure set aboard a high-tech space station in the year 2088. As you go about your mission, you'll explore every detail of how the station's crew lived and worked, finding the clues that add up to a gripping story of trust, fear, and resolve in the face of disaster. At the heart of Tacoma is the facility's digital surveillance system, which has captured 3D recordings of pivotal moments in the crew's life on the station. As you explore, echoes of these captured moments surround you.
You'll use your ability to rewind, fast-forward, and move through the physical space of these complex, interwoven scenes to examine events from every angle, reconstructing the multi-layered narrative as you explore. Tacoma is the next game from the creators of Gone Home, and carries on that tradition of detailed, immersive, and powerful storytelling, while pulling players deeper into the narrative than ever before.
Features:
-A Richly Layered Story Experience: Six crewmembers lived and worked on space station Tacoma, forming relationships, experiencing love and loss, and facing crisis together. Discover not just what happened to these people, but what makes them who they are, through your role as an interactive investigator. The story is told through a series of fully voiced and animated interactive AR scenes, immersing you in the events on Tacoma.
-A Groundbreaking Multi-Path Story System: In each section of the station, you are surrounded by digital representations of crewmembers following their own parallel story threads that diverge, recombine, and split off again. Rewind, fast-forward, and move through these scenes' chronologies as they swirl around you. Your interactive tools allow you to discover the tightly-knotted narrative from every angle, and in every detail.
-A Deeply Interactive Gameworld: Explore Tacoma Station both physically and digitally. Unlock doors and drawers to find meaningful objects, notes, and physical artifacts, while simultaneously exploring extensive records of the crew's digital communications and personal thoughts. Every facet of the crew's experience on Tacoma is part of your investigation.
-A Vision of the Future: Experience life in the year 2088. Discover a rich fictional universe that depicts humanity's expansion into low-Earth orbit and beyond. A deeply-imagined speculative vision of the near future from the award-winning story team behind Gone Home and BioShock 2: Minerva's Den.
-A Compact Narrative Experience: Tacoma is estimated to take around 2 to 5 hours to complete. How deep you dig and how much detail you find is up to you. Tacoma is a non-combat, non-puzzle-focused game. The details of the story and gameworld are there for you to discover at your own pace.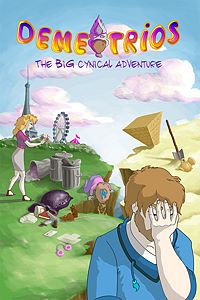 Release Date:  August 2, 2017
$9.99 USD
Demetrios is a quirky adventure game packed with tons of humor! Bjorn Thonen, a slob of an antique dealer living in Paris, is robbed one night after coming home drunk. Forced to conduct his own investigation with the help of his neighbor Sandra, he ends up involved in a murky, mysterious affair. Will these unlikely heroes be able to rise up and discover ancient secrets?
– A long, varied, standalone adventure (8 to 12 hours of gameplay)
– The Point & Click and Visual Novel genres mixed together!
– Over 15,000 lines of dialog
– Hand drawn art in 1080p
– A high level of interactivity
– Multiple, fun mini-games integrated into the story
– Search and collect hidden cookies for hints on every screen!
– Fully translated into English, French, Spanish, Italian, German and Russian
Release Date: August 4, 2017
$14.99 USD
Shift through bullets, and master lightning-fast takedowns in an all new kind of action game from tinyBuild and Team Shifty! Mr. Shifty follows a teleportation-fueled heist to break into the world's most secure facility. Shift through walls, through bullets, cover huge distances and be everywhere at once. One shot kills. Survive on skills. Use distraction, trickery, explore what's possible when stealth and action become one! Toy with enemies, laugh as they use doors to enter rooms Underestimate enemies, and cry as they use group tactics to outsmart Shifty.
Release Date: August 4, 2017
$9.99 USD
Race Arcade is the ultimate top down racing game with a strong retro feeling and super smooth gameplay. This fresh and evolved racing experience seamlessly combines all the best parts from the good old racing games with the most recent technologies. This is a big game with tiny cars and 100 tracks in diverse environments. Track themes vary from normal race tracks to ice roads, molten lava fields and even post-apocalyptic cities.
There are six different cars with unique driving models. The car selection varies from a sports car to a real UFO so there are plenty of options to choose from. In the extensive single player mode you can play competitive single races, fast time trials and lengthy careers. Race Arcade is also a perfect game to play locally with up to 6 players. Relax on a couch with your friends and race against each other in epic local competitions.
Release Date: August 4, 2017
$9.99 USD
Journey to another planet and discover its secrets in order to bring your loved one back to life. Experience an adventure, inspired by old school classics like Another World (A.K.A. Out of This World), Heart of Darkness and Flashback. The Way tells a story about a member of space explorers team, who lost his beloved one and cannot accept her death. Finding ancient writings on eternal existence during one of his last expeditions makes him come back there in search of the meaning of life itself. He will soon know that the planet has its own secrets and problems that he will need to face in order to get what he is looking for. Game Features:
– Immersing sci-fi story
– Mind-bending puzzles
– Unique alien planet to explore
– Retro style rich with animations
– Inspired by Éric Chahi's masterpieces
Release Date: August 4, 2017
$2.99 USD
The parrot is back from the dead bringing countless new insults for your disposal, Sir! Remember that silly game that parted lovers, destroyed families and turned friends into enemies? Here's its console incarnation!
Game Features:
Loner's Insult Tournament Mode: Battle your way through numerous unique situations and verbally assault your console
Real-Life Friends Mode: Berate your actual friends on a couch, ottoman, or whatever else you like to rest your backside on
Imaginary-Friends Mode: Verbally take down strangers from all over the world online.
Contentious Battle System: Employ combos, criticals, continuations and other new mechanics to outwit your argumentative opponents!
Keep that Summer feeling going strong with this newest line-up of Xbox One games! Plan on checking any of these out? Slime Rancher and The Long Dark have already achieved some critical success. Tacoma was showed off at this year's E3 press conference. Mr. Shifty impressed at PAX conventions. Give these new titles a shot, the price is right!