It's another week down in the Destiny universe and this week's edition will be way shorter than some other editions. I am still gathering information and working on an idea called Supers 2.0 to show how Stasis will be the stepping stone we need to see a major change to supers and abilities after Beyond Light. That is for another day so let's get into Xur and Trials loot!
XUR come on down!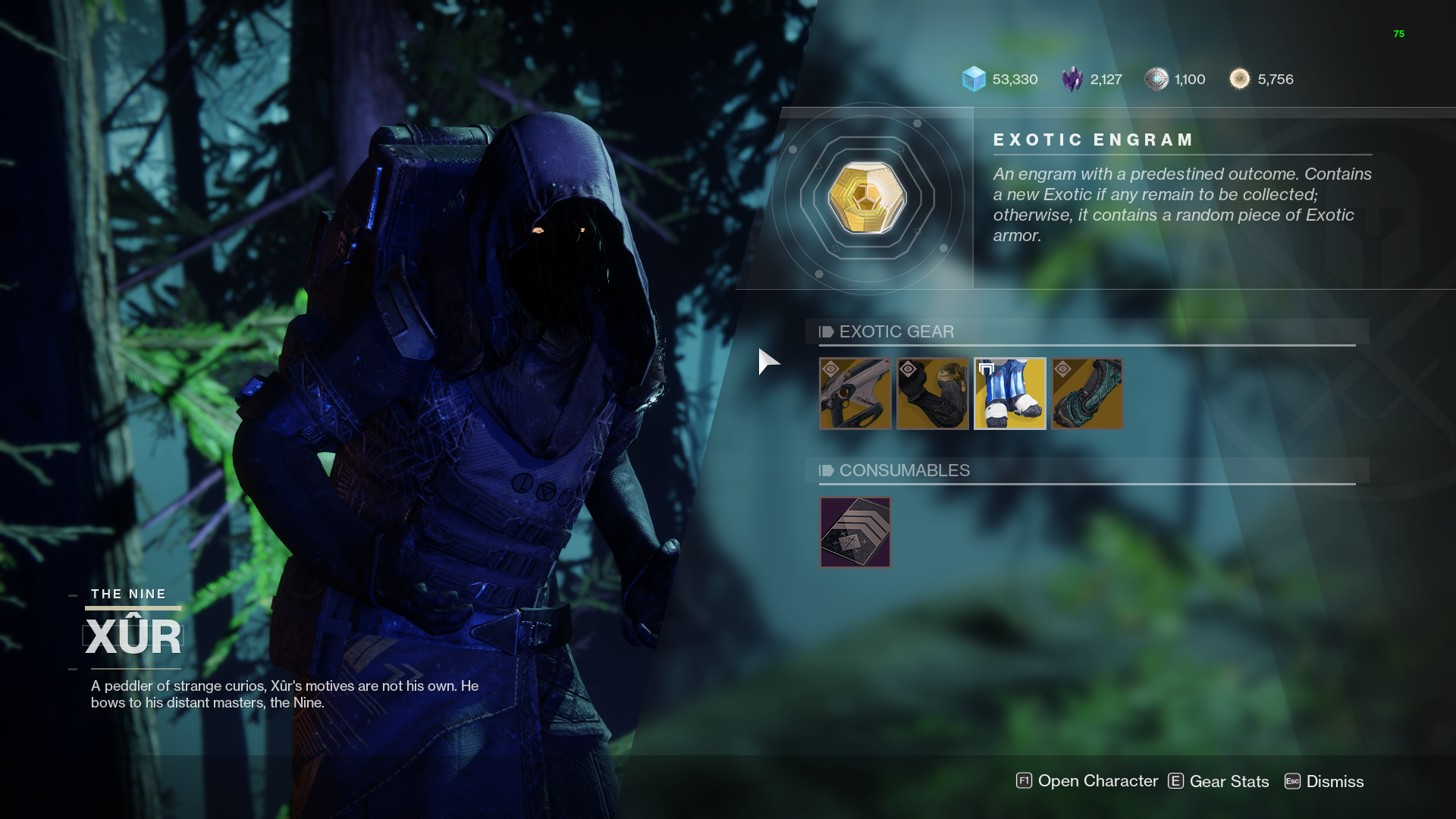 Xur this weekend can be found on the EDZ in his typical spot in the Winding Cove. He is a giant slap in the face to Hunters this week but the Warlocks and Titans come out really well for stats this week. Let's have a look at our exotic bearing friend.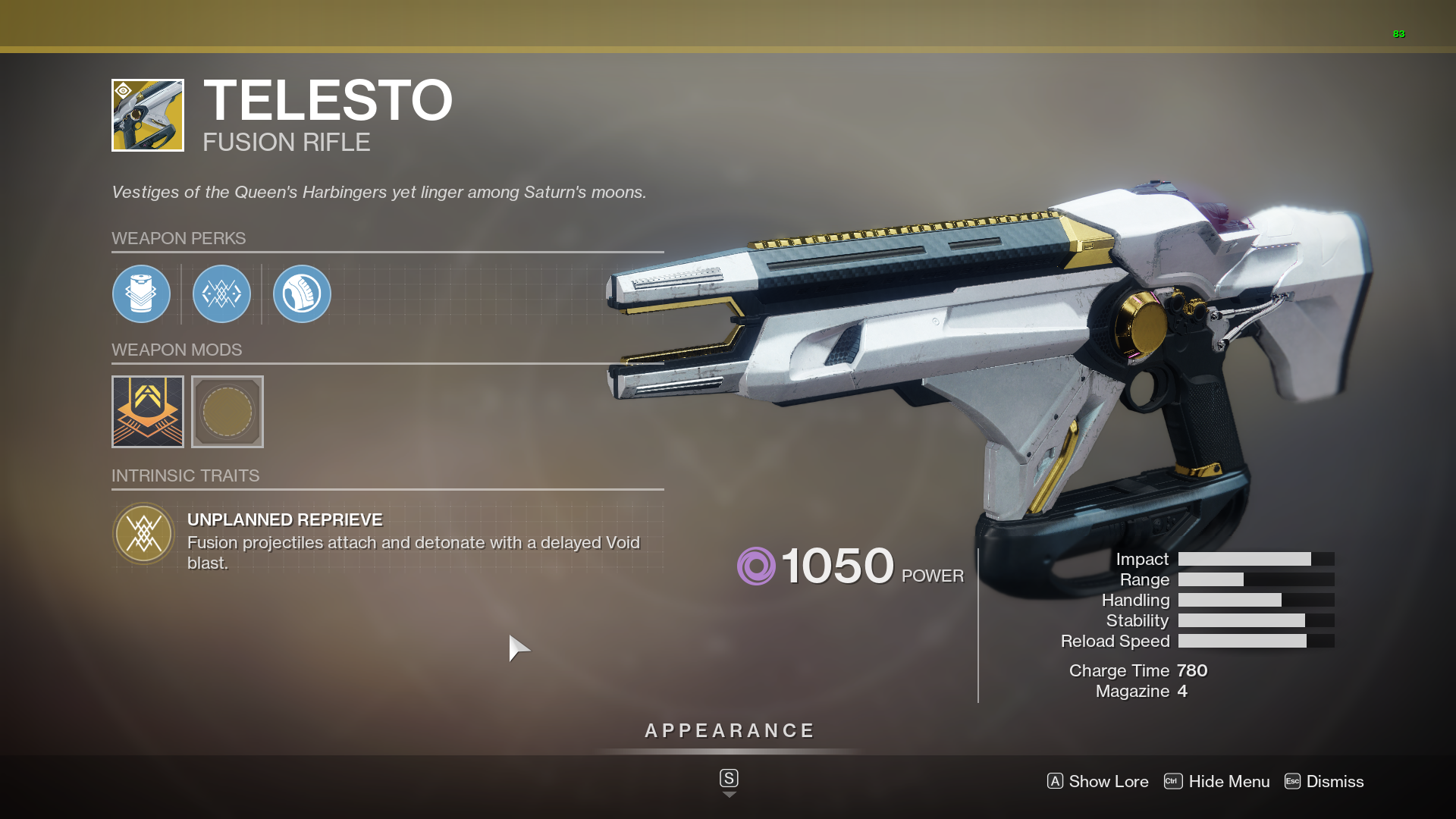 The Weapon
The exotic weapon for the week is Telesto, the gun that has been breaking Destiny 2 since it was introduced into the game. The exotic perk is called Unplanned Reprieve which allows fusion projectiles to attach and detonate to targets with a delayed void blast. This exotic fusion rifle is still a very good weapon and if you are fortunate enough to get the catalyst from the raid then you have an orb making machine on your hands as this will chew through enemies with no remorse. Definitely worth a pick up even though I despise playing against it in the Crucible.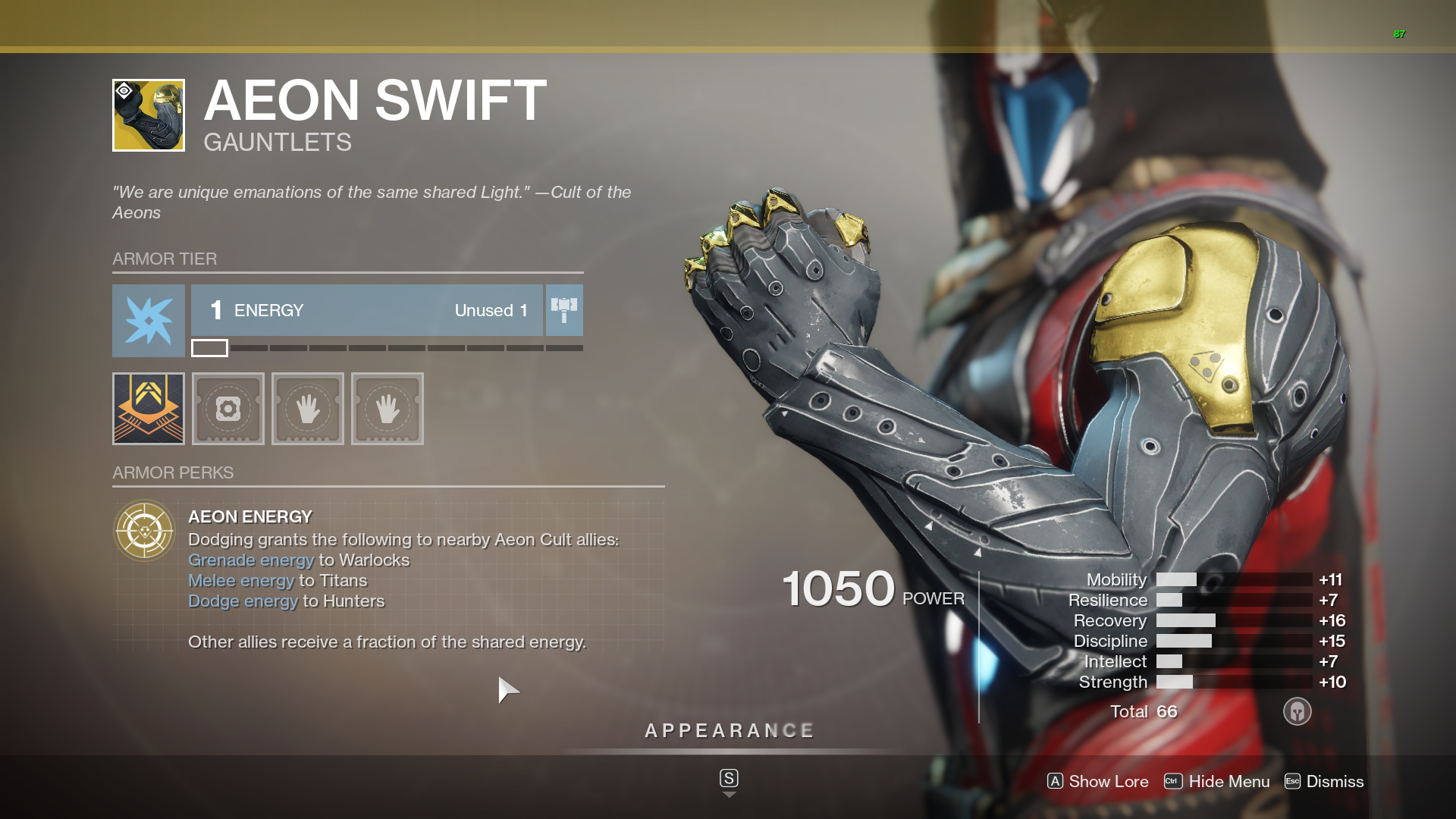 Hunter Gear
Hunters, I am sorry but this week we got the unfortunate luck of having the worst exotic in the game as our drop this week. The Aeon Swift gauntlets are here and come with a fantastic stat drop of 66! I really wish the Aeon exotics would receive some sort of a rework as their main perk Aeon Energy relies on multiple players wearing the exotic and using abilities to slow the cooldown of their friends' abilities. It gives grenade energy to the Warlocks, melee energy to Titans, and dodge energy to Hunters. I am really hopeful for these exotics to be changed in the near future! As of now, I would stay far away from these exotics as possible even though the stat is near perfect.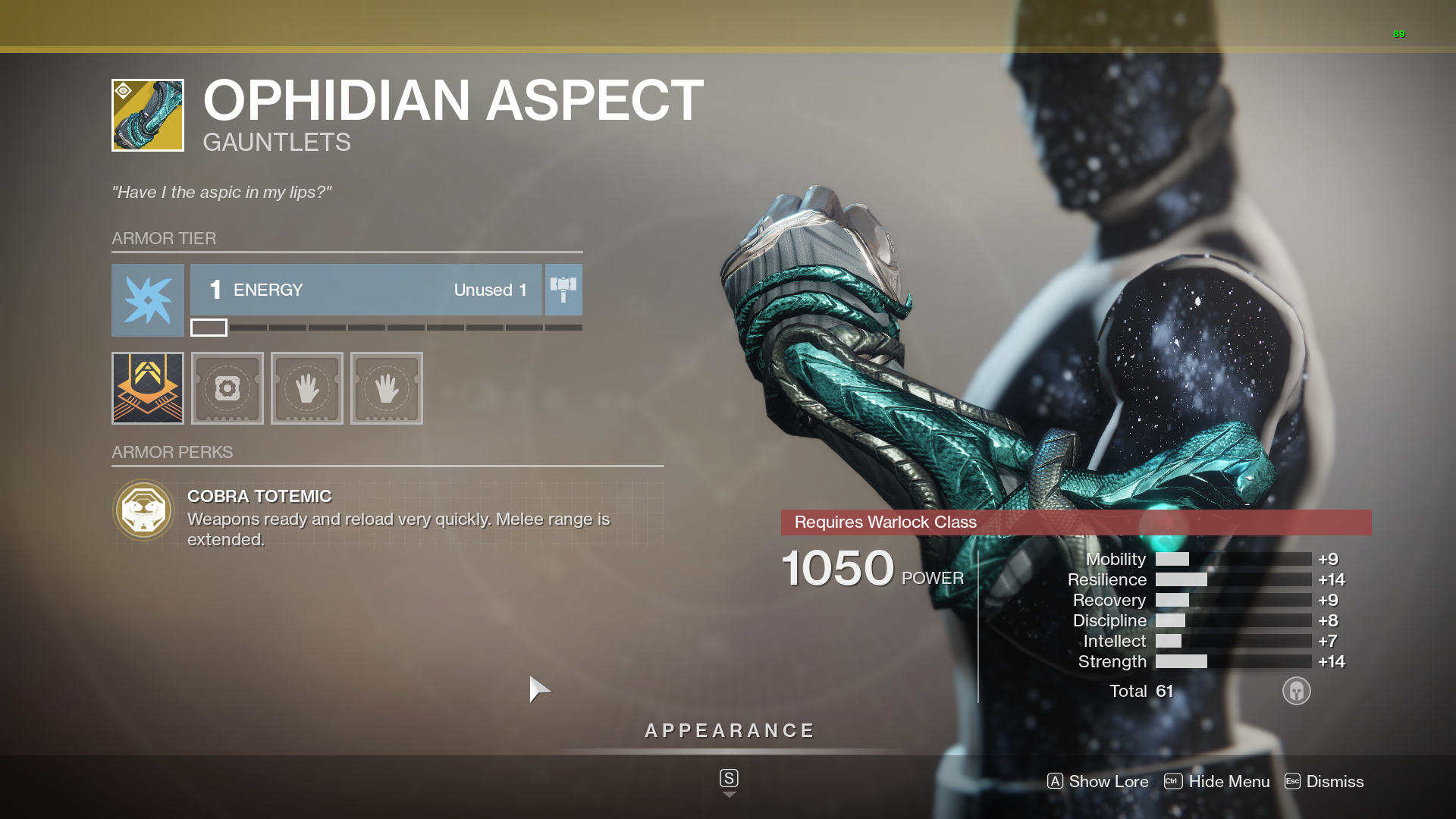 Warlock Gear
Warlocks, this week your exotic gear drop from Xur is the Ophidian Aspect. The exotic perk on these gauntlets is called Cobra Totemic which allows you to ready your weapons faster and also extends your melee range. This exotic is nice to have in PvP settings as it will add on to your already long-reaching melee up to 6 meters since the last update during Season of the Worthy. The stats on this exotic is a solid 61 with high Resilience (14) and Strength (14). If you haven't gotten these gauntlets yet or just don't have a good roll of them then I would suggest you pick these up over the weekend.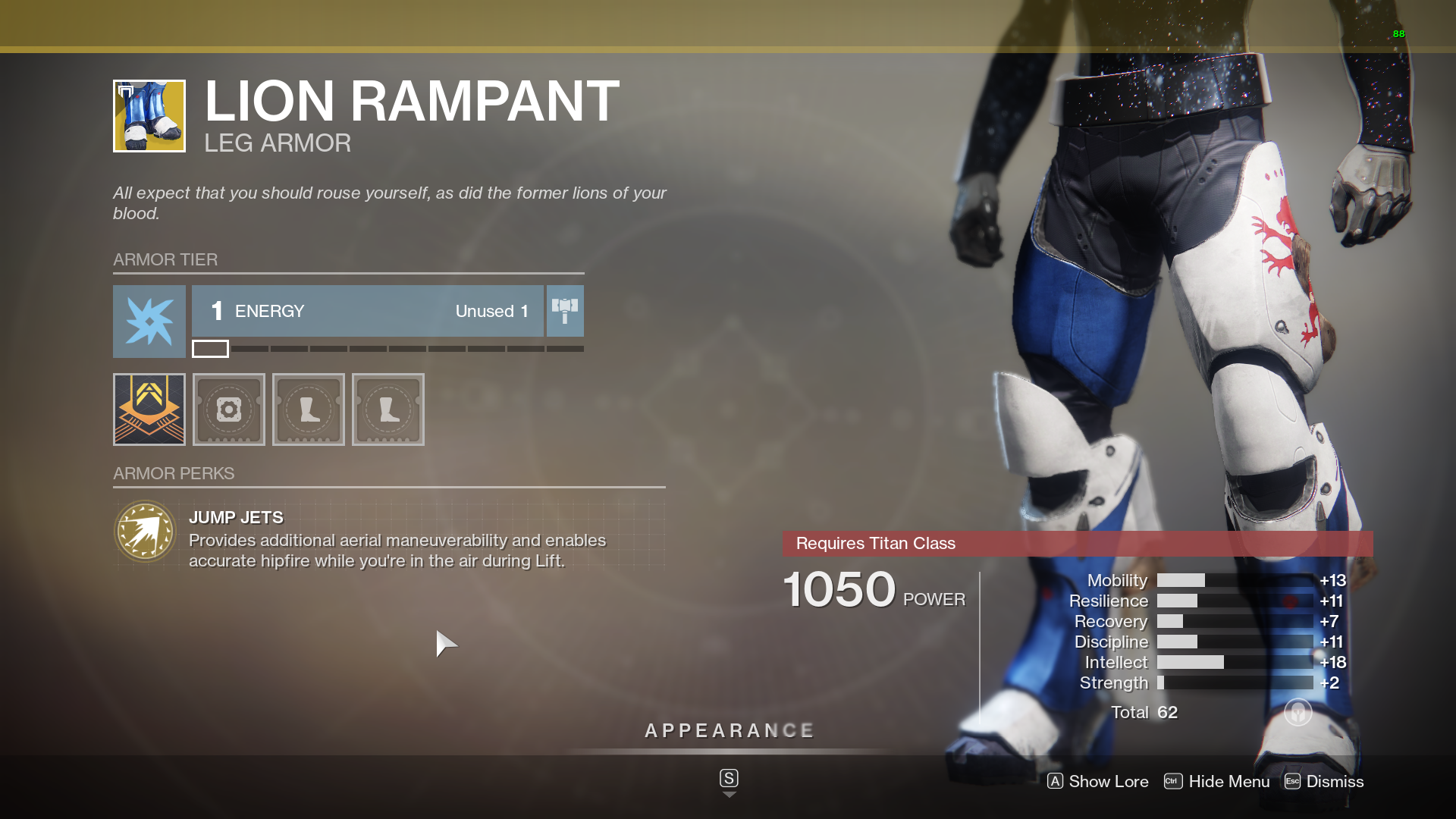 Titan Gear
Titans, you are up next and your exotic for this week is the Lion Rampants. The exotic perk is Jump Jets and it does exactly as it says providing more maneuverability in the air and also allows for accurate hip-fire while in the air. The stat roll this week is a 62 with Mobility (13) and Intellect (18) being the high stats. These exotic legs are great for those who struggle jumping to higher places and also like playing the game more airborne rather than on the ground. I would suggest using Skyburners Oath with these as you will feel like an AC-130 raining fire down on your opponents in PvE and PvP.

Summoning Trials 
This week's map for Trials of Osiris is Distant Shore which is one of my favorite maps in the game currently. My team has had decent success this week getting wins as we continue to strive for that flawless week! If you haven't tried trials this season I would highly suggest you give it a go this week as even if you don't get to 3 wins to get the loot there is a bounty that you will complete as you play games. This bounty will give you the three-win weapon which this week is the coveted Summoner Auto Rifle. 
3 Wins – Summoner 
5 Wins – Tomorrow's Answer 
7 Wins – Helmet 
Flawless – Class Item 
That is it for me this weekend. With not much news in the TWAB other than announcing Iron Banner is coming back next week and then Solstice of Heroes will be after that which I am hoping will give us the last exotic of the season. We still have a long way to go for Beyond Light and a lot to talk about between now and then. A Supers 2.0 article is in the works and I am super excited to bring it to you soon! Until then have a great weekend and there is no need to fear Und3rdog10 is here! 
-Und3rdog