It's been weeks since we had a New Comic Book Day and that's about to change this week. NCBD is back, well sort of…
Diamond Shutdown
On Monday March 23rd, Baltimore based Diamond Comic Distributors announced it would suspend shipments of new products "until further notice." This in response to the stay at home orders and closures of non-essential business across the country. While this sent shock waves through the comic industry it also sparked discussion. Would this spell impending doom for comic shops, or could this spark a change in how retailers receive their comics in the future?
As it stands now Diamond is planning to open back up in mid-May targeting May 20 as their next New Comic Book Day.  While this is great news to many, it will only help those retailers who are allowed to reopen by then.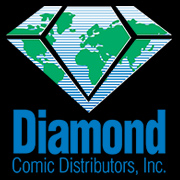 Credit:  Diamond Comic Distributors, Inc.
DC Stands Alone
On April 17th, news broke that DC Comics has procedure alternate distribution options for their books through Lunar Distribution and UCS Comic Distributors. Other publishers appear to be waiting until Diamond starts shipping again.  DC canceled all orders for titles that were supposed to release April 1st – April 22nd, and asked retailers to re-submit orders for upcoming DC titles through Diamond, Lunar, or UCS.  Depending on who you ask, some are criticizing this move from DC while others are applauding it. 
Here are a list of new titles that DC has planned to ship for Tuesday "New Comic Book Day" releases the next two weeks:
Tuesday April 28th
Daphne Byrne #4

The Dreaming #20

Batman Giant #4

Reprints of Batman #89 & Nightwing #70
Tuesday May 5th
Batman & The Outsiders #12

The Flash #753

The Green Lantern Season Two #3

Hawkman #23

House of Whispers #20

Joker/Harley: Criminal Sanity #4

Facsimile of DC Super Stars #17 

Credit:  DC Comics
Final Thoughts
It will be very interesting to see what impact these changes have on shops, and the market.  Could we see limited print runs for titles that were scheduled to release during the shutdown? Will books releasing over the next few weeks become scarce since only certain areas of the country will be open?
Diamond has really been the only distribution option for retailers for a long time. The recent move by DC could force their hand to adapt and change to meet those retailers' needs as new options emerge.  Having new comics delivered in any capacity is great news but it may take some time in certain parts of the country before shops will be open. The hope is sooner than later for those shops that really need to get back to business.
View previous week roundups, news, and reviews at the comics landing page, or jump into the Mulehorn Gaming Discord – #comics_collectibles anytime to talk comics! See you next week same Bat-time, same Bat-channel!