Welcome to the fifth episode of the First-Person Perspective! In this on-going series, we will take a snapshot of what going on in the world of First-person games. This week we will look at Apex Legends, CoD Modern Warfare, Fallout 76.
Apex Legends
Get ready Apex fans, starting today April 7, 2020 and running till April 21st, there is a new Limited time mode "The Old Ways." In a bit of a twist to the normal gameplay, The Old Ways adds PVE elements to the game. In Bloodhound's Trials, you and your squad battle against a hoard of prowlers and claim high-tier loot as your reward. But beware of the most dangerous game: fellow Legends.  As part of the Old Ways Event, you'll have the chance to complete daily challenges and earn exclusive cosmetics inspired by the latest Stories from the Outlands: The Old Ways digital short.
Fallout 76
The wait is almost over. Soon new faces will flow into the wilds of West Virginia and it will be up to you to welcome them with open arms (or loaded weapons). Fallout 76 owners will be able to experience the Wastelanders expansion for free on April 14 on Xbox One, PlayStation 4 and PC through Bethesda.net. Fallout 76 will also be coming to Steam on April 14, and Wastelanders will be available to anyone who purchases the standard or deluxe editions of the game. In addition to introducing fully voiced NPCs to the world of Fallout 76, Wastelanders brings a brand-new main questline, new locations, new enemies, new weapons, a new reputation system and much more.
Call of Duty: Modern Warfare
On April 8th Season 3 for Modern Warfare is set to drop. A slight change to the usual Tuesday drops of new seasons. The main character for this season is Alex from the single play story. There will also be some maps returning from the OG Modern Warfare and Modern Warfare 3. We finally get to drop into Warzone or Plunder as quads. Vehicle skins make an appearance in Warzone. There will also be new LTM's in both Warzone and MP game modes. Check out the promo pic below.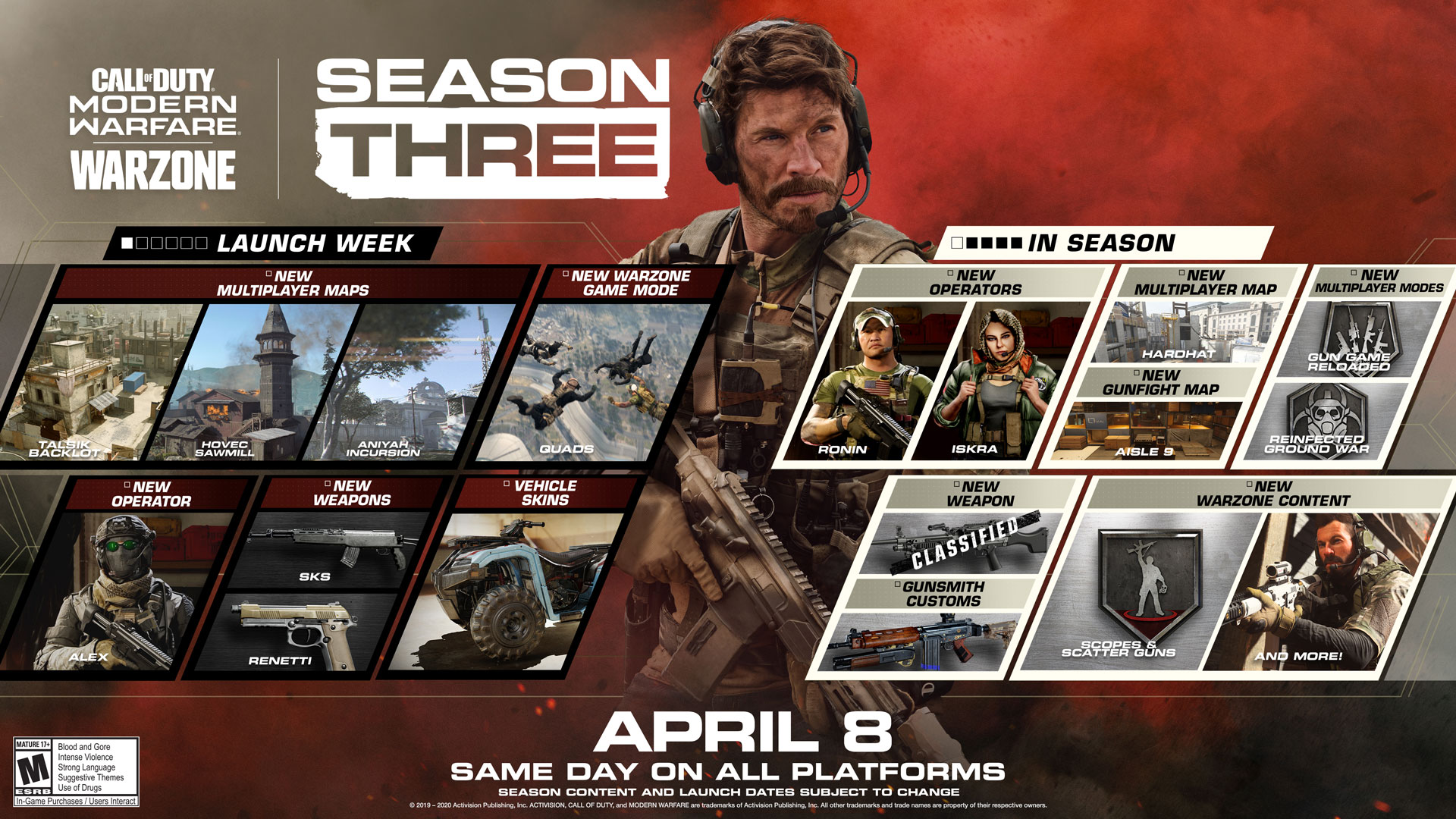 That's it for this week folks. Till next time if you want more up to date news and information follow us on Twitter, Facebook, or hit us up on Discord. As always be sure to hit up the main page for more great content.