Yub Nub! Ewoks are playable in Star Wars Battlefront 2 now with the latest update.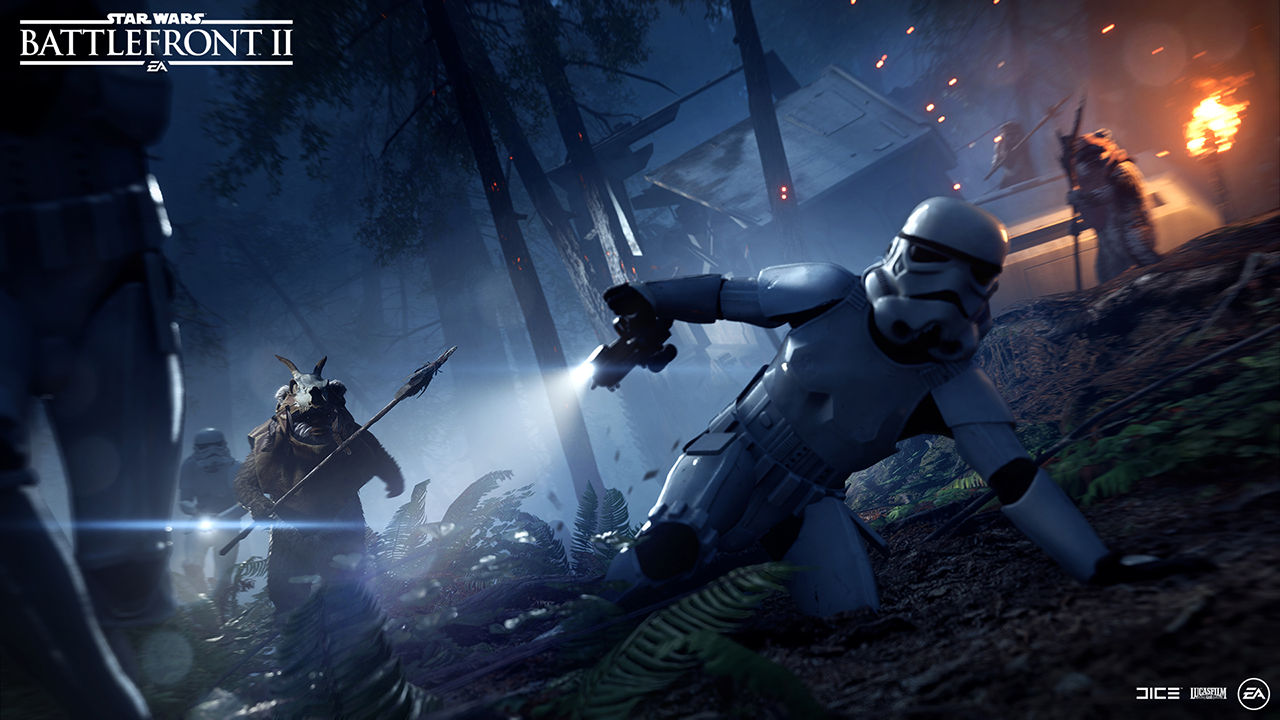 EA's Star Wars Battlefront II's latest update went live on April 18, 2018 for PC, Xbox One, and PS4. The update features a limited time only PvP mode set on the forest moon of Endor, the return of the Crystal based microtransaction system for purchasing cosmetic character skins and several other bug fixes.
Spears vs Blasters
The new Ewok Hunt PvP mode revolves around the cute, cuddly, and surprisingly efficient killers known as the Ewoks. The mode reminded me a lot of Spies vs Mercs from the Splinter Cell series, pitting heavily armed and armored Stormtroopers in first person perspective against the nimble, primitively armed Ewoks in third person.
Each round starts with 2 randomly chosen players taking the role of an Ewok and the remainder as Stormtroopers. It is the Ewok's job to ambush the Empire's forces and massacre them before salvation arrives in the form of a timed rescue shuttle. Each stormtrooper that dies subsequently respawns as an Ewok thus making life much more difficult for the Empire to hold out. The round ends when one or more of the Stormtroopers has boarded the shuttle or they are all dead.
Still Not Pay To Win But The Grind Remains
Microtransactions have made their return to a galaxy far far away. Crystals are back for purchase using real world currency but can now only be used to purchase cosmetic skins for the different classes/heroes. All skins can be purchased using the in-game credit system, but with costs as much as 40000 credits for a single skin this can be quite the grind.
All in all this update provides a great PvP mode that I believe any fan of the series would enjoy and I hope becomes a standard mode in the future. The economy changes still make for a long grind and are obviously weighted towards getting you to spend your hard earned money, but are still attainable without having to spend real world money.
What do you think about the new update? Leave us your thoughts in the comments below.