You read that title right, it's PRIME TIME!!! Lol, all jokes aside, Morbid Methods is off on vacation with his family, so you're stuck with me. Congratulations! New Comic Book Day is coming up and the next the Roundup of Comics is here. Indie titles are leading the way once again in my favorite department, aside from Marvel's two heavy hitters, of course.
Indie Spotlight
Dead End Kids #2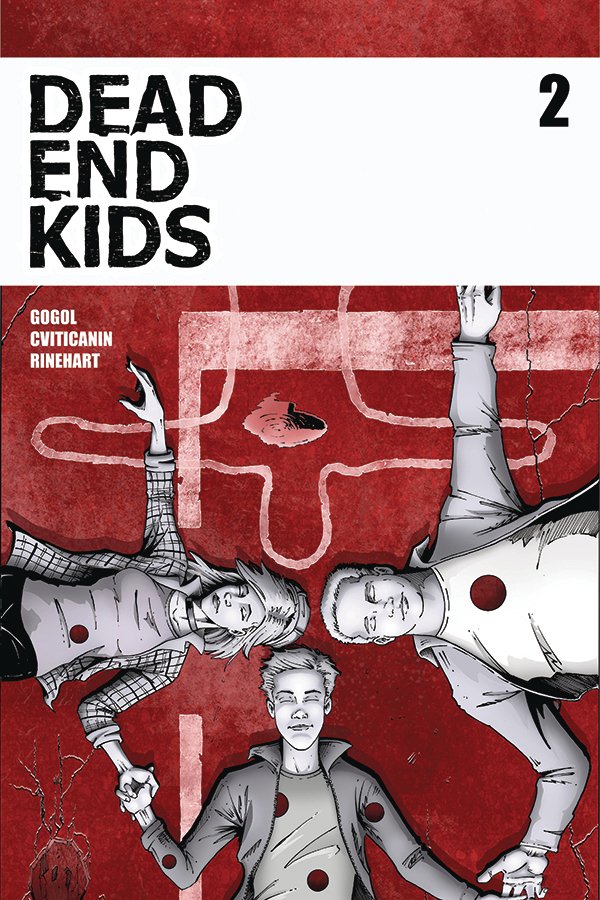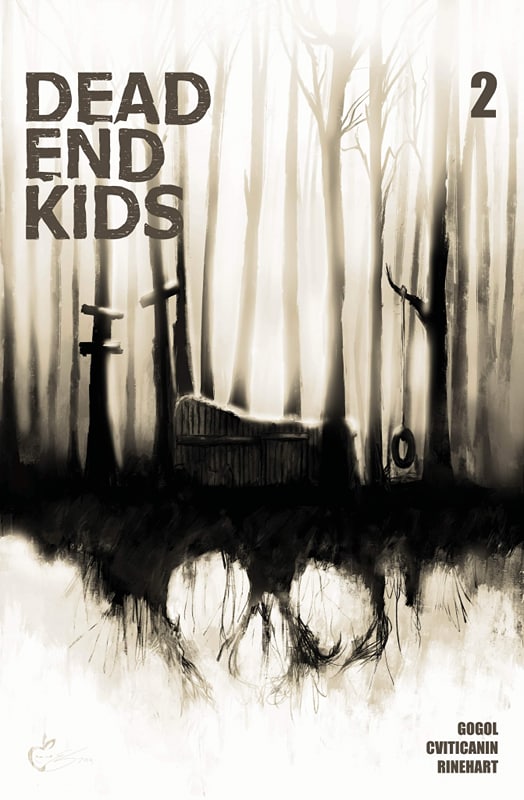 Dead End Kids #1, from Source Point Press, blew off the shelves, assuming your Local Comic Store was lucky to order any due to its low print run. Subsequentially, it blew up in the secondary market, and it's still selling multiple times over cover price. Luckily, the second print will be on its way September 11th. Reviews, came back mixed for this issue, however, advanced release copy reviews for issue #2 have been giving it much higher praise. You can find one review, by Morbid himself, for DEK #2 right here. As you can imagine DEK #2 is already seeing higher prices on eBay. Now the story continues as the kids come face-to-face with Ben's killer! And, as Murphy continues to take more drastic measures to avenge his friend, Tank and Amanda are faced with the question of how far are they willing to follow their friend down that dark path. Friendships are tested and broken.
Other Indie Releases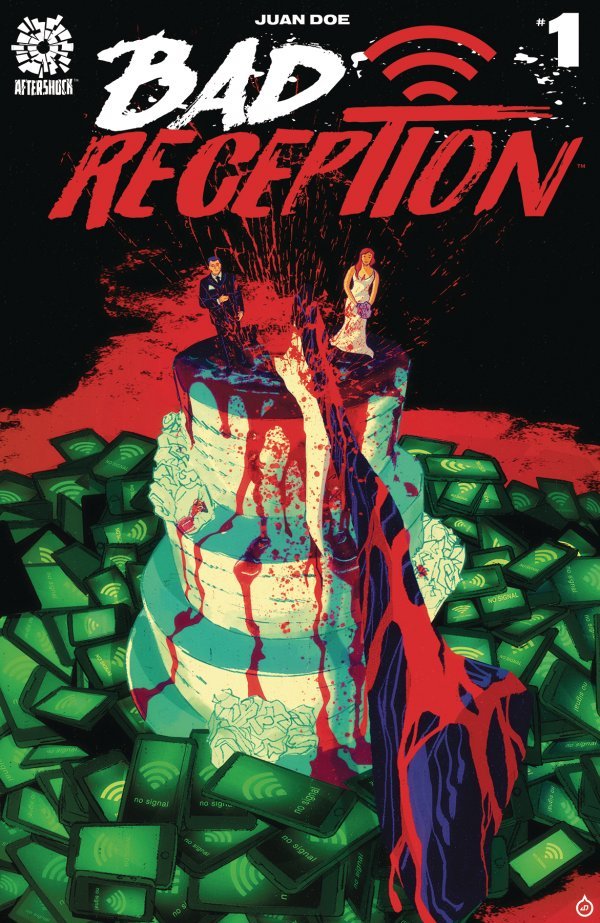 BAD RECEPTION #1
It's the celebrity wedding of the century, set in an undisclosed, remote location, with no access to wifi, cell phone reception or the outside world. But the dream wedding becomes a nightmare when, one by one, the guests are brutally slaughtered by a serial killer who brands his victims with a hashtag. BAD RECEPTION is a searing horror story that doubles as a topical, satirical critique on society's obsession with technology, social media and the cult of celebrity. Written and drawn by AfterShock's very own Juan Doe (DARK ARK, AMERICAN MONSTER, WORLD READER)! Sounds like a Black Mirro Episode.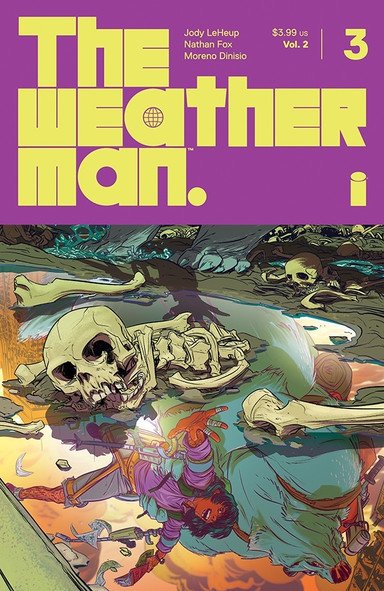 THE WEATHERMAN #3
Still reeling from last issue's shocking fatality, the crew of the Disco Queen carries on their relentless pursuit of the hard drive containing Nathan's lost memory. But a pocket of elite resistance fighters stands in their way and force our heroes to make an excruciating choice—continue on their path to stop a second planet-destroying attack, or save the survivors of the first one…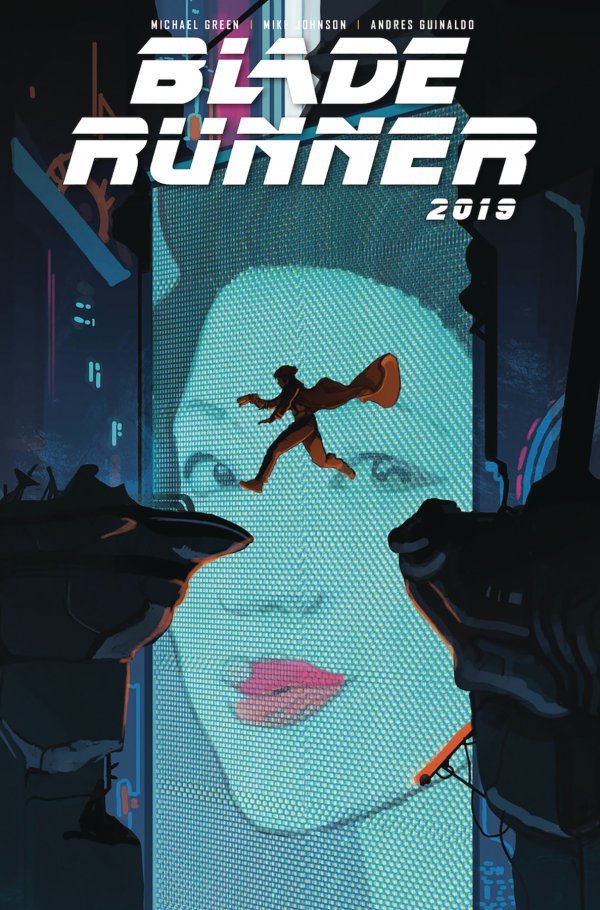 BLADE RUNNER 2019 #2
Return to the world of Blade Runner in an all-new ongoing comic series from the pen of Michael Green (screenwriter for Blade Runner 2049) and Mike Johnson (Star Trek), illustrated by Andres Guinaldo (Justice League Dark, Captain America)! Veteran Blade Runner Ash hunts down the kidnapped child of a billionaire, but he's not all he seems…
Marvel Spotlight
ABSOLUTE CARNAGE VS. DEADPOOL #1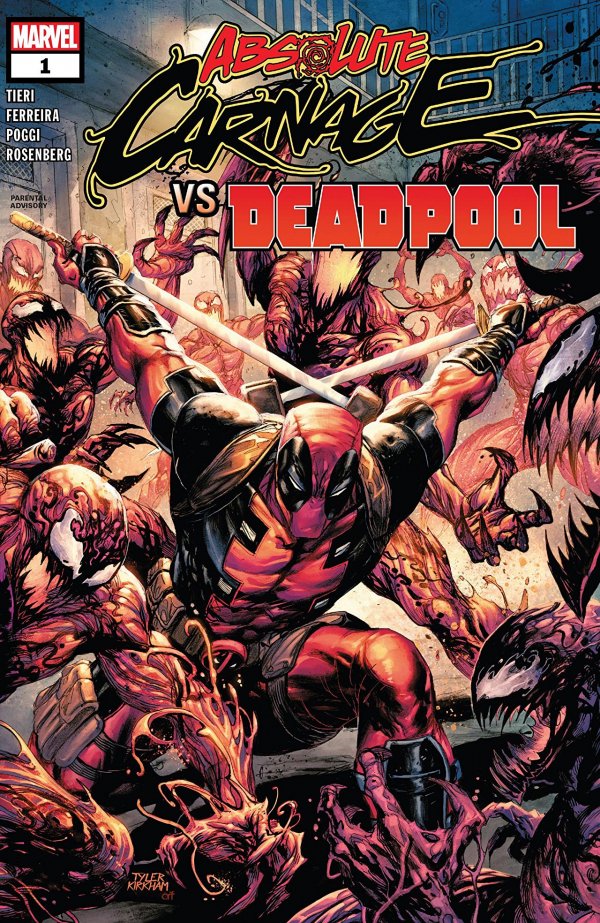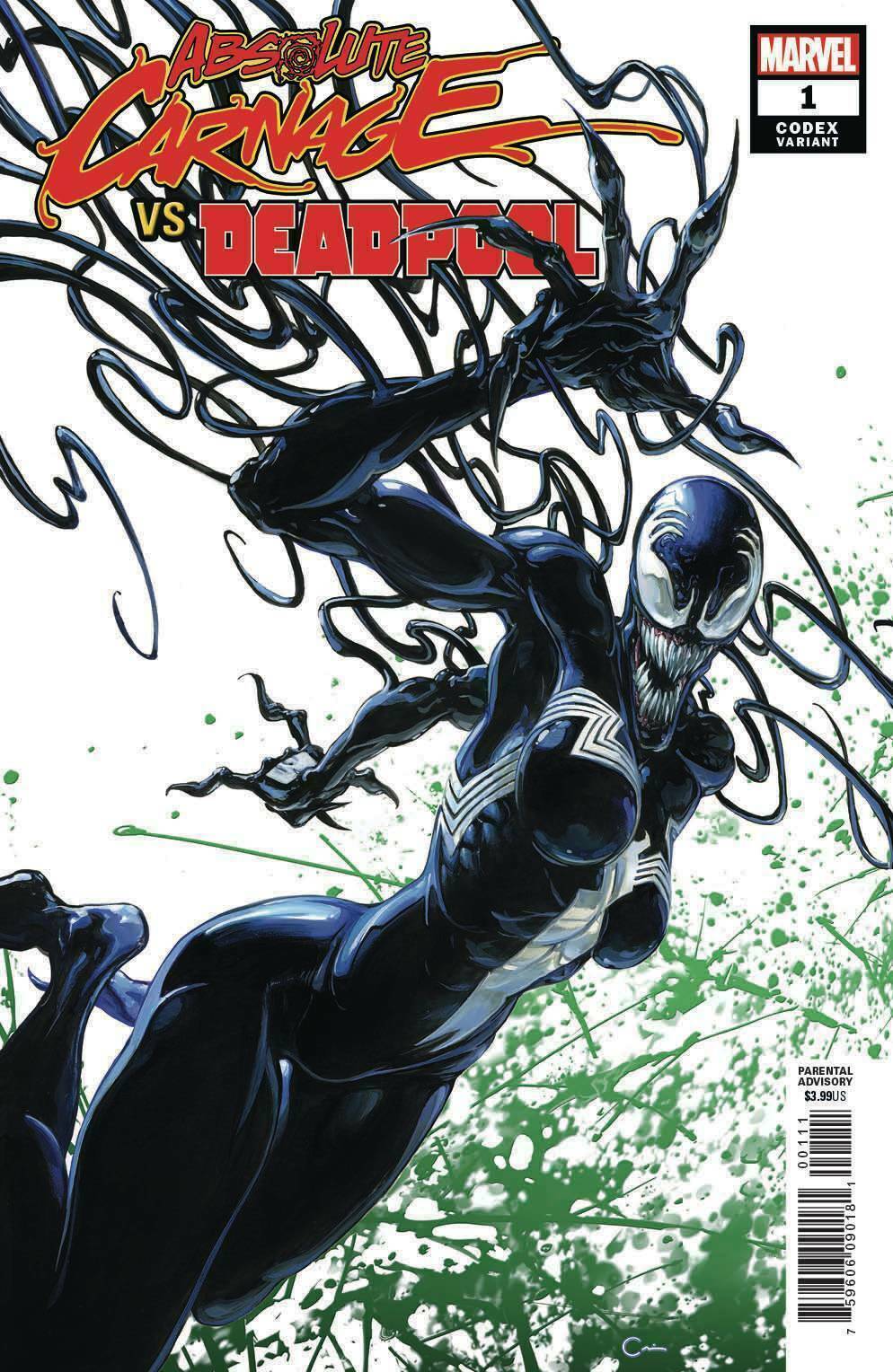 The Absolute Carnage event carries on, and now The Merc With a Mouth gets thrown back into the chaos! Deadpool on the Venomized story was just fantastic, writer Frank Tieri is not stranger top Deadpool and Carnage, so this should be awesome! LET'S GET CRAZY! At long last, Deadpool is ready to get his head straight and checks himself into Ravencroft Institute. Unfortunately, there's another new arrival: CARNAGE! But I don't think he's here for a group therapy session…Madness and mayhem abound in the can't-miss showdown of the year! This issue has 9 covers that I could find, one of which one by Rob Liefeld himself!
Other Marvel Releases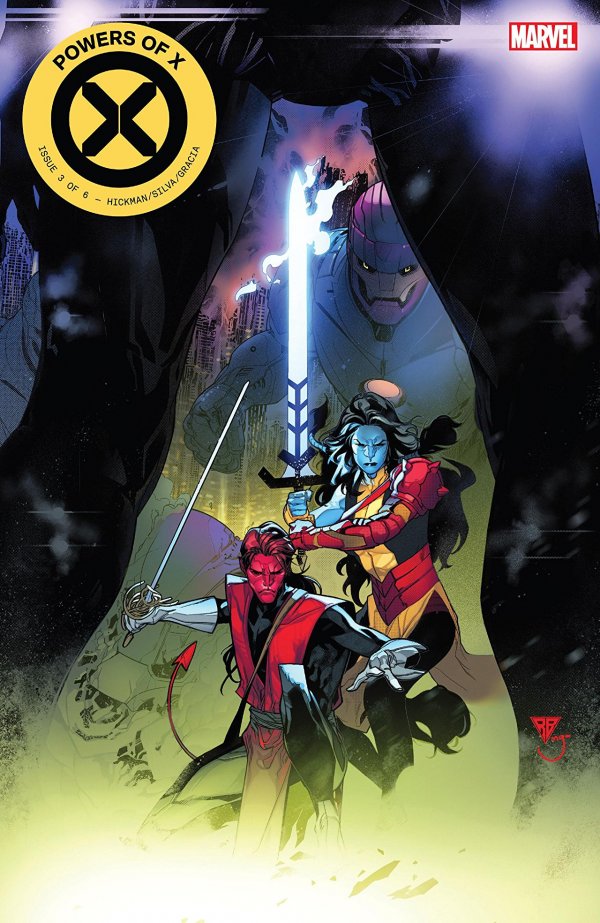 POWERS OF X #3
As Xavier sows the seeds of the past, the X-Men's future blossoms into trouble for all mutantdom. Superstar writer Jonathan Hickman (NEW AVENGERS, INFINITY, FF) continues reshaping the X-Men's past, present, and future with breakout artist R.B. Silva (UNCANNY X-MEN)!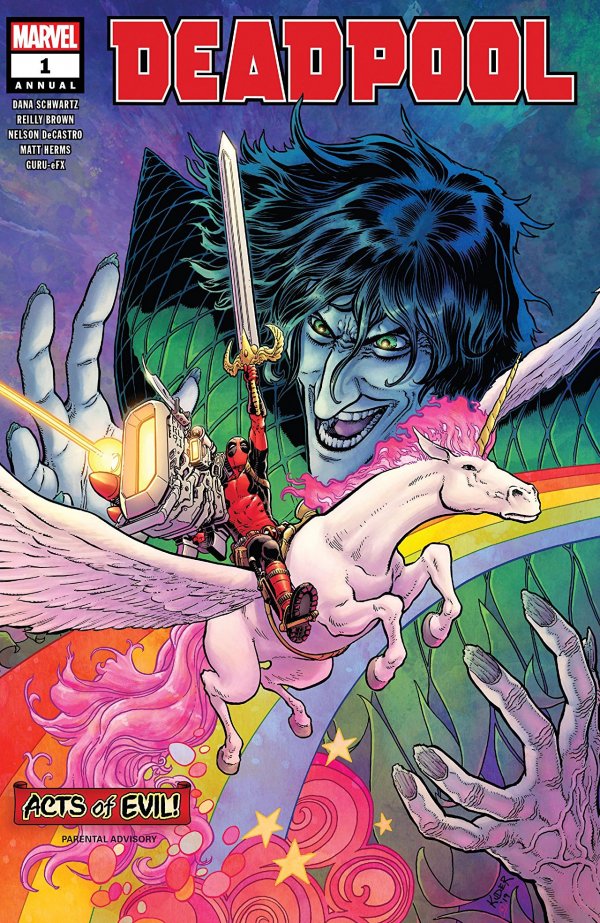 DEADPOOL ANNUAL #1
ACTS OF EVIL! Eight-year-old Peter Quincy is willing to pay seven dollars to the person who can kill his bad dreams, and the Merc with a Mouth is on the case! But if Deadpool wants to earn that sweet, sweet paper, he's going to have to throw down with Nightmare himself!
Quote from writer's twitter post. LOL "Things you will find in this comic book: -Deadpool cracking wise -a very scary garden gnome -a flying horse. Things you will not find in this comic book: -the joke about Scientology that the lawyers made me take out"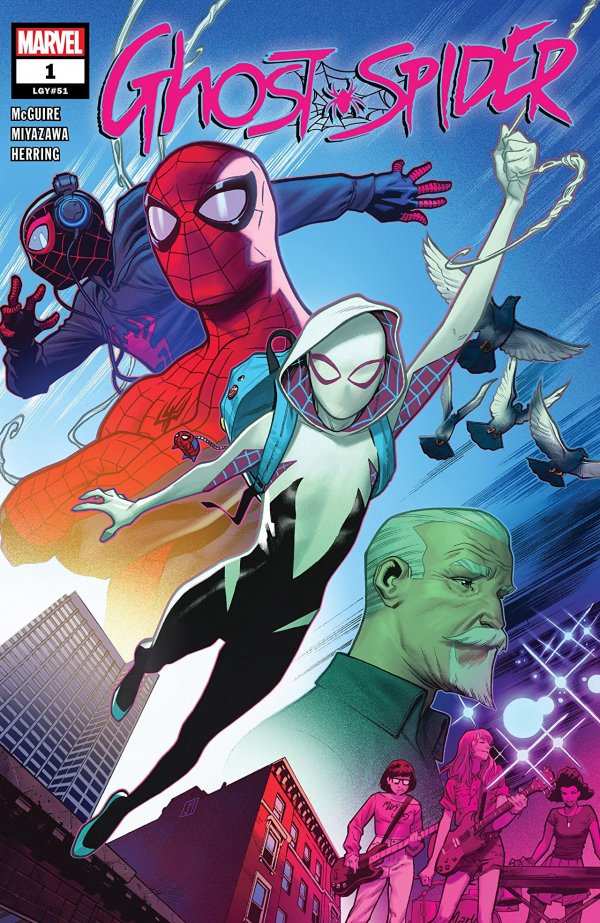 GHOST SPIDER #1
GWEN STACY MAKES HER WAY TO THE MARVEL UNIVERSE! With a cloud of infamy hanging over her head on Earth-65, GWEN STACY now travels to Earth-616 for superhero action…and school?! The newest student at ESU is about to get a crash course in multiversity as she splits her time between the world she loves and the world she's just getting to know! But what devious villain has eyes on Gwen's travels? Is Gwen ready for what comes next?
DC Spotlight
SUPERMAN: YEAR ONE #2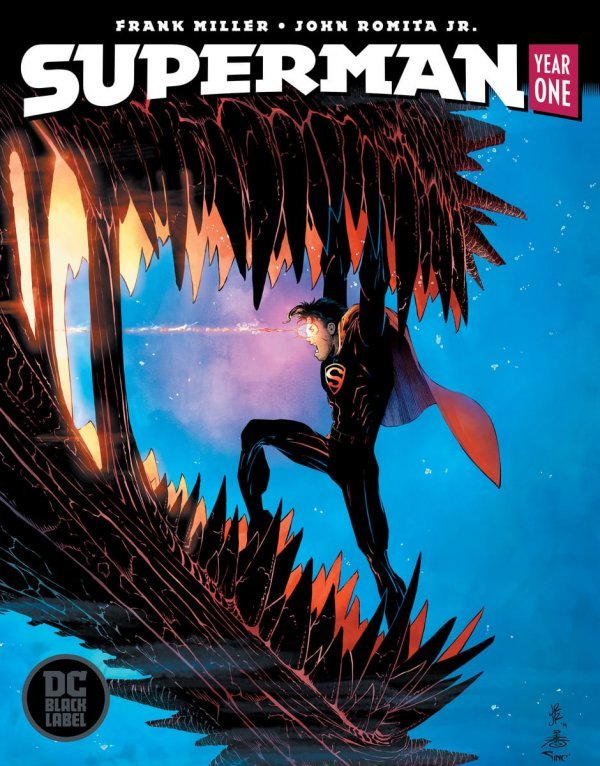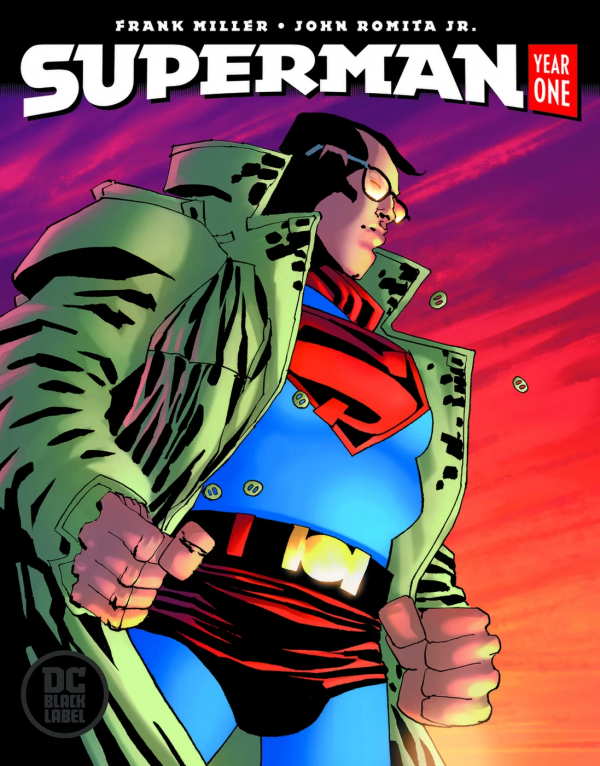 DC: Black Label keeps rolling out great stories. Superman Year One was hit in my opinion. Some disliked how Morrison wrote Superman, but many others like myself, really enjoyed this take on Superman growing up. Clark Kent's journey of self-discovery continues in the second installment of Frank Miller and John Romita Jr.'s remarkable reimagining of Superman's origin story. This chapter takes young Clark to the Pacific coast and beyond, as he discovers a place as sensational as he is…Atlantis! There he meets new people, finds love, clashes with gargantuan beasts and discovers the man he's meant to be.
Other DC Releases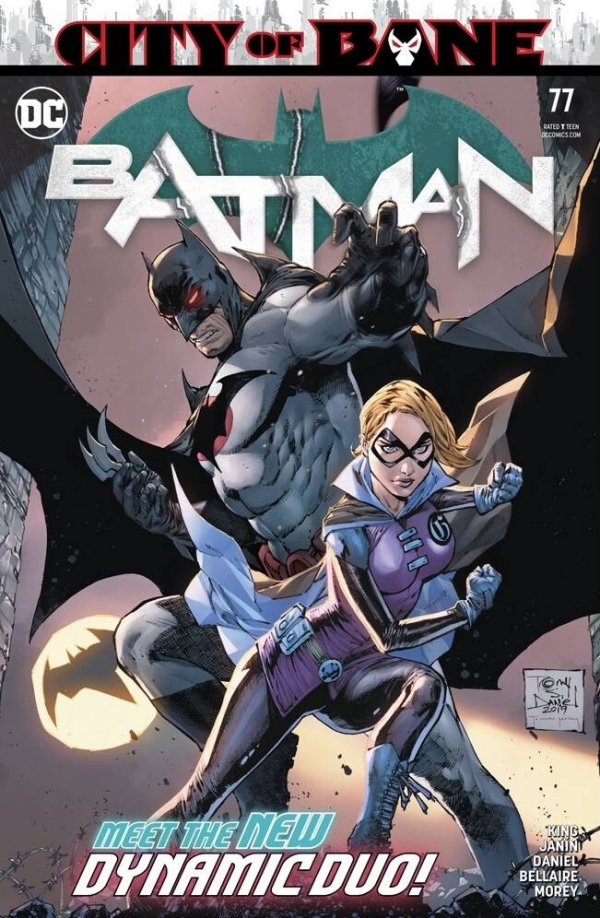 BATMAN #77
"City of Bane" continues! The last of the independent villains are on the run, leaving Gotham City entirely to Bane and his cronies—including Flashpoint Batman and Gotham Girl! Though this means a semblance of peace on the streets, the iron grip of tyranny is squeezing all life out of Gotham. And with Bane's machinations keeping other heroes out, the city really needs the Batman to return. Is Bruce Wayne ready to face his toughest foes yet…his father and the man who broke his back?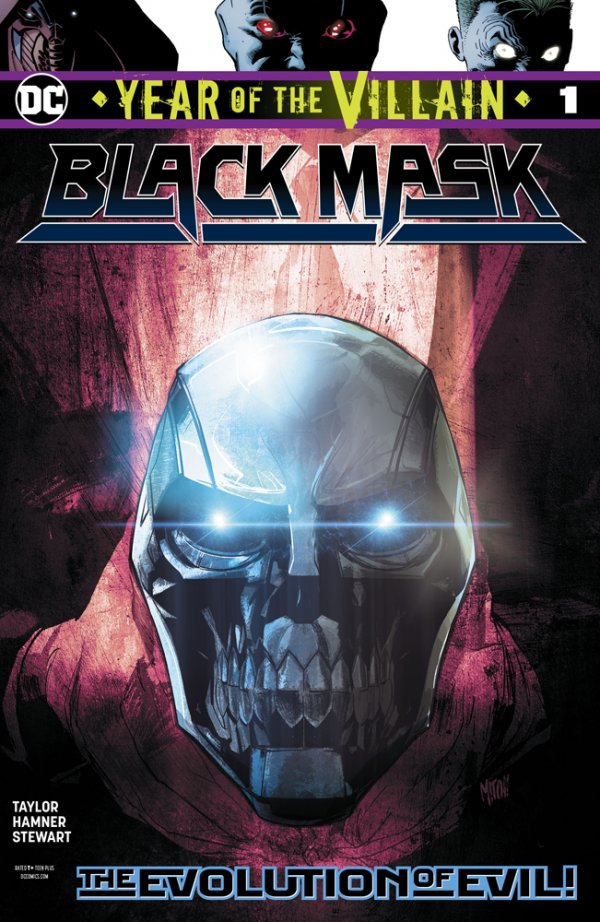 BLACK MASK: YEAR OF THE VILLIAN #1
Black Mask was one of Gotham City's most ruthless crime lords. He had money, power, and respect. But after months in the Teen Titans' secret prison, Roman Sionis is finally free. Given a new purpose and new abilities thanks to Lex Luthor's offer, he's found a new racket. Corporate crime not only pays better, but it's far less dangerous. At least until Batwoman discovers what he's up to and plans to put an end to Black Mask's latest power grab. Is Black Mask the same crime boss he's always been or has time and a new approach made him something far more unstoppable than he's ever been?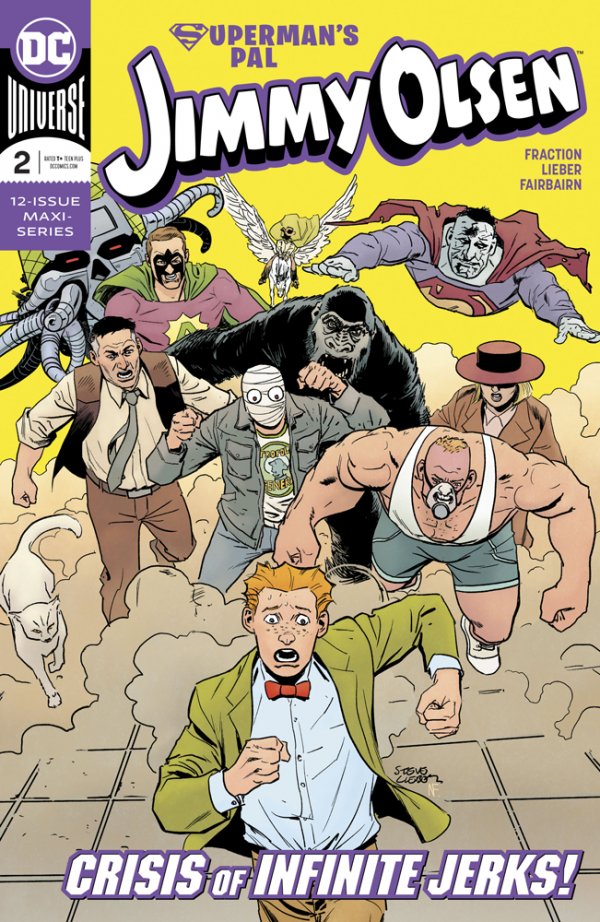 SUPERMAN'S PAL, JIMMY OLSEN #2
Only Jimmy Olsen knows what Superman's secret superpowers truly are-and now those mysteries will finally be shared with you! And only you. Don't tell anyone. And Jimmy won't have any of his pal's super-abilities to help him get out of his latest jam as he hits the dark and dirty streets of Gotham City!
Final Thoughts
It looks to be another budget consulting week for a lot of us. Indie titles are still pumping out great books, and making that secondary market work, due to low print runs. Marvel, however, is still holding the hill with their two powerhouses being loved by the masses. I'm not the biggest DC follower, but every DC Black Label book I have picked up I have really enjoyed. Batman seems to be in a great place right now, and the Year of the Villian one-shots are getting lots of hype. Happy hunting!
View previous week roundups, news, and reviews at the comics landing page, or jump into the Mulehorn Gaming Discord – #comics_collectibles anytime to talk comics! See you next week