Niantic Labs, developers of Pokémon Go, have announced Wayfarer – a replacement of Operation Portal Recon – a tool reserved exclusively for higher-level Ingress players. Wayfarer is already live, and with it comes the announcement that the tool will be made available "to eligible Pokémon GO players before the new year".
Where Do Pokéstops Come From?
Ingress, the godfather of location-based augmented reality games, began as a free-to-play mobile game requiring players to interact with real-world points of interest (POIs). As the player base grew, Niantic began allowing players to nominate new POIs to be added to the game. This database of POIs is Niantic's true product which it uses not only to enhance its games but has potential commercial applications as well.
While the ability to create submissions for new POIs has historically been limited to Ingress players, last year Niantic began rolling out the ability for top-level Pokémon Go players to do the same.
Reviewing Submissions
As with POI submissions being locked exclusively to Ingress, so too has the ability for POI submission review. Originally, all submissions were reviewed by Niantic themselves. However, once the volume and backlog became too much, they outsourced the task to the Ingress player community in the form of Operation Portal Recon (OPR). This application required a player to be at least level 12 – for reference, the max level in Ingress is 16 – and to pass a test about what constitutes a good candidate.
OPR's evolution into Wayfarer along with the announcement of the inclusion of Pokémon GO is groundbreaking. But don't get your hopes up just yet, trainers. While Niantic has pledged to allow Pokémon GO players into the tool by year's end, it's always best to pay attention to the fine print. The key words in the announcement are "eligible Pokémon GO players". If their past rollout of POI submission in Pokémon GO is any indication, players should expect to see Wayfarer limited at first to level 40 trainers in countries like Brazil or South Korea – wherever the need for an influx of reviews is greatest to address backlogs.
Wayfarer vs OPR
As far as updates go, Wayfarer seems to be a very nice upgrade. In addition to simply allowing users to review POI submissions, the application also allows users to view their entire POI submission history to keep tabs on what's been approved, what's been rejected, and what's still in queue.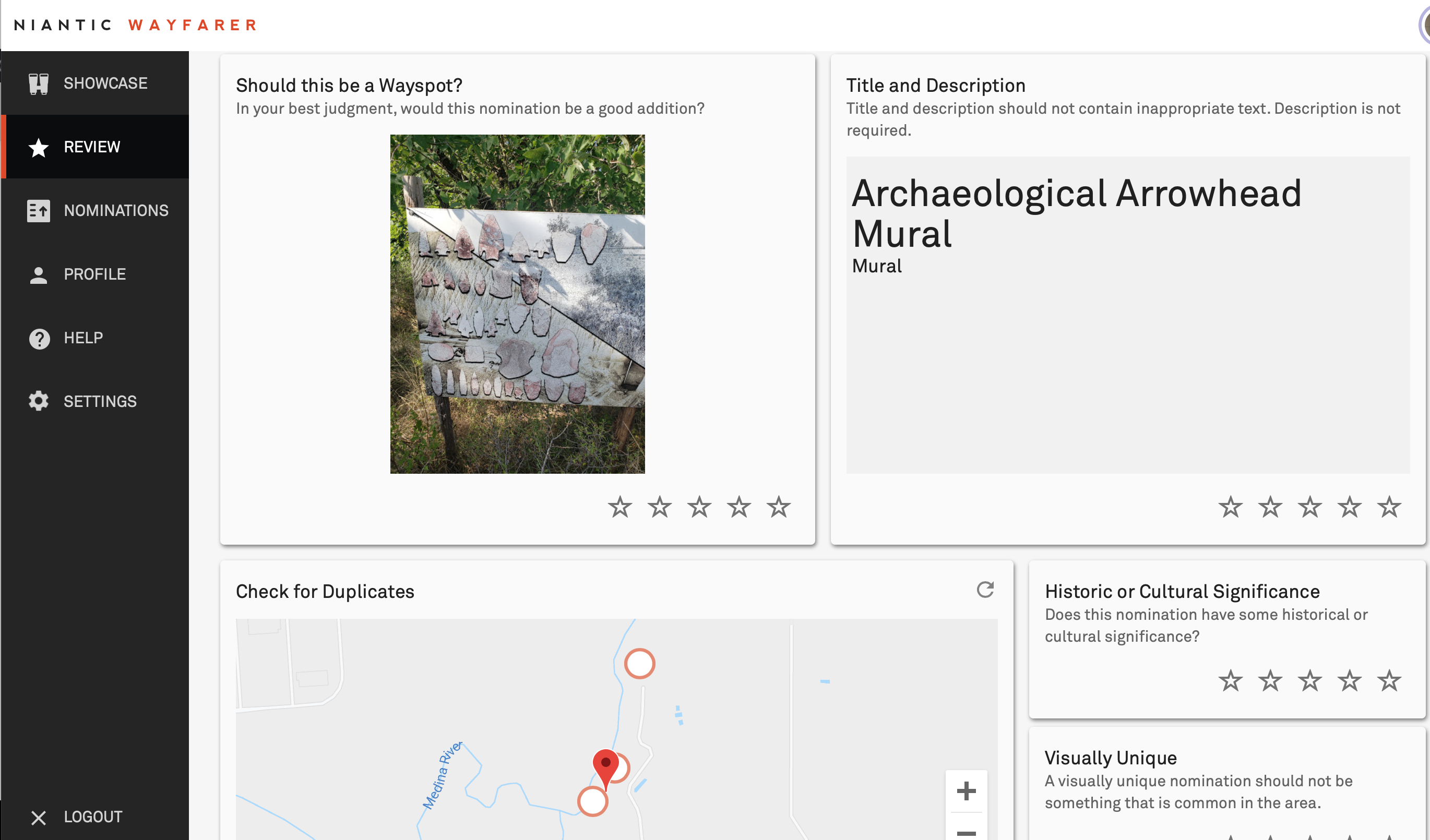 As part of OPR, for every 100 reviews you make where the community agrees with you, one of your own pending POI submissions gets upgraded and moved to the front of the line. In OPR, this was chosen at random. In Wayfarer, you're able to select which outstanding submission of yours you would like to be upgraded next. You're also able to edit your submissions, in case you've noticed a typo or would like to give a better description.
All in all, Wayfarer is a superior product to OPR and a major move for the future of Niantic's POI database – and the quality of life for players of all of Niantic's games.