Batman trudges the wastelands of Earth with his old pal's head in a lantern… enter Bane! Elsewhere, will the Batman Who Laughs get the last laugh? Powers of X continues the Dawn of X for the X-Men!  The Paper Girls gather for one final delivery!
DC Spotlight  
BATMAN: LAST KNIGHT ON EARTH #2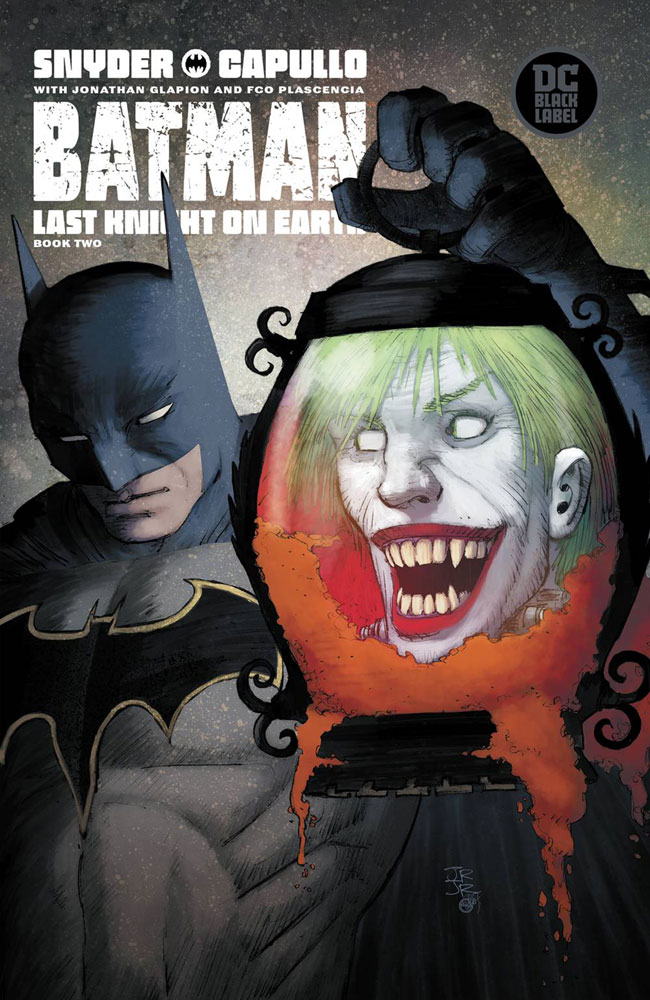 Scott Snyder and Greg Capullo's work together has been something truly special, and this is their final Batman story. Each issue of this three-part miniseries is 48 pages long. DC really pushed marketing on this title and generated a ton of anticipation. The pair do a great job of creating tense moments with a splash of horror. After finally getting our hands on issue #1, it's safe to say we were left with more questions than answers. The preview for issue #2 does not provide more answers, but the cover art says that villains from Batman's past will be showing up to make things more complicated for the Dark Knight. In his search for answers, there is hope that our hero while traversing the wasteland may find an unlikely ally. There will be a Joker in-a-lantern variant cover from Jock, and given that it's a DC Black label title these books are constructed with top-notch quality!
Other DC releases
THE BATMAN WHO LAUGHS #7 – It's the final showdown between Batman and the Batman Who Laughs…but how do you defeat a foe who knows your every instinct and every move? Bruce Wayne will have to outsmart Bruce Wayne in this ultimate test of good versus evil. You can't miss this finale to the epic miniseries that will tear up the very foundations of Gotham City! David Finch's variant is a must pull for the hardcore fans. Two other titles from the Batman universe this week are BATMAN SECRET FILES #2 which is a tie-in for the "City of Bane" mini-series, and RED HOOD: OUTLAW ANNUAL #3.
THE GREEN LANTERN ANNUAL #1 – A Green Lantern tradition is reborn when the annual Jordan family reunion takes a turn for the bizarre, leaving Hal and his nearest and dearest on the front line of a terrifying invasion from an impossible reality that's closer than you think! There's only one way for intergalactic lawman Hal "Green Lantern" Jordan to prevent the ultra-crime of the millennium—but what will be the outcome when Green Lantern takes on a young superhero sidekick? And who will it be? Also featuring an incredible guest appearance by the strangest Lantern of all—you must not miss THE GREEN LANTERN ANNUAL!
JUSTICE LEAGUE DARK ANNUAL #1 – Swamp Thing takes center stage in this one-of-a-kind story that will change the Green forever! After the fall of the Parliament of Trees, the Parliament of Flowers and its new guardian have risen. It's now up to Alec Holland to convince him to become a benevolent protector of the world, but little does he know, a foe from his past, the Floronic Man, is trying to sway the guardian as well. Which path will the King of Petals choose? The fate of mankind depends on it!
Marvel Spotlight
POWERS OF X #1
FEAR THE FUTURE. Superstar writer Jonathan Hickman (INFINITY, NEW AVENGERS, FANTASTIC FOUR) continues his revolutionary new direction for the X-Men. Intertwining with HOUSE OF X, POWERS OF X reveals the secret past, present, and future of mutantkind, changing the way you look at every X-Men story before and after. Just like last week with HOUSE OF X, there will be 13 variant covers to choose from.  Be on the hunt for the Hidden Gem Variants pictured above including a Jack Kirby 1:100 tribute to his X-Men #10 cover, a Mike Deodato 1:200 virgin variant, and a Mark Brooks 1:500 connecting variant to name a few.
Other Marvel releases
VENOM ANNUAL #1 – VENOM VS. LADY HELLBENDER! After a busy few months, Eddie Brock and the symbiote are back together, but their union isn't so perfect anymore… Meanwhile, the galaxy's fiercest monster hunter is headed to Earth with a taste for Klyntar… Plus! The Origin of Lady Hellbender! There is a connecting variant by John Tyler Christopher, and a 1:25 Rian Gonzales variant too.
AVENGERS #22 – THE CHALLENGE OF THE GHOST RIDERS STARTS HERE! Robbie Reyes wants to get rid of the flame-headed monster inside him. So it's time to do the common sense thing: perform an exorcism on his car. The only problem is, Johnny Blaze, the king of Hell, has some plans of his own for the newest Ghost Rider and his Avengers friends. This will help launch the new series BEWARE OF THE GHOST RIDER coming in October, symbiote variant cover available on this one.
DEATH'S HEAD #1 – Rising stars Tini Howard & Kei Zama take on Marvel UK's hottest character, Death's Head, in a new miniseries! When a job goes wrong, intergalactic mech merc Death's Head wakes up half-assembled at a punk show! And if the crowd full of deodorant-eschewing youths wasn't enough, the Young Avengers show up! Well, half of them anyway. Hulkling and Wiccan face down the best freelance peacekeeping agent in this universe! Three variants are available including a Mike McKone 1:25, a Liam Sharp 1:50, and a John McCrea connecting variant.
Indie Spotlight
PAPER GIRLS #30
The sci-fi adventures of our favorite 12-year old newspaper delivery girls Erin, MacKenzie, KJ, and Tiffany come to a close in this final time-bending issue for the series.  Paper Girls won two Eisner Awards in 2016 for Best New Series and Best Penciller/Inker. Just announced, Amazon Studios is developing a TV series based off the comic series! The double-sized final issue features 44 pages of original story with no ads.  It's all been leading up to this—the deeply emotional series finale of PAPER GIRLS!
Other Indie releases
SPAWN #299 – "WAR TO 300," Part Two LAST ISSUE BEFORE SPAWN 300! Witness the debut of TODD McFARLANE's newest creation—The Rapture! Heaven's answer to the mythic Four Horsemen of the Apocalypse, these eternal warriors are tasked with eliminating the plague called humanity from the face of the Earth. The WAR TO 300 rages! Next month, new allegiances will form, new enemies will arise, and history will be made! HOLLYWOOD NEWS! Soon to be a major motion picture from Blumhouse Productions, directed by Todd McFarlane, and starring Jamie Foxx as Spawn and Jeremy Renner as Twitch. As always – McFarlane gives us a couple of variant options to choose from.
MANOR BLACK #1 – From the creators of Harrow County and The Sixth Gun comes this gothic horror fantasy about a family of sorcerers in crisis. Roman Black is the moribund patriarch of a family of powerful sorcerers. As his wicked and corrupt children fight over who will take the reins of Manor Black and become representative of the black arts, Roman adopts a young mage whom he gifts his powers to with the hope that someone good will take his place against the evil forces out to bring down his family and legacy. Writer Cullen Bunn has managed to stay very busy and keeps delivering great content.  Check with your shop to see if they have the Cover B variant.
CANTO #2 – Lions and tigers and… Malorex, oh my! Canto slips out of captivity only to find a herd of vicious Malorex ready to eat him. Can an unlikely friend help Canto survive long enough to see what lies beyond Arcana's borders? When issue #1 released, it flew off the shelves at shops and is already gaining a following.
Final Thoughts
This week there may not be a ton of tiles being released, but there is no doubting that there are heavy-hitters that cannot be missed! Artwork really enhances the comic book experience, but when it's combined with great writing it creates captivating experiences that have to be relished. Some of these creative geniuses are spoiling comic fans right now!
View previous week roundups, news, and reviews at the comics landing page, or jump into the Mulehorn Gaming Discord – #comics_collectibles anytime to talk comics! See you next week same Bat-time, same Bat-channel!