Rainbow Studios has brought us another installment of the high flying, car-crushing monster truck racing series, Monster Jam. Welcome to Steel Titans.  Race through12 different stadiums in Career mode or an open world stunt area in one of the 25 different trucks including Grave Digger, El Toro Loco, Doomsday and Northern Nightmare.
Back To School
When you first fire up Steel Titans you will be dropped into the Monster Jam University open world free ride area.  Your tutorial will with simple gas, brake and reverse drills to ensure you get a feel for the handling properties of your base model truck.  After these drills, you will be left to your own devices to explore the free ride area for as long as you want to before either continuing on with the Monster Jam 101 courses or moving directly into the other game modes.  Monster Jam 101 will teach you the basics of all the skills you will need to master in your quest to become World Champion.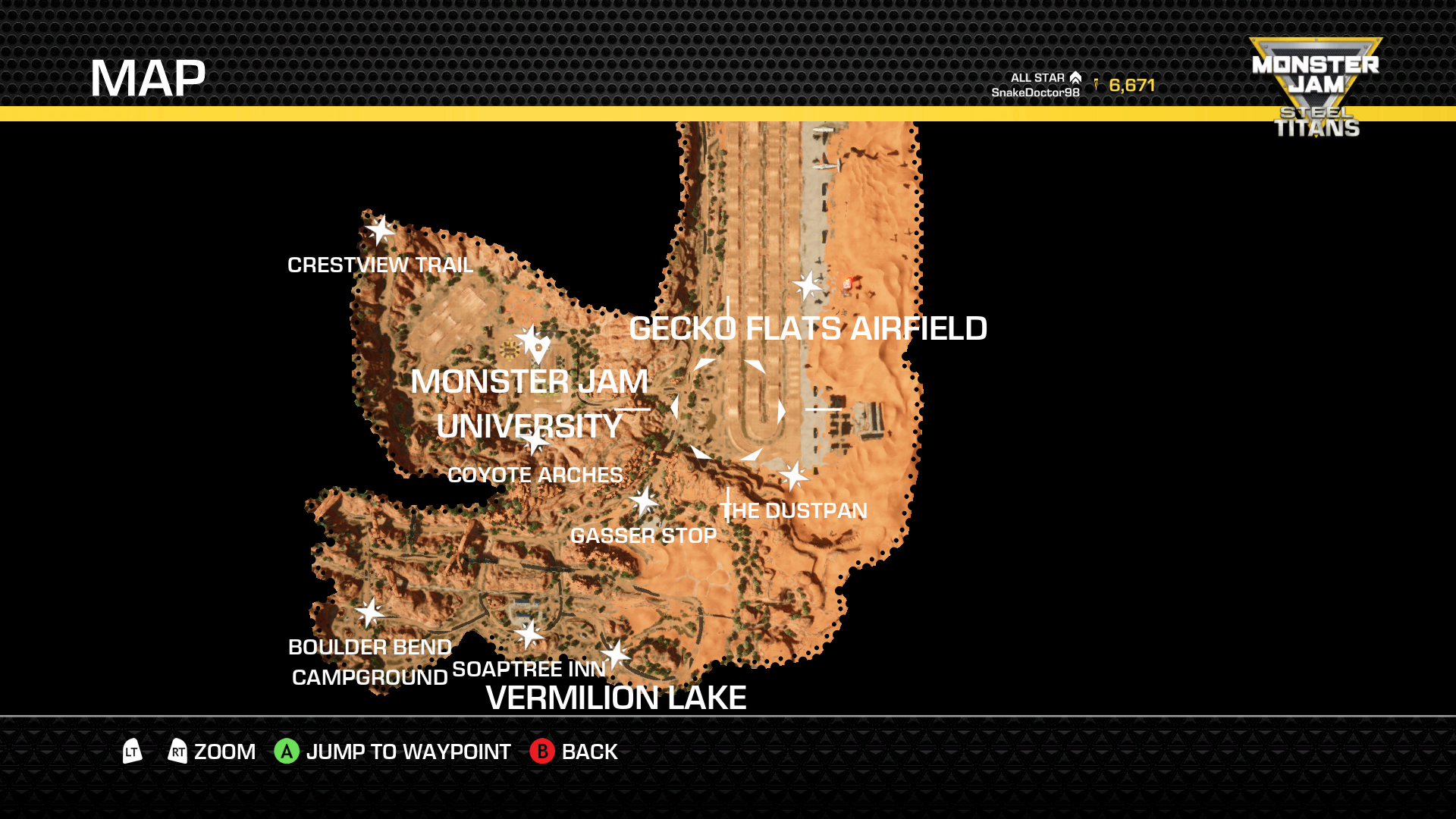 Modes
Quick Play – Allows you to jump into any game mode with any of the trucks you have already unlocked in Career mode
Head-To-Head – Race against another truck in arena-style lap races.
Circuit Racing – Multi truck races on outdoor race tracks.
Rhythm Races – Long straightaways with many unevenly spaced jumps, you will need to master the throttle in order to keep your speed up.
Waypoint – Multi truck races from Point A to B with waypoints which you must hit all the way through
Freestyle – Rack up the points doing tricks in many jump filled arenas
Two-Wheel Skills – Arena maps where the goal is to score two-wheel trick combos
Timed Destruction – You will have 2 minutes in an arena filled with items to crush, rack up as many points as you can
FreeRide – Just you and the Arena, hit the throttle and trick to your way to the highest combo you can, no time limits.
Career – Race your way from the Outdoor racing scene all the way to the World Championship.  Finishing 3rd place or higher will unlock the next series.  Each series will be a mix of Head-To-Head, Waypoint and Circuit Races, Two-Wheel Skills and Freestyle Events
Outdoor Racing
Arena Trials
Arena Championship
Stadium Trials
Stadium Championship
World Championship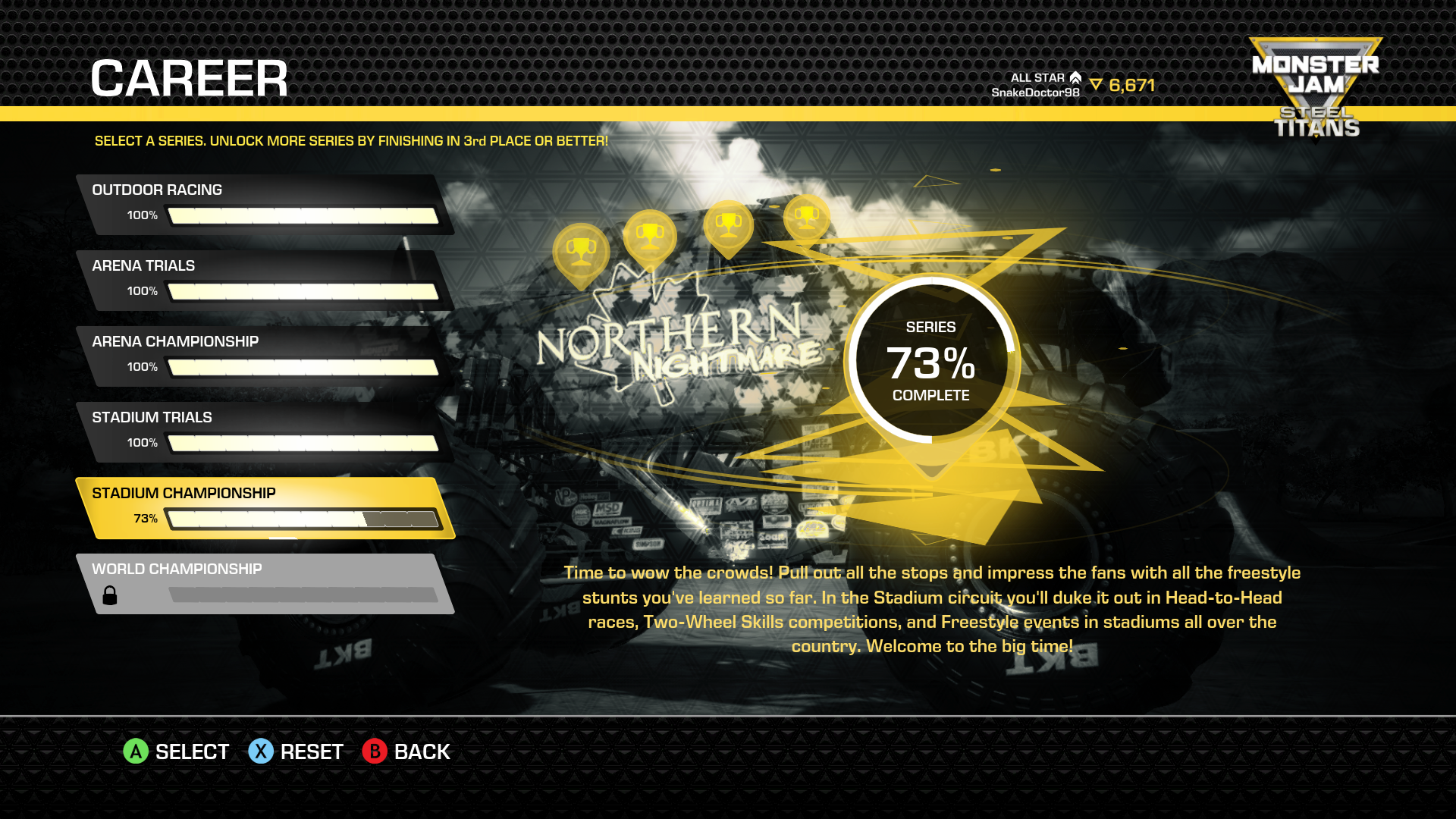 Photo Mode – hide the overlay, rotate the camera to any angle to snap some sweet action shots
The Trucks
Work your way to the title of World Champion and you will gain access to 25 different trucks such as Blue Thunder, Grave Digger, Megalodon and Northern Nightmare.  As you progress your career you will earn points which you can then spend on your trucks to upgrade Acceleration, Transmission, Suspension, Tires and Chasis.  You are also able to tune each truck to specific events such as Arena, Stadium and Freestyle.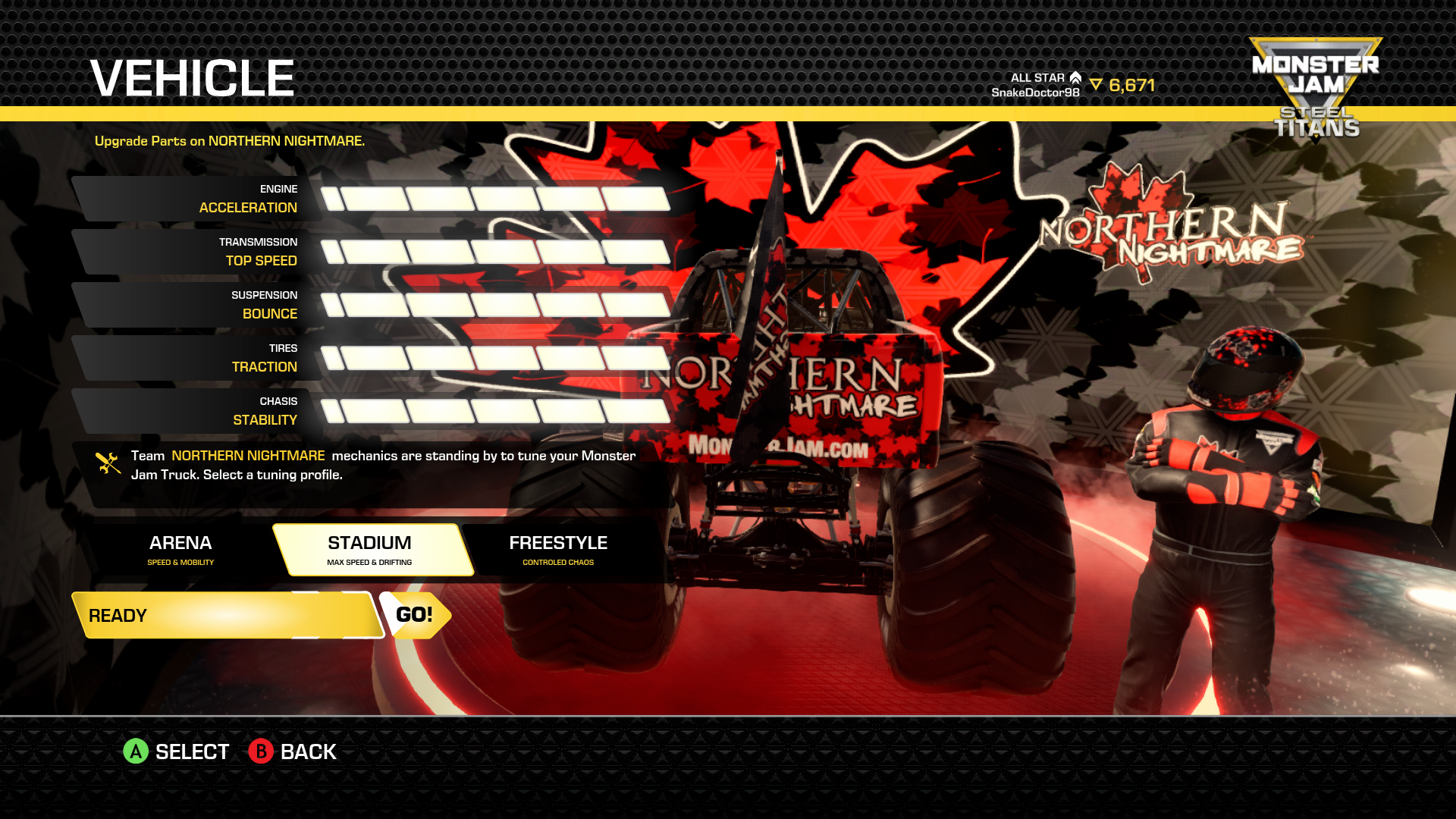 Alien Invasion
Blue Thunder
Captain's Curse
Doom's Day
Dragon
EarthShaker
El Toro Loco
El Toro Loco (Black)
El Toro Loco (Yellow)
Grave Digger
Grave Digger the Legend
Max-D
Max-D (Black)
Max-D (Gold)
Megalodon
Mohawk Warrior
Monster Jam Training Truck
Monster Mutt
Monster Mutt Dalmatian
Monster Mutt Rottweiler
Northern Nightmare
Pirate's Curse
Soldier Fortune
Soldier Fortune Black Ops
Son-uva Digger
Whiplash
Zombie
Thoughts
I had a lot of fun playing Monster Jam: Steel Titans, it was a blast to fire up one the many trucks, race around the track, crush cars and defy gravity.  I did have some issues with the AI opponents being ridiculously hard to beat on some levels and overly easy on others.  The physics can be a little wonky at times, but the gameplay is solid nonetheless.  My biggest issue with the game is the lack of online play.  A fellow streamer and I were provided early access codes by THQ Nordic.  We were all ready to co-stream our way through the events only to find that there was no way to do so.  There is 2 player couch co-op available in all modes however, I feel it was a major misstep not to include the ability to play with friends online.
Overall, I would recommend Monster Jam: Steel Titans to anyone who is a fan of the sport or racing games, especially if you have someone to play couch co-op with.  You will get a solid 8 -10 hours of gameplay from just the career mode with a fair amount of replayability out of the various quickplay modes.  It is available on Xbox, PS4 and PC for $39.99 CAD.