We are down to four shows left in our MHG Madness – TV Edition bracket and have crowned our genre champions. With the way the voting has gone recently, there were not many surprises in the final four.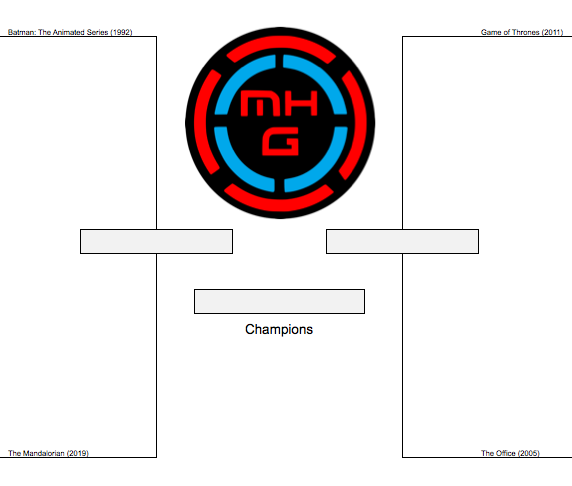 Animation Finals
I was a little disappointed to see Futurama lose to Batman: The Animated Series but Batman is one of the best animated series of all time and still revered by many today. Futurama is fun but does have some rough episodes which may have doomed it.
Science Fiction Finals
I think we all knew that The Mandalorian was going to beat Firefly due to how fresh it is in everyone's minds and because it is Star Wars. I think it has a bright future but will be skeptical until a second season is out and we see if it'll continue its greatness or be another Heroes. The Mandalorian will probably beat out Batman in the next round.
Drama Finals
This one was always going to be Game of Thrones. It is different than all of the other dramas in the category since it is also a fantasy show. Breaking Bad is fantastic and probably should have won but the fantasy angle and faster pace probably put it over the edge in the MHG community.
Comedy Finals
The Office was the juggernaut in this part of the bracket and after a close call last round it came out swinging and easily toppled Friends. I think its run will end against Game of Thrones though as both shows had great starts but less than stellar endings. Game of Thrones also has some recency on its side and the fantasy element will put it over the edge.
Voting for the final four shows is underway. Join our Discord Server to be part of determining the winners!