What time is it? It's giveaway time! This time around, The Mules are giving away a Mass Effect Andromeda Sara Ryder Pop!
Hot on the heels of the release of Mass Effect Andromeda, here's your chance to win your very own pathfinder! We've got a GameStop exclusive Funko Pop for you: Sara Ryder (Masked). Enter below and take home one of the twins!
There she is!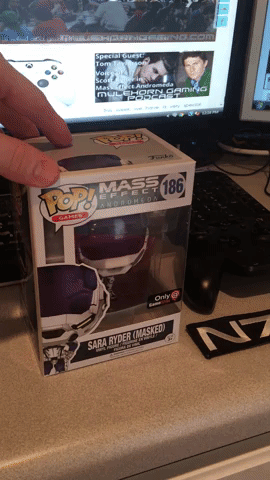 The giveaway runs from April 3 —  17th @ 11:59 PM CST. US entry only. Sorry to our brothers and sisters from across the pond.

MulehornGaming.com, as well as our podcast, are supported by Patrons. These are readers and listeners who contribute a small monthly payment to ensure our continued explosive action! It is thanks to these supporters that we are able to host these fantastic giveaways, deliver excellent website content, and produce entertaining podcasts. So, thank you! Interested in joining the ranks of our Patrons? There are perks! Click here to visit our Patreon page.
We are giving away another Sara Ryder Pop just for our Patrons, too!
When in doubt, blow it up!
Mulehorn Gaming