From Kickstarter success to published debut comic to now in development for a movie, the Leave on the Light comic book is slashing its way through the comic world!
Crowdfunding to your local comic store shelf
In December 2018, Bradley Golden, aka Second Sight Studios, launched his campaign for Leave on the Light, and within 45 days the project was funded with almost triple the initial goal. Fast forward to July 31, 2019, and Leave on the Light hit the shelves in comic shops and retailers, via its now publisher Antarctic Press.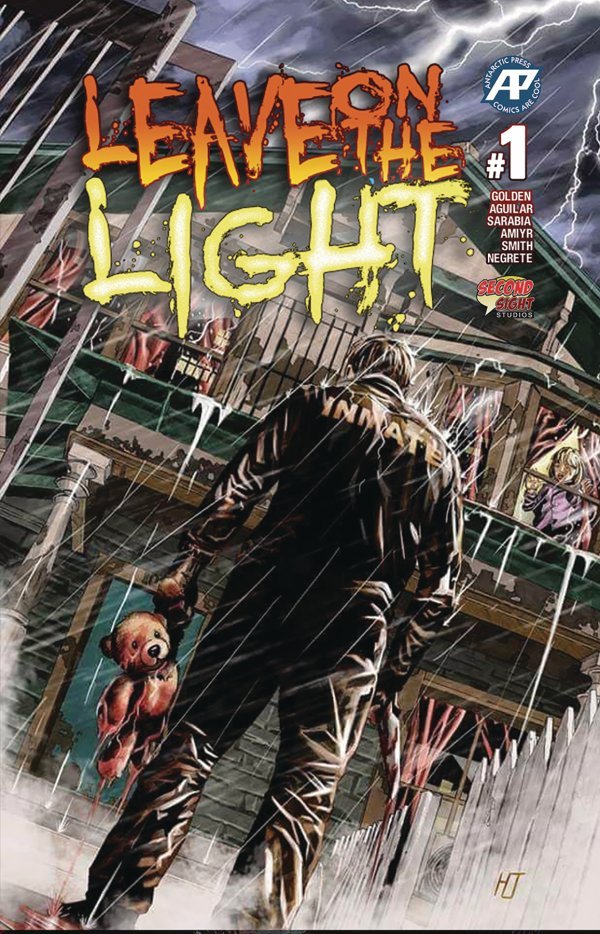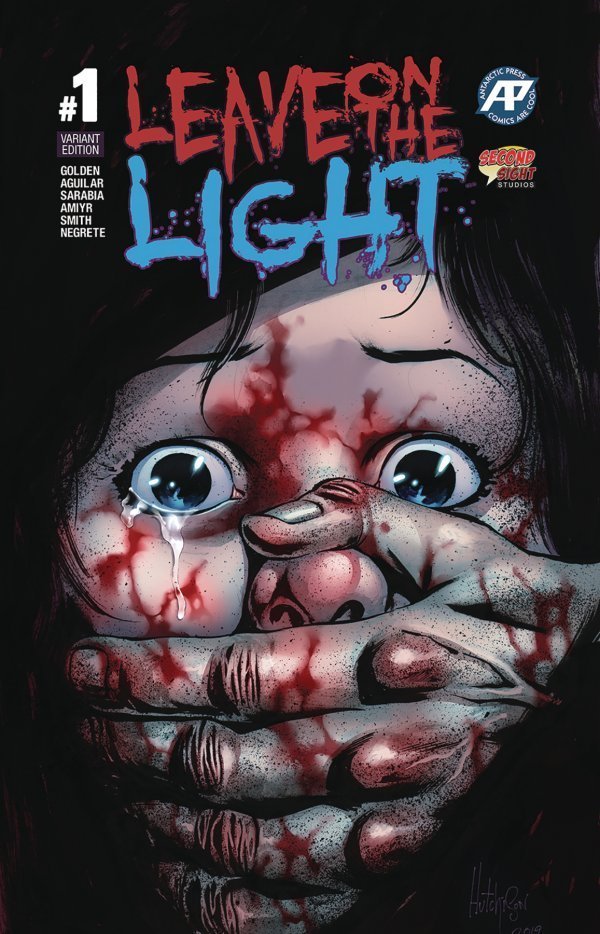 Now if you were looking for this issue and were not able to get your hands on it, you would be where most people are.  Antarctic Press had a low print run on this debut issue and as of publishing, they are sold out at all online retailers.
So what is Leave the on the Light? It is straight up, a horror story. A shocking one at that, lol, pun intended.
"Brace yourself for a shocker of a horror story!  In a small town near New York, an undead serial killer has begun claiming the lives of children by using the city's electrical system." – PreviewWorld
When a book reads like a movie
After reading it and processing it all, it was more intense than I expected! The story reads like watching a horror movie, the creators show this in the early panels, much as we see in the first few minutes of many movies. I particularly enjoyed this and also makes sense since it was confirmed that this book is in the works to become a movie (more on that below). Bradley Golden and George Aguilar did a great job in giving you the feel of mystery, and shock, with a psychological thriller, feel the deeper you get into the story.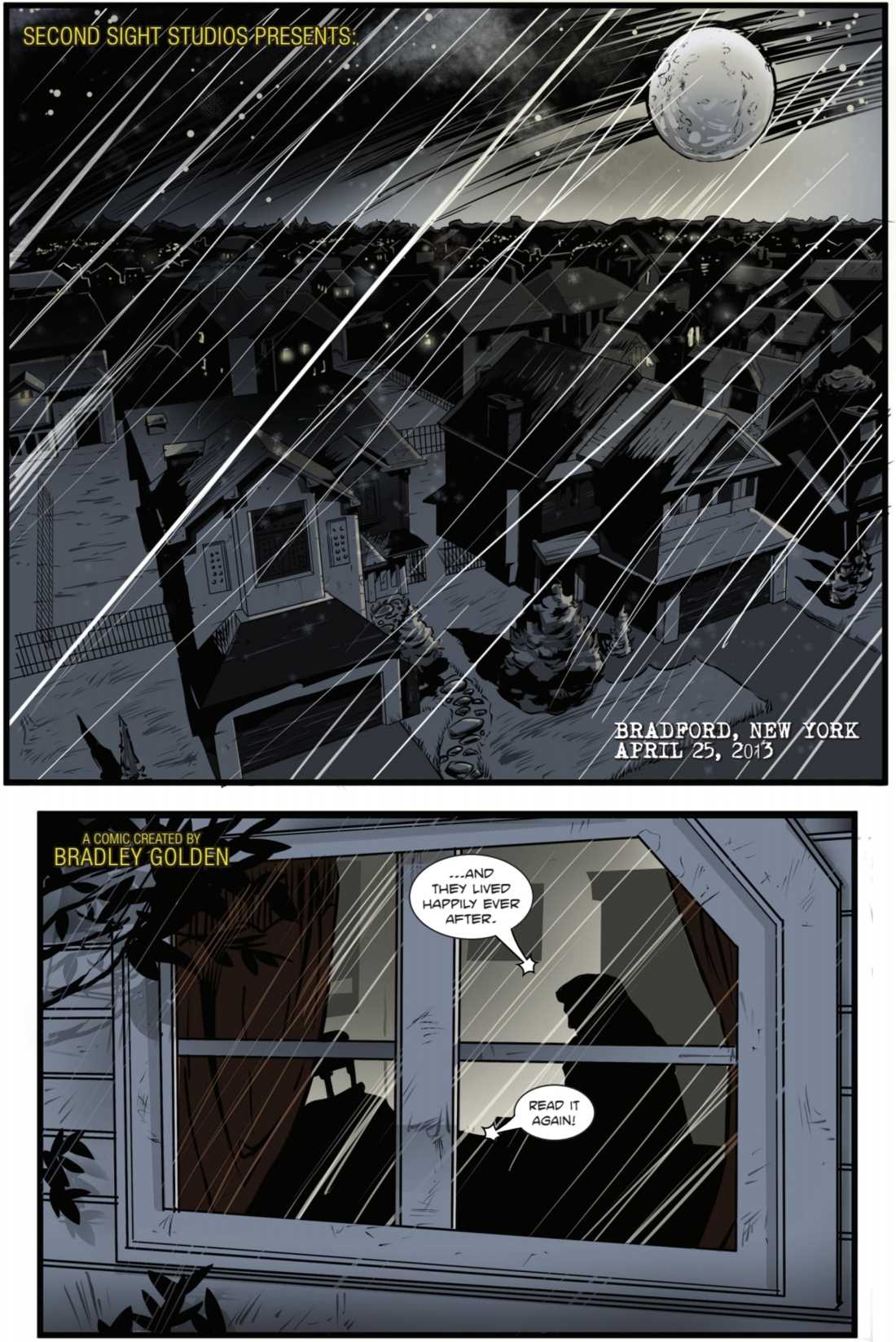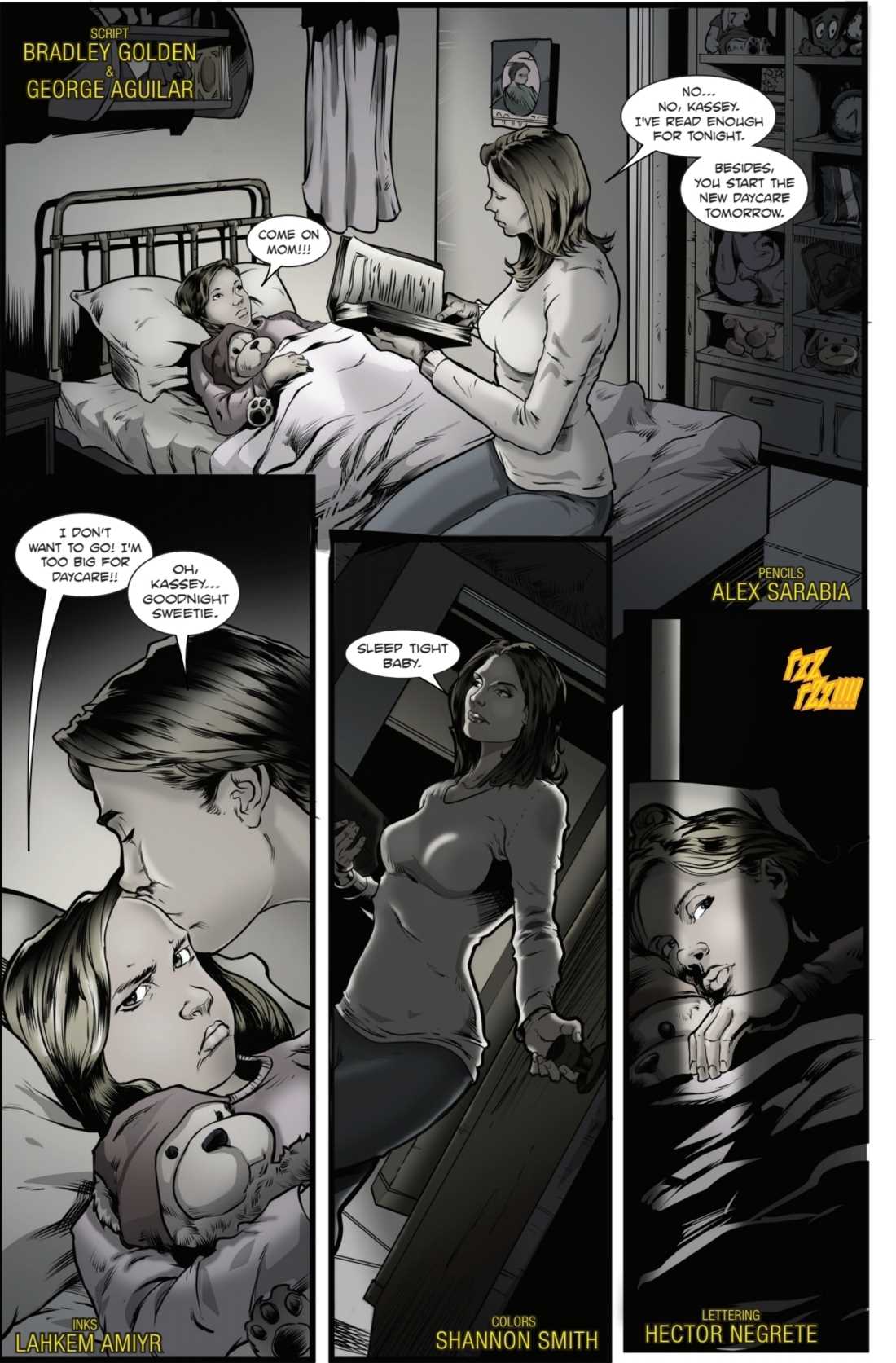 Not for the faint of heart
Within the first few pages, you are thrown into a pretty intense murder scene. The 1
st
victim is a child, and even though the act was not directly shown, you could easily dissect what was happening. Not to mention, some gruesome panels later, more than confirmed it.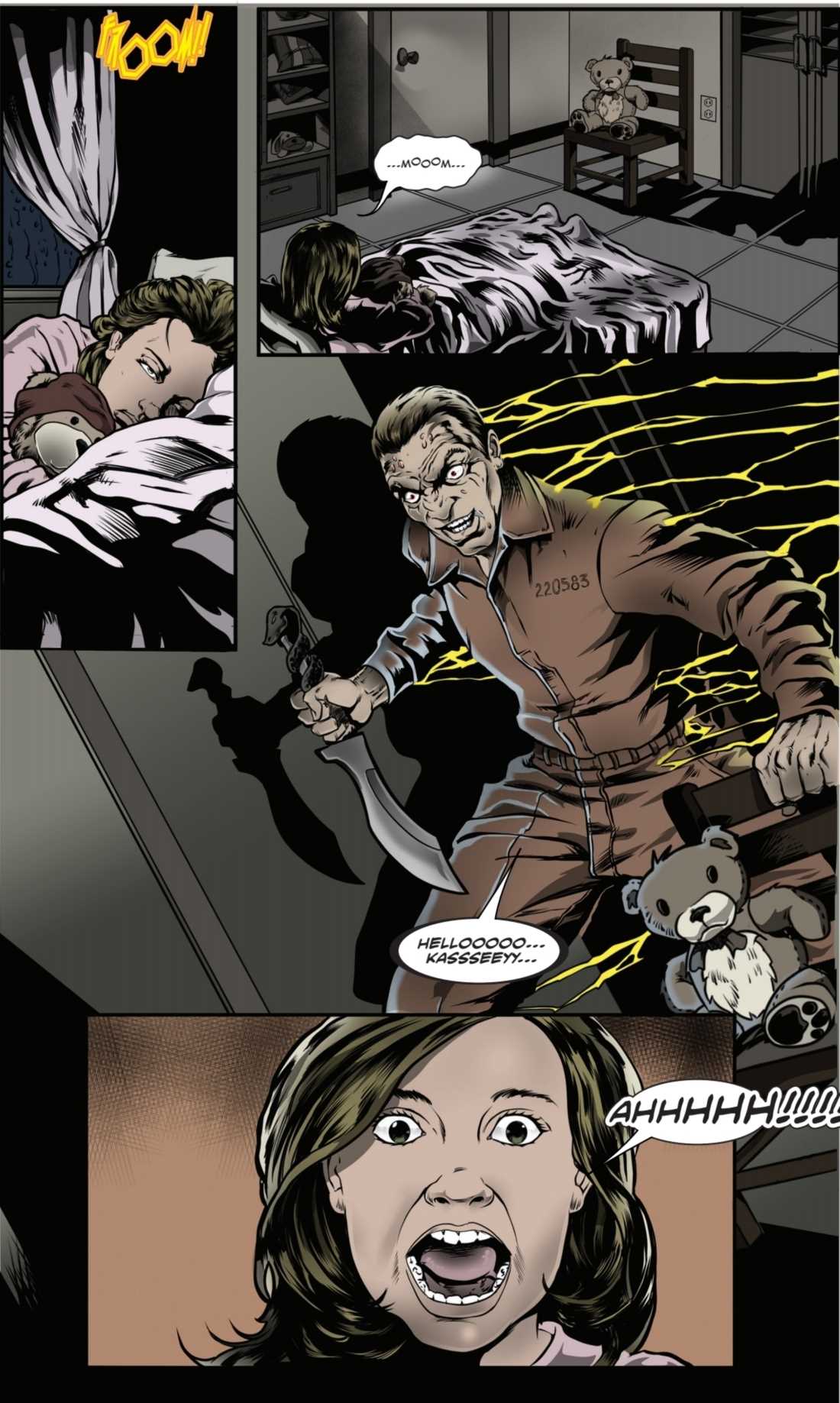 A small critique
There were a few things that did bug me though. In many panels, the character's mouths were often drawn shut, despite there being a lot of dialogue. Plus, some of the color choices in character "thought boxes" did not contrast well with the page. Aside, from those minor eyesores, I enjoyed Alex Sarabia's art for this book. The way LahKem Amiyr made the large lettering come alive, drawn with bright colors to contrast the dark and eerie background tones, to represent sound, really stuck out to me. From how the story reads, to great art, and the fact you are just thrown into the mess of bloody some killing, all the while, feeling like you are reading a movie, had me really enjoying Leave on the Light.
Indie book goes next level…Already
Now, as I have mentioned a couple of times, how this book reads like a movie…well, as it turns out, a movie is in fact in the works.  Bradley Golden announced on Twitter on August 4th that Leave on the Light will be made into a movie. It will be produced by Auspol Media and Spirit Rider Productions.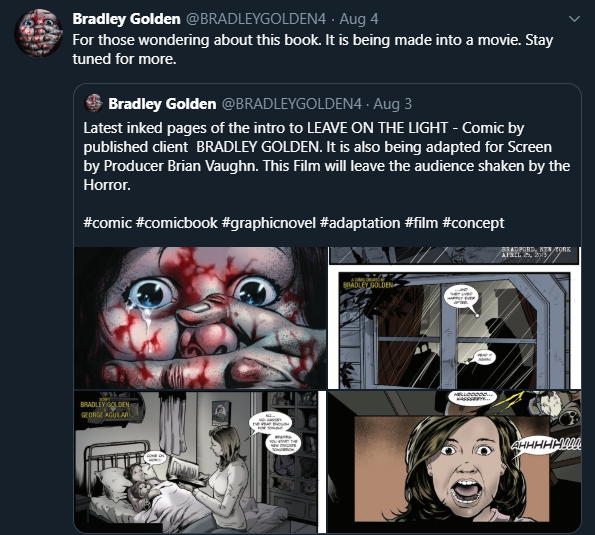 FINAL THOUGHTS
If you are a horror/hack-n-slash fan, you will probably enjoy this, as well. Bradley Gordan's writing delivers a gripping tale horror and a psychological trip.  The art, by George Aguilar, will give you those OMG moments as move from panel to panel. I really enjoyed Leave on the Light and feel this is a book you should hunt down and follow.  Plus, if you were lucky to grab one of these(currently sold out), due to their low print run, you have an investment in your collection.
Score:  4/5
A taste of what's next
As an added bonus, here is some preview art for issue #2, which drops August 28, 2019. Ya, I'm excited about this shocking issue.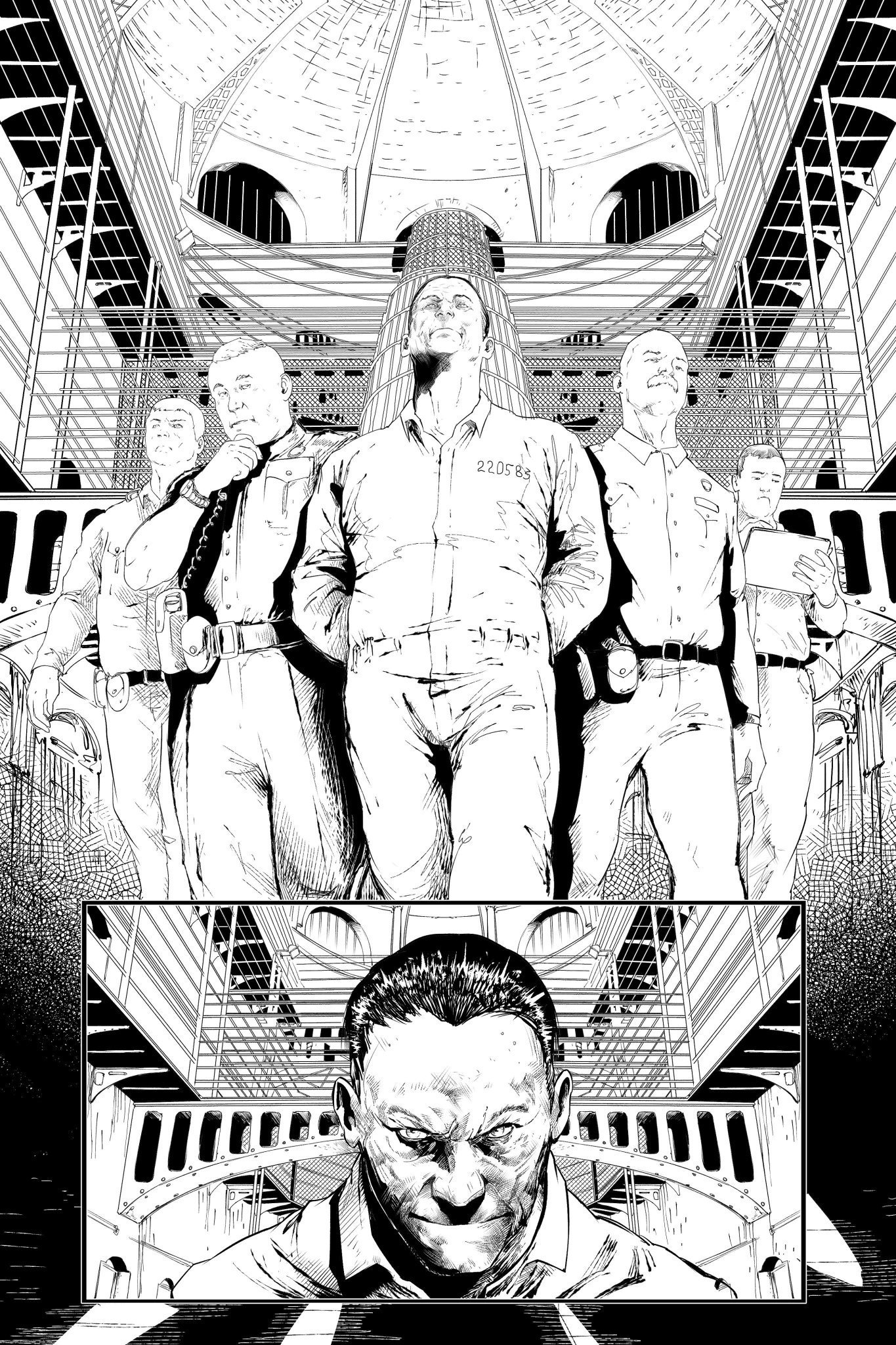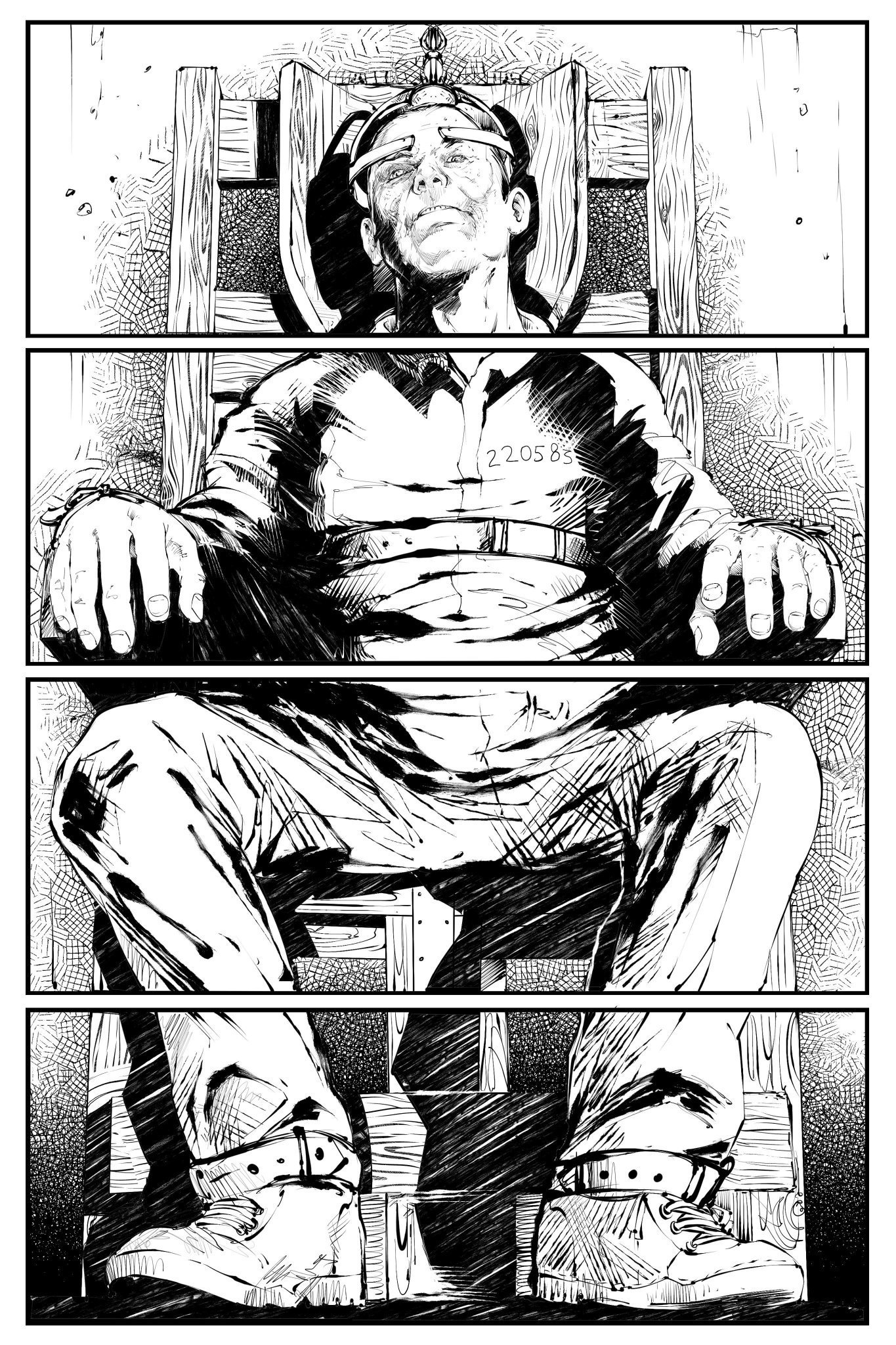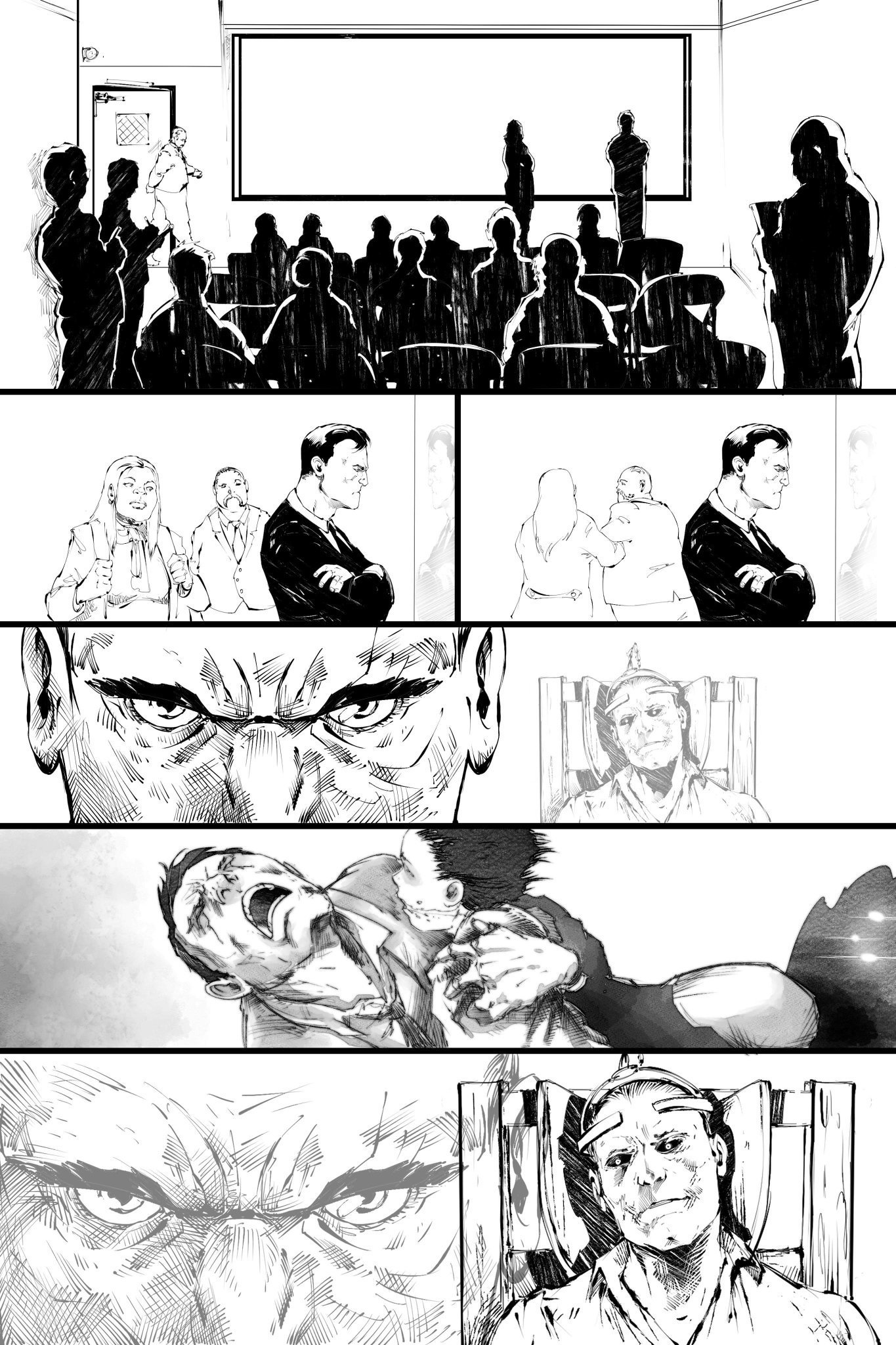 View weekly roundups, news, and reviews at the comics landing page, or jump into the Mulehorn Gaming Discord – #comics_collectibles anytime to talk comics!
Score:  4/5