Arguably the most beloved villainess of all time goes solo and brings some friends along for slumber parties, mayhem, and mischief!
What's the name of this movie anyways?
If this review was written a little over a week earlier, it would have a different title. Originally titled Birds of Prey: And the Fantabulous Emancipation of One Harley Quinn (2020), the film had a very soft opening weekend. Given the box office success of Suicide Squad (2016) and the achievement of Joker (2019), Warner Bros. had high expectations for their spinoff film featuring Harley "freaking" Quinn. Opening weekend was anything but a success bringing in $33.2 million, whereas the aforementioned films hauled $133.6 million (Suicide Squad) and $93.5 million (Joker). The often overly-reactionary studio decided on the Monday following opening weekend to rename the film, Harley Quinn: Birds of Prey (2020). While films experiencing a name change prior to release are fairly common in Hollywood, doing so post-release is a very rare occurrence.
The film touts a nearly all-female cast, female director, and a lead character that carries one of the most rabid fan bases in comics. The R rating that worked so well for Deadpool (2016) and Joker (2019) was yet another reason that this film was supposed to deliver a big box office BANG! Let's add another layer to this puzzle, the film has also received the "Certified Fresh" label on Rotten Tomatoes at 79%. So what exactly happened? Is the wordy and rather confusing original title to blame for the soft opening weekend? Did the direction and tone of the film actually play to a wider audience and would have benefited from a PG-13 rating? Does Harley need her "Mister J" to fill seats? I think that while all these points are worth noting, the film is another example where the studio should have just allowed the creative minds to own the property.
Breaking up is hard to do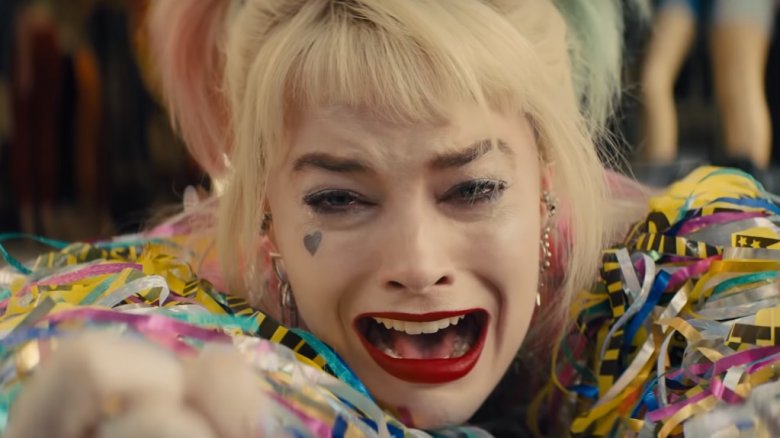 Early marketing campaigns and the original title let moviegoers know that this was going to be very different Harley Quinn from Suicide Squad. While this is a standalone story, it does pick up after the events of that film. As it grew closer to its release date the ads revealed that this will be a break-up story. Harley is going out on her own and this is her emancipation from the Joker. In case you are not following, this is a break up from Jared Leto's tattoo-faced Joker and has nothing to do with the Joaquin Phoenix Academy Award-winning Best Actor Joker. The early moments of this film does do a great job of acknowledging that Joker before sending him off into what appears to be his final mention in the DC Extended Universe. R.I.P.
Harley goes through the relatable phases of a break up before ultimately setting herself free by ripping her "J" necklace off and driving a fuel tank into the iconic Ace Chemicals factory. Now we can all move on to this story about this Harley Quinn. Along the way, we are introduced to the rest of the gang which includes Black Canary, Roman Sionis a.k.a Black Mask, The Huntress, Renee Montaya, Cassandra Cain, and Victor Zsasz. This lets us know where this story starts and where it is set, Gotham City.
Gotham City has a rich history in the comics of mob and crime influence, and that is the case here. One crime family, in particular, has a history that sets off a chain of events that ultimately bring these characters together. While the motives differ, the one person that everyone is looking for is Cassandra Cain. There is reason to believe that the wealthy crime family may have left something in her possession and it's worth a lot of money. Roman Sionis played wonderfully by Ewan McGregor is the film's central baddie and eventually, the Birds of Prey must team up to stop him.
Who are the Birds of Prey?
To truly have an idea of the tone of this film picture the Spice Girls being inserted into high-octane films such as the likes of Smokin' Aces (2006), Red (2006) or Shoot 'Em Up (2007). Now oddly enough, those films all were released around the same time and serve as a good reference for what to expect. A neon-colored cast of eclectic characters mixed into a tale of mayhem fueled by Mountain Dew or Red Bull. The story-telling is equally fast-paced with some flashbacks and flash-forwards sprinkled into the current timeline of the story narrated by Margot Robbie as Harley Quinn. It's a melting pot of sorts that is driven by Robbie, and there is no one else better suited to play Harley than her. She embodies everything that Batman: The Animated Series (1992-1995) did about Dr. Harleen Quinzel. The comic book references spew out and warrant a second watch to truly appreciate and catch all of them.
While Harley is going through her own personal arc of branching out from having the benefits of being the Joker's girl, she really gets to shine and grow on her own in this film. Ewan McGregor plays his role exceptionally well, as he balances the lavish nightclub owner with the gangster persona. I wish there was more time for his character but given the number of characters in this film, the story does not allow for it. Black Canary played by Jurnee Smollett-Bell and The Huntress played by Mary Elizabeth Winstead also receive their share of screen time and backstory. Rosie Perez rounds out the main characters as the stereotypical 80's television cop, Detective Renee Montaya. The characters are portrayed individually well despite being in a team-up of sorts and they all have their moment to shine.
The punk-pop-princess styling against the backdrop of Gotham City somehow works. The action sequences are dynamic and highly entertaining. The soundtrack fills the theater and fight scenes with a variety of popular tracks that help the audience cheer. Newcomer Director Cathy Yan handles the dichotomy of blending the Spice Girl famous motto of "Girl Power" moments with the dark underbelly of Gotham City. I particularly commend the way she delivers the story throughout the film, in fact, I dig it. And while this simple story is intended to be light and fun, it's intertwined in violence, mayhem, and mischief.
Final Thoughts
It's not the disjointed mess that Suicide Squad (2016) was, which clearly suffered from studio reshoots and redirections as a reaction to Batman v Superman: Dawn of Justice (2016). Justice League (2017) suffered that same fate. Harley Quinn: Birds of Prey does not suffer those fates. Where it does suffer from studio influence is allowing the creators to do so much on their own, but having to somehow correct and connect those films in order to allow us to enjoy this film its own. The title change and the delayed R-rating label announcement force unnecessary moments in this film. It does suffer there. If the film had been titled as it stands now, you remove the "f word" from the dialogue and leave it in the only necessary moment in the film (used well) this could have been rated PG-13. This film could have appealed to a much larger audience and that would have gained the box office results this film needed.
There is so much to like and take away from this film. Margot Robbie is Harley Quinn and no one can do it better. The story is good, it's not great but it's presented in a way that makes it entertaining. Thank you to the creators for doing in this film what the studio could not, it acknowledges that they made a mess of this DCEU with some questionable decisions. Let's move on now because like this film there is so much that Gotham as well as the DC world have to offer audiences. The lasting impression I took away as I left the theater was so much to like, but all these different ingredients spoiled the broth leaving me sour.
All images courtesy of Warner Bros. Pictures