Hello fellow Spartans. It has been a while since we last had a Halo event to truly be excited over. That has changed in the last 24 hours. 343 Industries has pulled back the curtain on Halo Infinite's multiplayer that was absent from the last showcase. Just a year ago, it was rumored that the game might even launch without multiplayer. I reported on that rumor, the announcement that multiplayer is free, and the response by 343 to the graphical criticisms here.  It's hard to believe that it has almost been a year since those announcements in August. Let's dig into today's showcase of the new multiplayer.  
Melting, Melting, Melting
That was my face melting during the Halo Infinite multiplayer reveal yesterday as well as the overview video released today.  343 Industries has really turned up the volume on the pace and the scale of what can be accomplished in the Halo sandbox.  There are so many moments in the video that bring back great memories of playing these games with friends.  I cannot wait to reconnect with some old Halo pals and make new ones in the Halo community.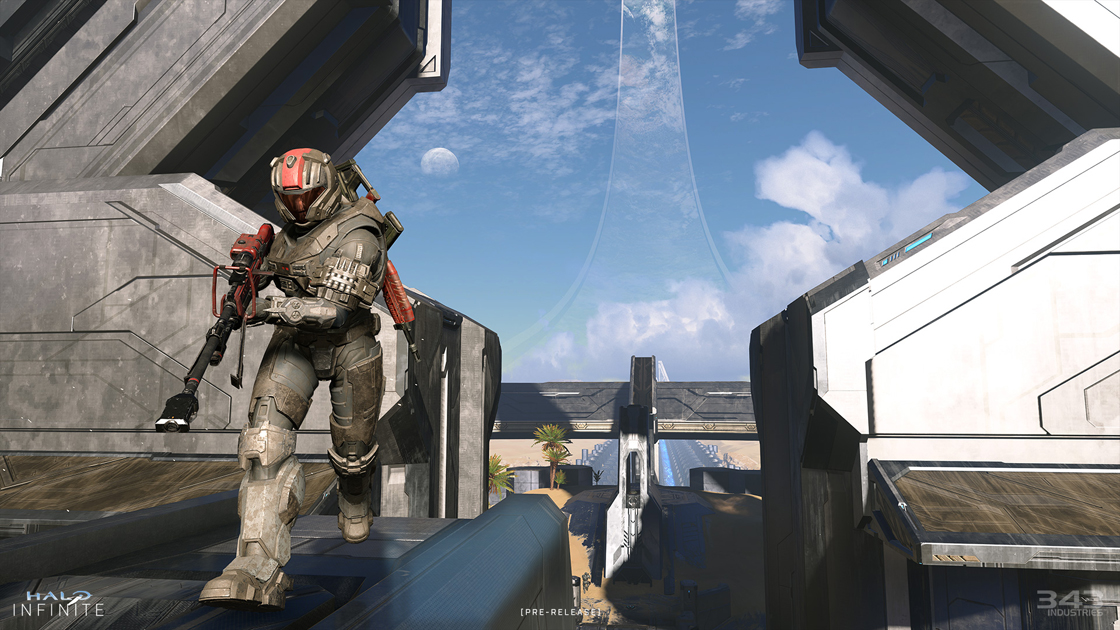 Battle Pass – No Mo' FOMO
One of the biggest announcements for me is that the game's battle pass will not expire when the season ends.  Not only will the battle pass and its content still be available for players to unlock, but the various iterations will be available for purchase even after the season ends. Players can then choose what season they want to work on and choose the gear that they want to unlock. This has been in place for the Halo Master Chief Collection but those were free updates. All of the customization content featured in the battle pass is single-source.  Meaning that the only way to unlock it is through gameplay and other players cannot circumvent or downplay your legendary feats by purchasing the armor from a store. All customization is purely cosmetic.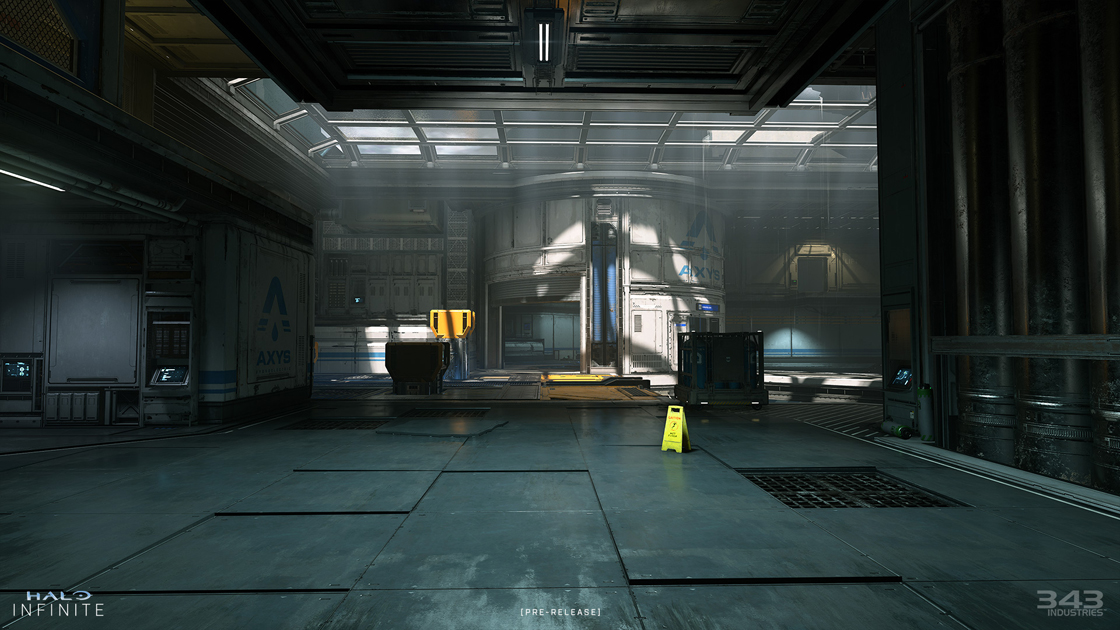 This is a game-changer.  I hope that other games like Fortnite and Call of Duty Warzone take note of this.  I was literally grinding the Call of Duty battle pass over the weekend, and I still will most likely not complete it. It is so frustrating. I will not be able to unlock the content due to time constraints. I would have liked to play more this season, but that was not in the cards. So now if I want to access the content that I have already paid for I have to ante up and purchase levels on the battle pass.  I'll pass on that (pun intended).
This is my gun, my armor, my vehicle.
343 has intentionally placed the player at the center of Halo's multiplayer customization system.  There are no more random loot boxes to purchase or earn.  Armor and various other customizations for all of your battlefield toys will be earnable through the battle pass.  What is most incredible is the amount of gear and the uniqueness of it. Players will be able to customize vehicles and guns and make their spartan their own. This ranges from armor pieces, to painting and textures, to even your own personalized AI.  Don't fret, we still have our classical announcer for those epic moments.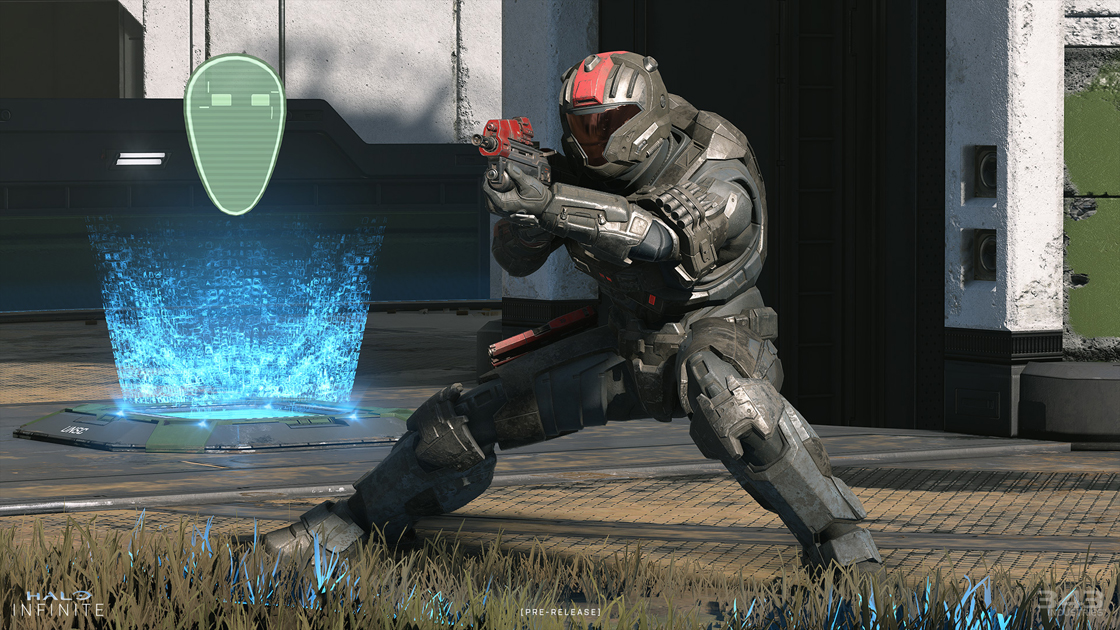 That's right. You can unlock personalized AI assistants similar to Cortana for your Spartan in multiplayer.  I cannot wait for this feature.  This was one of my favorite features in Elite: Dangerous.  I'm interested in how they will work in tandem with the legendary announcing done by Jeff Steitzer. Patrick Wren, Multiplayer Designer describes that the personal AI will notify you of moment-to-moment updates.  I think this is an ingenious way to differentiate between those epic moments and allow customization for players who have always dreamed of being a spartan paired with their own AI. I bet it will be an awesome feeling to have Jeff Steitzer's voice ring out, "Overkill" in the arena.
As seasons continue to roll out, they will feature themes and the cosmetics available will change with the season. For example, that awesome Samurai-looking gear will be event-based and can be unlocked through gameplay.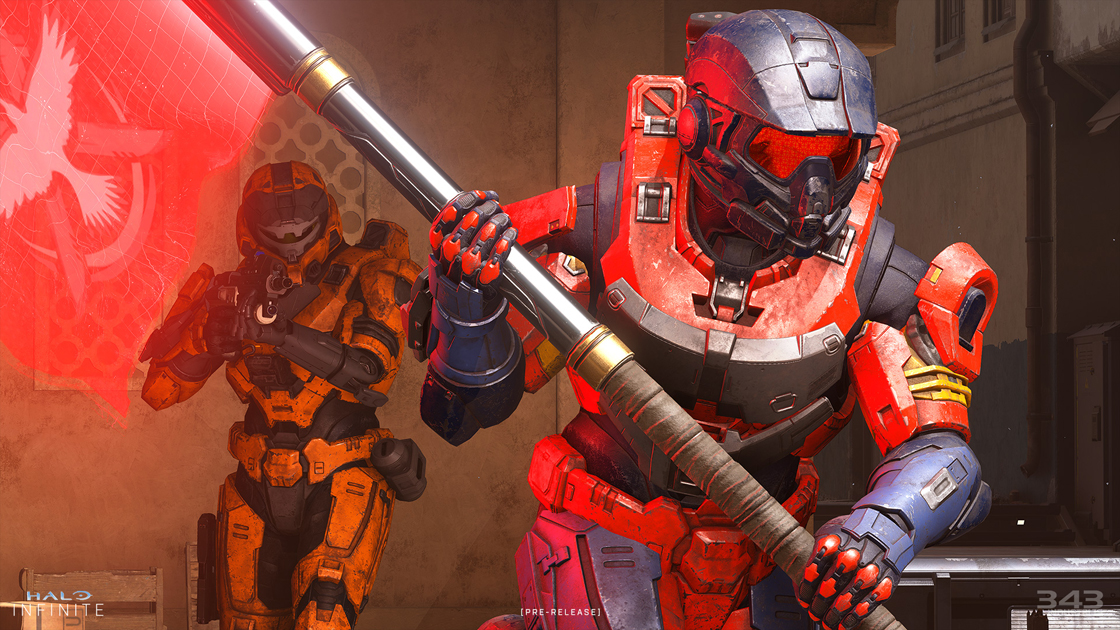 Free-To-Play Multiplayer
Xbox is absolutely putting the gamers first with this move.  It also features cross-play support and 120FPS on Series X.  This news is massive for Halo players who enjoy the eSports aspect of the franchise. It will allow anyone who wishes to compete to play in the arena. It will also provide other eSport franchises, like Call of Duty, with some major competition. At present, Call of Duty's multiplayer must be purchased with the full version of the game. I would speculate that Halo could be doing this for several reasons. The first is to put pressure on other franchises and make the game more accessible. Secondly, the entirety of the game is already included in the Game Pass. Now late adopters or even those who are not yet bought into the concept of Game Pass will be able to play Halo multiplayer with their friends. I am sure that many of those newcomers would also enjoy playing through the co-op campaign with their friends and will then need to decide to either purchase the Game Pass or pay for the title a la carte. 
Arena-based multiplayer, modernized. 
Halo's multiplayer is legendary.  It not only was one of the first games to bring arena-based multiplayer to consoles but it does so with weapons that work well together.  The new title appears to return to this and even applies this to the equipment. Classic weapons are returning such as the battle rifle, assault rifle, and energy sword. The equipment has been modernized to pair well with new and classic weapons to create organic gameplay and parity.  For example, the grapple hook can be paired with a sword to effectively lunge long distances.  It can also be used to increase mobility or verticality.  The tool can also pull weapons to you. Equipment such as armor mods can now be stashed in your spartan's inventory to be used later. The player now chooses when to activate it. If a player dies with that equipment then it can be looted.  I am looking forward to using invisibility in Big Team Battle to sneak in and steal a flag already.  Imagine holding onto an overshield mod, utilized at just the right moment, and a sword to rush into close-quarters-combat. Terrifying.  
Halo is about fair and balanced starts, describes Tom French, Multiplayer Associate Creative Director. Players are then looting the arena for weapons and equipment that complement their play style or give them an edge over the other team. The developers describe wanting to put players in a place where they have to choose whether they want to lock down power weapons or maybe push for equipment on the map that might open up flanking strategies or other opportunities that are just as pivotal to completing objectives.  
Ride or die!
My favorite game mode by far is Big Team Battle.  I cannot wait to try out the modernized version. The vehicles now take localized damage.  Meaning, that the Warthog's tires may be destroyed causing it to handle differently or the hood flies off. The vehicles also feature a damage threshold that will cause them to degenerate to the point of exploding.  This forces players to choose exactly when is the best time to ditch a vehicle or to push it to the limit. The Razorback, historically a larger transport version of the former now has equipment racks.  I am looking forward to loading one of these down with power weapons or fusion coils to rush with. 
Big Team Battle will also feature the weapons pods from Halo 2!  These will drop into the map to change up how the game is played by offering resupplies, power weapons, and equipment to fight for control over. Not only are the pods dropped into the map but pelicans will also airdrop vehicles into neutral territory.  The control of these will be contested and adds a better dynamic than having them spawn at the base.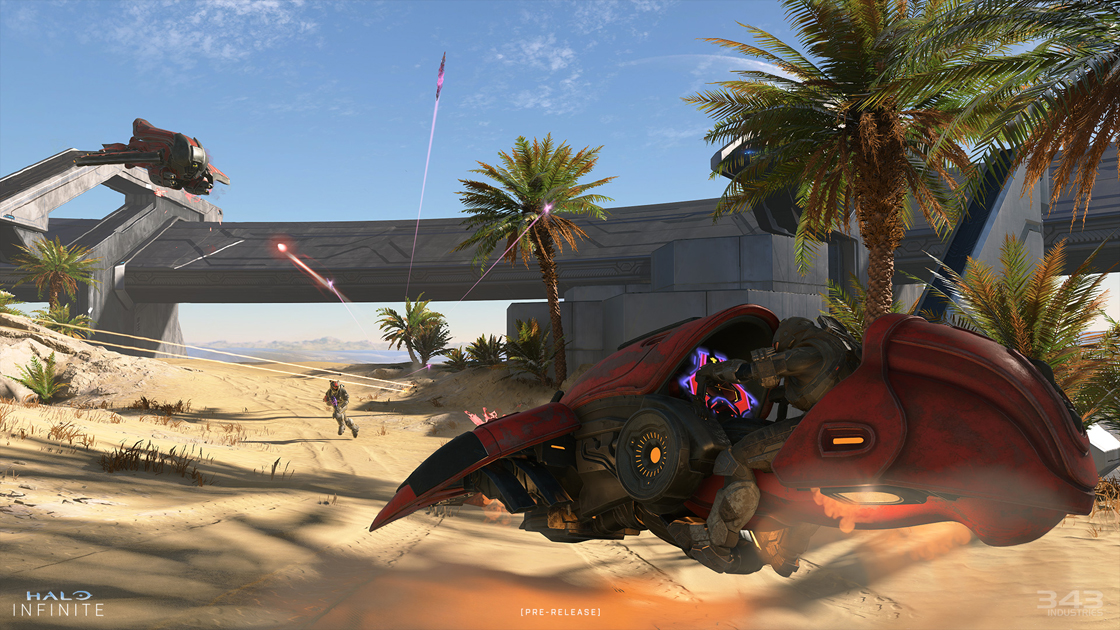 Academy 
This is a training area created for newer players so that they can become familiar with the game or for returning players who want to warm up before jumping into competitive modes.  The Academy features bots that can be played against that will behave differently based on how they are set up. This gives me some Perfect Dark nostalgia from the N64 days!  I think that this is also a huge feat for 343 to be featuring their game's AI because the AI that was heavily present in Halo 5 was horrendous.  Here's to hoping that Halo Infinite's AI-controlled Spartans are actually up to the task.  This move by 343 to make multiplayer approachable by creating this space for newcomers is pivotal.  This pairs well with the F2P model and I think that it will help grow the Halo community. 
A love letter to PC gamers
Halo Infinite is one of the most highly anticipated games of the year.  It is especially so for PC players who can presently only play up to Halo 4 in the Master Chief Collection.  Cross progression is a big win and so is the fact that multiplayer will have anti-cheat software.  There will be input-based matchmaking for the competitive modes of the game.  There will be support for ultrawide monitors, triple keybinds, advanced graphics options, and other customizations for PC players.  This is great news.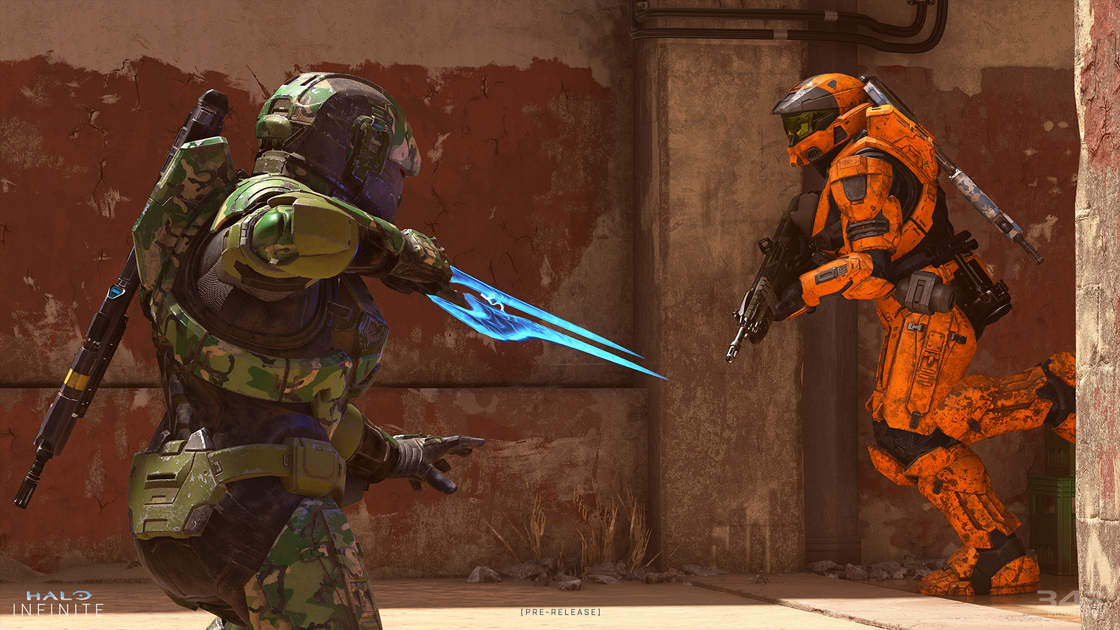 Throughout the week 343 Industries will be sharing more news on Halo: Infinite.  See the schedule below featured on the most recent Waypoint blog for more.  
"The Great Journey So Far" – Available Today – Visit Xbox Wire to hear from Halo Infinite's Head of Creative, Joseph Staten.
343 Industries Halo Infinite Multiplayer Overview – Monday, 6/14 – More gameplay and insights from the team, debuted at 8AM PT on YouTube.com/Halo.
Halo Infinite Mark VII Spartan Cosplay Guide – Tuesday, 6/15 – Everything you need to know to create your own real life Spartan armor – here on Halo Waypoint.
Canon Fodder – Wednesday, 6/16 – 343 lore master GrimBrother One dives into the fiction behind multiplayer maps, vehicles, armor, and more.
Inside Infinite – Thursday, 6/24 – Our monthly blog series returns with a closer look at the future of Halo Waypoint and the work the team is doing to extend your Halo Infinite experience and we'll catch up with members of the Live team to talk player engagement and customization.
That's it for now!  Stay tuned to MHG for all of your Halo: Infinite news.  What are you most excited for?  Do you see any equipment and weapon combos that you are wanting to try out?  Do you feel that Halo is in a better place after the delay?  Sound off in the comments!
For more of my musings on gaming, follow me on Twitter and on Twitch!