During Gamescom we visited CD Projekt Red for a special press presentation. What they had to announce showed us that the Digital CCG (Collectible Card Game) scene is as popular as ever. And, they are not afraid to go all in when it comes to the development of GWENT. The presentation started off with the announcement that they are moving into the eSport scene, with their very own GWENT Masters, which invites players from around the world to join and compete for the title of the first ever GWENT World Champion. Players will compete in a new game mode called Pro Ladders, which is different from the Ranked mode they have now. This will be the entry point for any GWENT player into the eSports scene.
Pro Ladders and more
In the Pro Ladders bracket players will compete with each other to score points, which GWENT refers to as Crown points. Players can do so by competing in matches, and using decks from different Factions. This is an important part of the mode as you score more crowns by using all different factions. Pro Ladders run for a season, which consists of 2 months, and after the season the top 200 players are rewarded more Crown points for their efforts.
And after each season, the top 8 players with the most Crown points will be invited for the GWENT Open. GWENT Open is the entry level tier of official GWENT Masters tournaments. There will be a total of 8 GWENT Open events during a GWENT Masters series, with each one offering a $25.000 prize pool, as well as a guaranteed spot in the upcoming GWENT Challenger event for the two finalists.
Every two Pro Ladder seasons there will be a GWENT Challenger tournament where 8 players will battle each other over a $100.000 prize pool. Finalists from the 2 previous GWENT opens, the winner of the last challenger and the players with the highest total Crown points at the end of 2 seasons are being picked for the GWENT Challenger.
After 4 GWENT Challenger tournaments, which is a total of 16 months, GWENT will host the World Masters. The final tournament will feature all previous Challenger winners and a few players with the highest total Crown Points who will then battle it out over a $250.000 prize pool as well as the title of GWENT World Champion. Only then will the GWENT Master Series come to an end. Probably followed up by the GWENT Master Series 2 and so on.
For more information you can go to http://masters.playgwent.com and read up on all things eSport.
New DLC
The next big Announcement is one that will please the single player fans of the Witcher universe. GWENT will be receiving Story Campaign DLC in which you will play Queen Meve of the Northern Realms, Lyria and Rivia. The DLC is called GWENT Thronebreaker and will be released late 2017.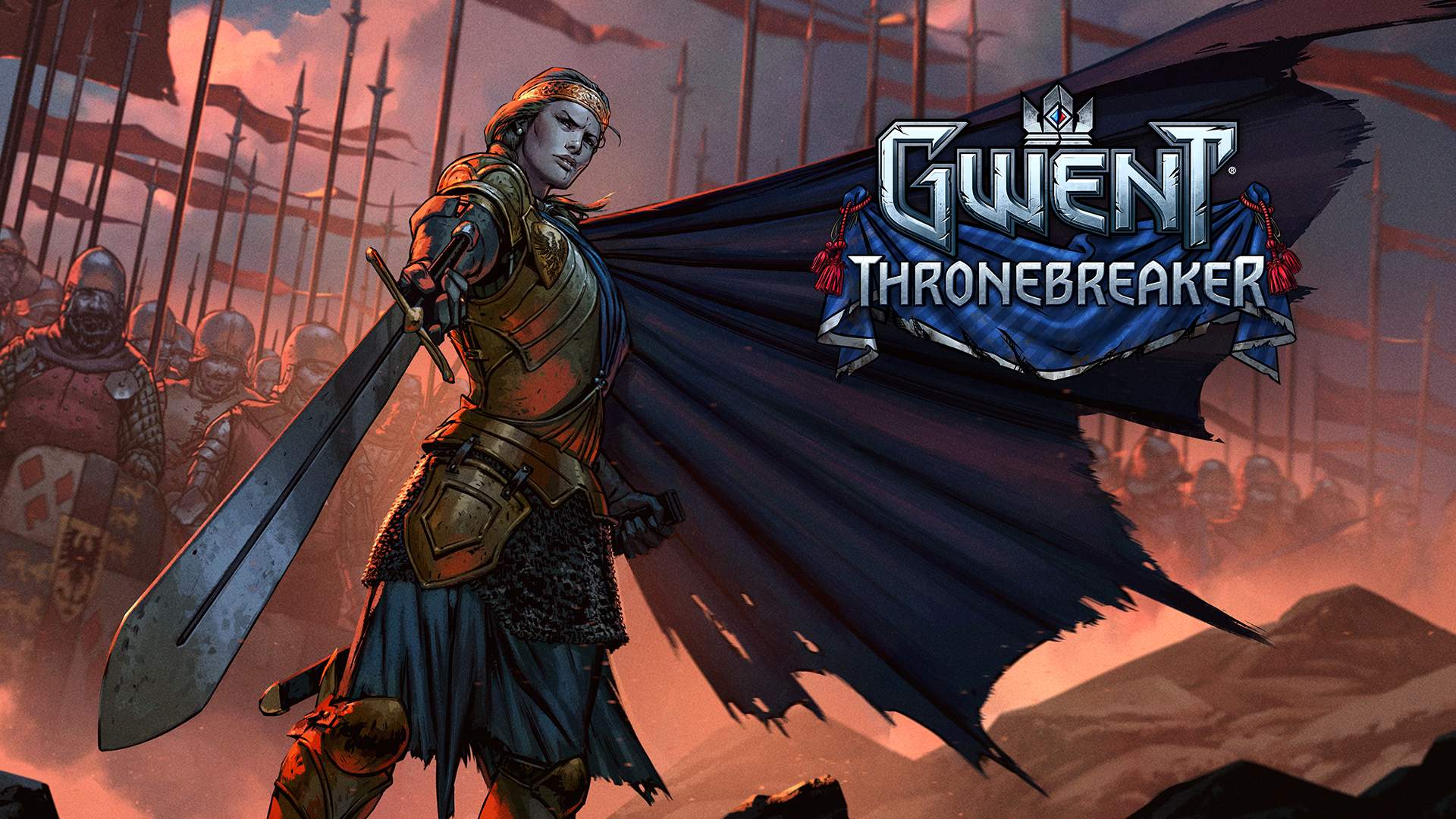 The game sports comic-like graphics and is heavily focused on storytelling using a dialogue system where every choice has a lasting consequence on the characters you meet. To me, it looked like a Diablo styled exploration game, without the hack and slash bits of it. You navigate a map with a top-down view, and on this map you will encounter quests, side missions, treasure chests, resources and more. All of these will help you in constructing and perfecting your Single Player Deck to help complete the main story of the game.
There will be 5 maps in total for you to explore and complete quests in. On each map you will find a place to set up camp. In this camp, you can arrange everything from recruiting soldiers to constructing your deck. There is also a Canteen in the camp where all the NPCs you meet in game will gather, and here you have the chance to explore more of their story and rich history.
The game will also feature environmental puzzles which reward players with treasure chests. These treasure chests can hold many different items ranging from resources to cards usable in your single player deck. There is also a small chance to find special Multiplayer cards, as the DLC will add 20 new Multiplayer cards to the game. This should make the DLC more interesting to the competitive multiplayer focused players of GWENT.
All in all, the short demo we saw and the story behind the DLC have left me somewhat excited to pick up GWENT once more. While the eSport announcement is great for generating a steady flow of revenue and attracting new players, the Story DLC is what Witcher fans want and now finally get.