The final chapter in the story about four friends concludes with issue #3, and it unapologetically reminds us that "life's not a fucking fairytale."
Part 3:  End of the Road
Walk into any local comic shop and talk to whoever's working behind the counter. While they may not own a copy of DEAD END KIDS by Ringo Award Nominee Frank Gogol, they are very familiar with the title. That's because the three-part mini-series has managed to sell out well in advance of release dates and has built a strong following of fans. The books are selling for well over cover price online including this concluding issue #3 which has yet to hit shelves! If you are unfamiliar with the title from Source Point Press feel free to read the Advanced Review of issue #2 before jumping in.
It gets worse before it gets better.  This is one of the first ideas introduced in the conclusion of the story about four friends.
The scene opens up in 2019 with a now adult Murphy gazing into a tombstone in the middle of a cemetery. Just like previous issues the use of flashbacks and flash forwards help weave the story telling by Gogol. We are placed back into 1999 after the cautionary disclaimer to find the then teenagers gathering. Who killed Ben is the question that has been driving this story – and now it's reached the point of desperation.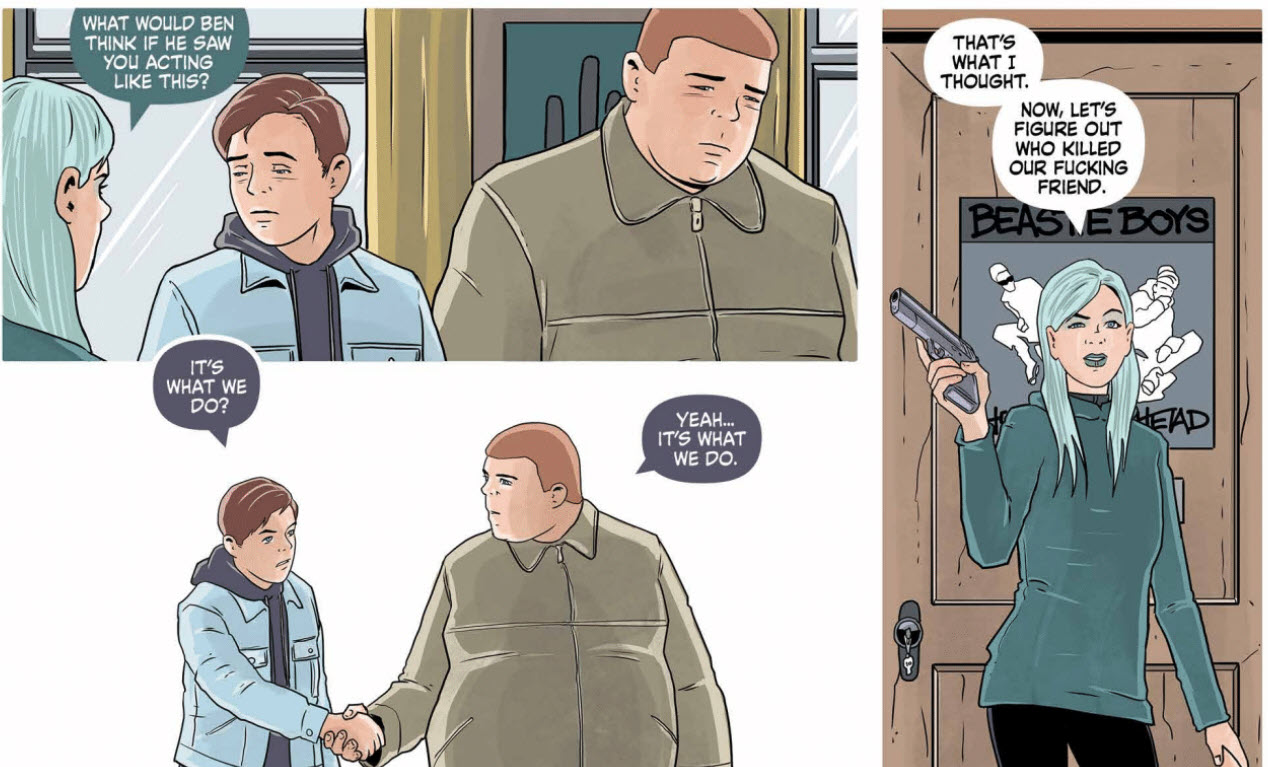 One of the more prevalent themes throughout this series has been death. Where DEAD END KIDS manages to stand on its own as a powerhouse, is in showcasing what happens to everyone who's still there when death takes a loved one. The emotional space between grief and guilt and the idea of how to best move on is where this story lives.
Suddenly Murphy knows, he knows who killed Ben and that's when the story moves to the final confrontation.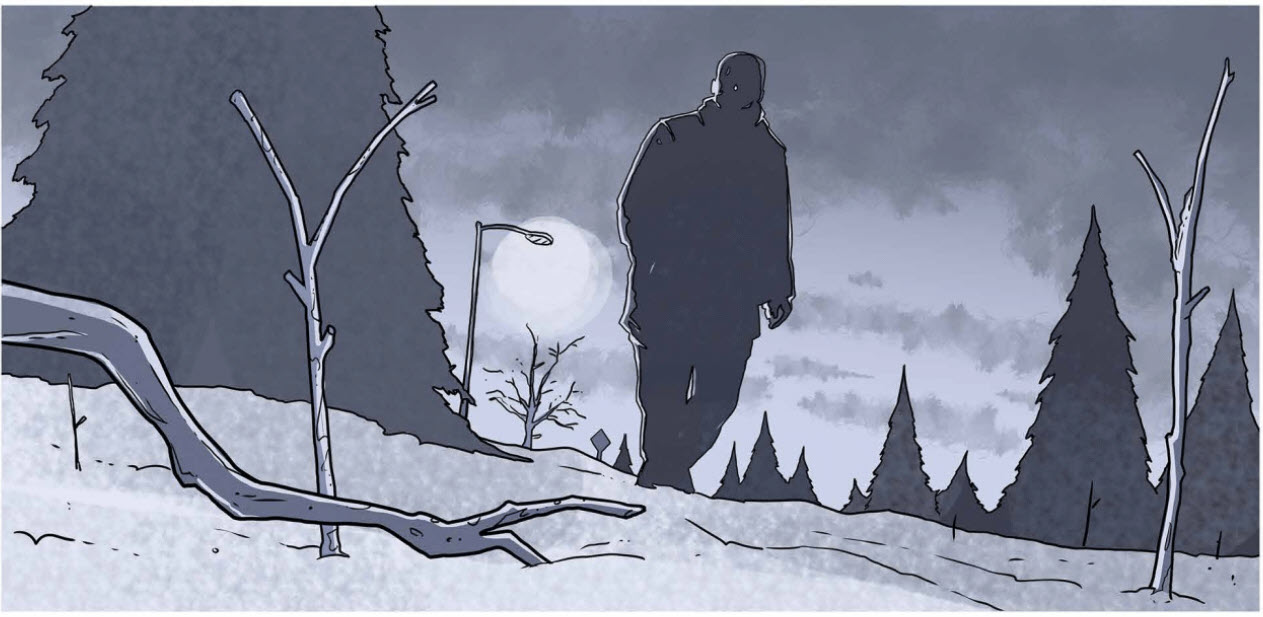 Frank shows a deep understanding of those dark emotions that people avoid talking about. He also excels at building tension and creating drama. This final climax builds and builds like a hot kettle reaching its boiling point. Just as the kettle starts screaming one of the longest frames you will ever see in a comic book brings things to a standstill. For a brief moment, as most people will be dying to see what happens next it's as if everything in this world has hit the pause button. What comes next is the reveal and the mystery of Ben's death has been solved.  What is not known is who is still alive to carry the story on…
Epilogue.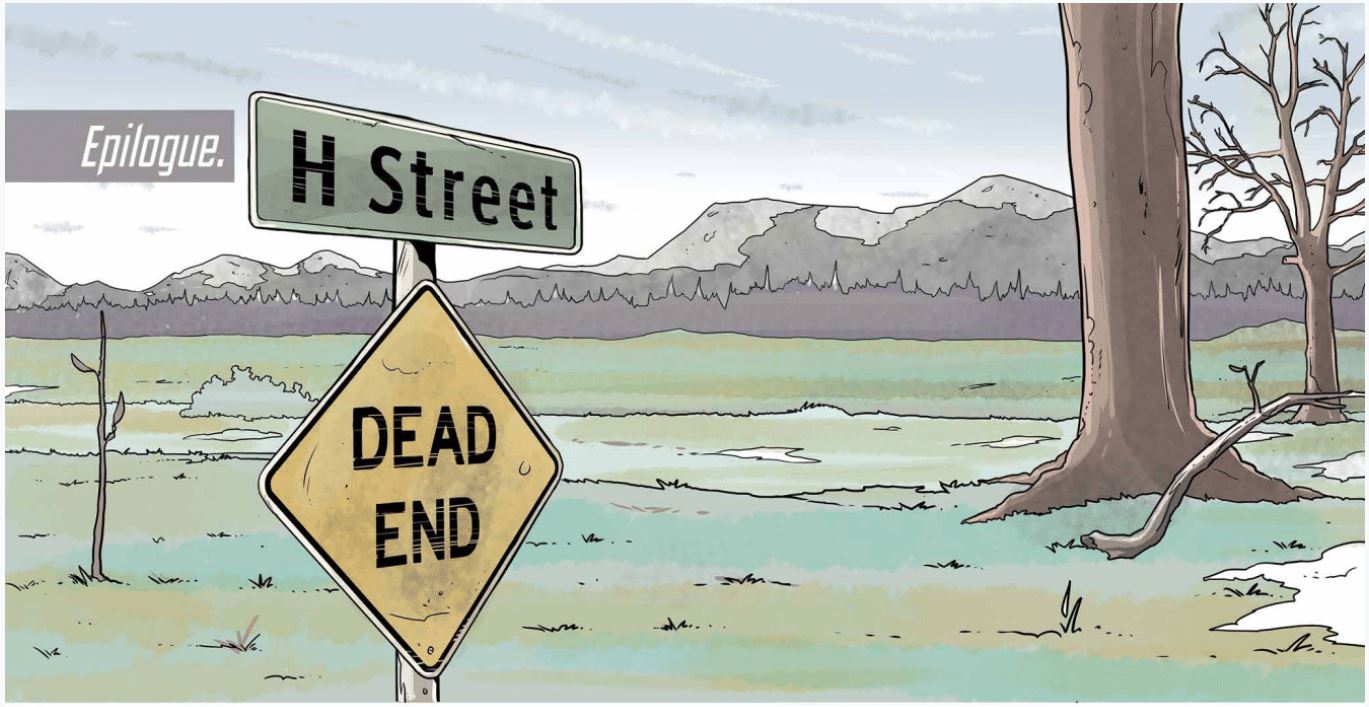 That's correct, typically this word creates a sense of ease and comfort. Similar to a movie makes the audience read what happened next to the characters. Taking a page out of DEAD END KIDS that is also where this review will leave you.
FINAL THOUGHTS
DEAD END KIDS #3 – 'End of the Road' is a fitting final chapter to the series. This series has been one of the best comic books I didn't know I wanted to read. Stories like this are rare in comics because it sits in the pocket of reality. Frank Gogol has been nominated for an Ringo Award because he is a great storyteller. What makes him unique is he taps into the deep end of raw human emotions that make most people uncomfortable. I have thoroughly enjoyed this series. In terms of comic book reviews I prefer to have the whole story as we now do here. With the whole story, you can truly appreciate where the storyteller just took you and their characters. Death. Loss. Pain. Compassion. Inevitability. If you thought this was just a story about a couple of kids you are mistaken.
DEAD END KIDS #3 – Releases October 2, 2019, by Source Point Press (originally scheduled for release September 25th, 2019).
Score:  5/5
All images courtesy of leagueofcomicgeeks.com , and Dead End Kids #3 by Source Point Press – Frank Gogol (Writer), Nenad Cviticanin (Artist and Colorist), and Sean Rinehart (Letterer)