DEAD END KIDS debuted to a sold-out first issue, how can issue #2 possibly follow that?
More than a comic book about superheroes, powers, or cool suits. Discover the title with the most heart.
Source Point Press has a hit on their hands with the three-part mini-series DEAD END KIDS, by Frank Gogol. The first issue was released on August 7, 2019, and sold out at most local comic shops well in advance of the release date. It was just announced that issue #1 will be going for a 2nd printing. Writer Frank Gogol gained a following by launching a Kickstarter campaign that eventually earned a commercial release for his series of short stories GRIEF. GRIEF follows ten very different people as they each struggle with the pain of loss and their own personal demons.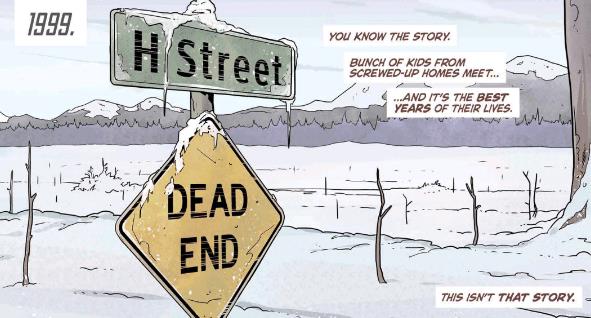 DEAD END KIDS is a story about four screwed up-kids each from broken homes. Ben, Murphy, Tank, and Amanda are the team of misfits who somehow find each other and stick together, because, well "It's what we do." The year is 1999, and the time of the '90s comes alive in a way that echoes the 2018 film Mid90s by Jonah Hill. It's the detailed pop culture references from song lyrics, band and movie posters, and other nods help bring the '90s alive. The opening pages of Issue #1: The Wonder Years (also a popular show from the '90s) introduce the four kids.
While these kids have each other, "the kids aren't alright."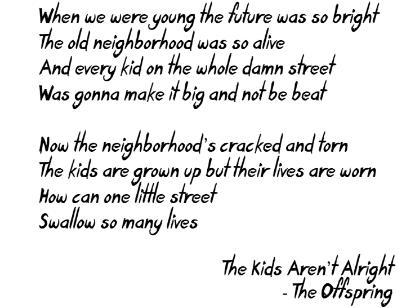 "Holes," picks up in the tense moments where the first issue left off. Murphy, Ben, and Amanda are at the scene of the crime. They have discovered a suspect in the school bully, Bulmer.  "Holes" is a fitting title for this chapter of the series. Gogol loves the middle of a series the most, saying "It's an open playground." Frank is in his wheelhouse in terms of storytelling. Riddled with guilt and seeking answers to help heal their loss, can they solve their friend's murder?
Bulmer finds himself confronted by Murphy, Ben, and Amanda. 

As the tense moments continue, flashbacks reveal painful memories. The flashbacks weave the story in out and out of the present-day timeline. When traumatic and painful moments happen, do these moments every truly leave us or do they stay with us? Painful moments are often referenced as "scars", however sometimes those moments are more like "holes" that never fill.
The flashbacks travel back in time 1 year and as far as 14 years ago. Painful moments in a person's past can affect them for a lifetime.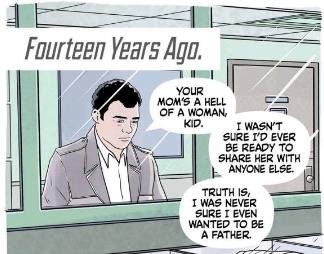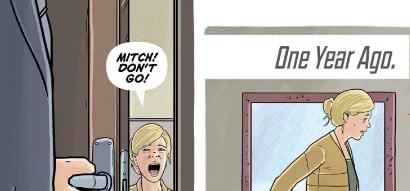 The confrontation builds up to the final climax and the issue closes leaving Murphy, Tank, and Amanda in danger. While the present-day story is the main arc, deep and meaningful background stories make each character real. The concept of "being broken" is in actuality one of the most defining characters of being human.
Handicapped by our own experiences and flawed in nature as we react to life, which "keeps coming like a hurricane."
FINAL THOUGHTS
DEAD END KIDS #2 – 'Holes' will be the defining issue in the series. This is the midpoint, but more than that it's the writers' open playground. Storytelling weaved through multiple layers, timelines, and characters that make everyone in this world vulnerable. What a refreshing entry into the world of comic books. Raw and real while staying relatable these are not "dead end kids" they are just kids. Anyone who's experienced deep and effecting pain can relate to something in this book. In a world of capes, costumes, and villains this book stands out on its own for being brave and unapologetic. DEAD END KIDS is a beam of light shining on the shadows that have been ignored by comic books. Highly recommended for fans of Frank Gogol's GRIEF, and anyone looking for a dose of reality in their comics.
DEAD END KIDS #2 – Releases August 21, 2019, by Source Point Press
DEAD END KIDS #3 – Releases September 25, 2019, by Source Point Press
Score:  4/5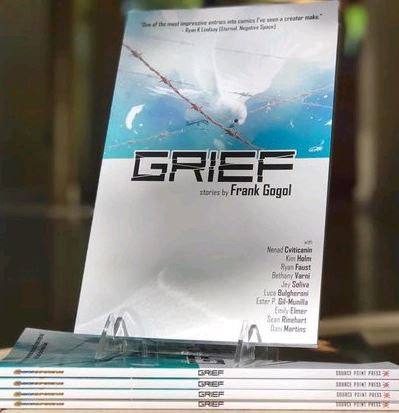 All images courtesy of leagueofcomicgeeks.com , frankgogol.com , and Dead End Kids #1 & #2 by Source Point Press – Frank Gogol (Writer), Nenad Cviticanin (Artist and Colorist), and Sean Rinehart (Letterer)