April of last year I started an online D&D game that included members of the Prime Collective clan, Mulehorn Gaming members/contributors and friends. At some point, it was mentioned how cool it would be to together in person to play around a real table. Last weekend we did just that at my house. We took our game from the virtual tabletop to the real tabletop and hosted a D&D Meetup. Let me tell you about it.
Cast of Characters
NickHardJaw – William Dorn, Human Paladin
DirtyBobombz – Tully, Human Ranger
Morzan ZW – Merric Thistlewalker, Halfling Rogue
Swyzl – Thorin, Dwarf Cleric
SonOfGravy – Ivar, Half Orc Barbarian
Getting There
Illinois to Virginia is an eight-hundred mile trek. That's more than 12 hours in the seat. Dirtybobombz drove two hours Thursday evening to Morzan's house. Early Friday morning they left Morzan's house headed to my home in Virginia. Meanwhile, Thursday night NickHardJaw drove 4 hours from Maryland. Son-of-Gravy arrived from Washington D.C. Friday morning. Good thing they came early. I needed to convert my basement into the space necessary to accommodate everyone. That ended up being more than I anticipated. Their help was much needed.
The Live D&D Tabletop
Because we use the virtual tabletop software Fantasy Grounds for our normal Friday night game, most resources are already managed for us. Dice, rulebooks, character sheets and maps are built in. We log and in it's all there virtually. I had to think about bringing all of that to life.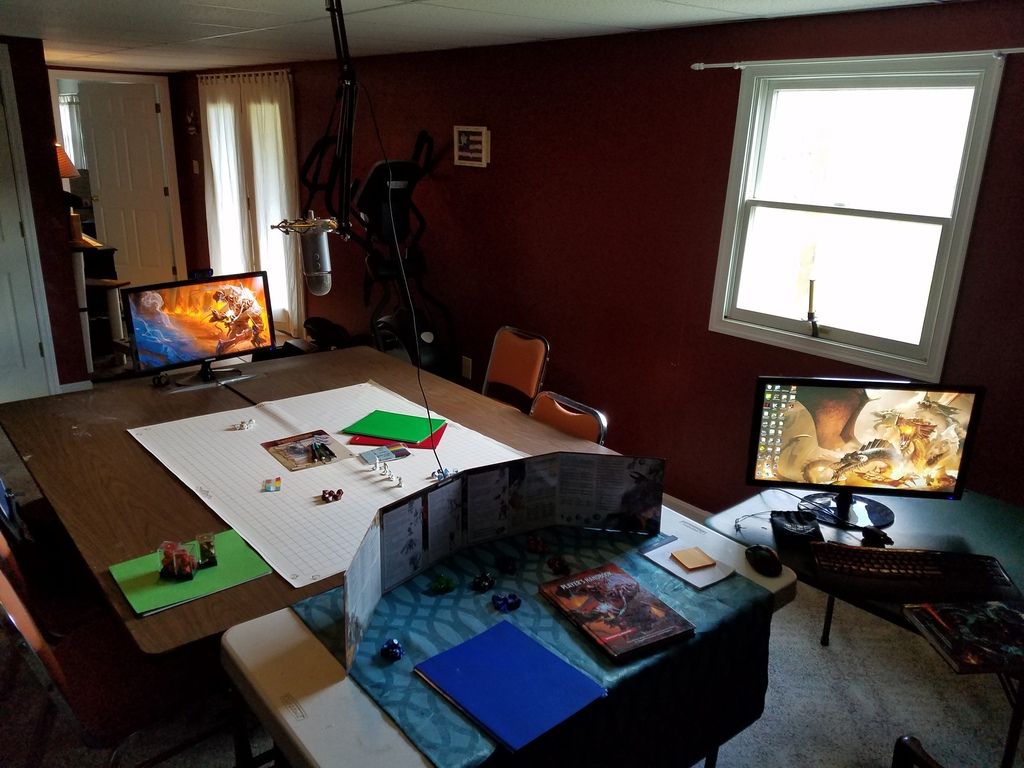 The typical tabletop D&D game doesn't require a bunch of resources. A set of dice and the collective imagination of two or more people will get you a game. For our game, we amped it up a bit. We had the typical add-ons, a wet-erase mat for drawing maps, multiple copies of the player's handbook, and at least one set of dice per person. But that's the easy stuff. Where we kicked it up a notch was making it available online. We did this for two reasons; 1) Our fellow player Swyzl from California couldn't make the trip. I had to make the game accessible to him. 2) We wanted to stream the game like we do every Friday night.
Keeping it Pixelated
I needed to make sure Swyzl had a way to see us and the table, and for us to see him. First, I set up a monitor at the end of the table where he would normally be sitting in a chair. This was our view of him. Behind that monitor I hung a webcam from the ceiling. This gave Swyzl a view of the table and everyone setting around it, but from this vantage point he couldn't see the table very well. To fix this, I set up a 2nd camera mounted on a uni-pod and secured it to the table with duct tape. We were able to move and Zoom this camera. Then came the easy part – setting up the stream. I captured both cams using OBS, and a Blue Yeti microphone suspended above the ceiling was adequate for capturing everyone's voice. We were ready to game.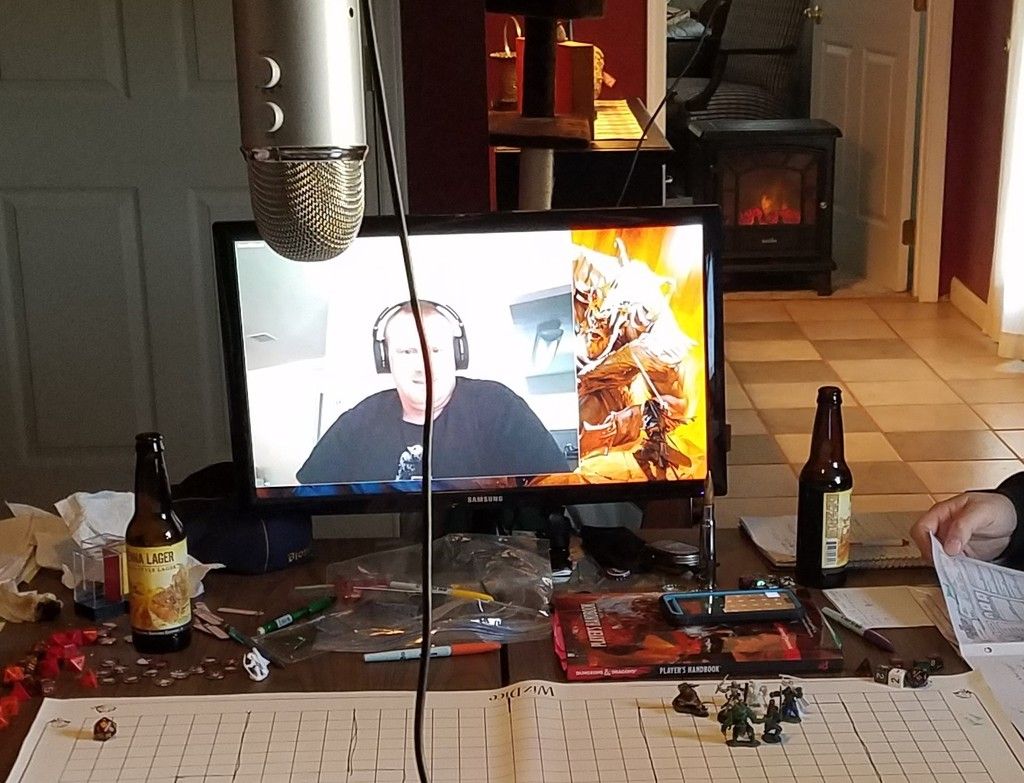 The Meetup
DirtyBobombz and MorzanZW arrived Friday evening around 7:30pm. They were pretty wiped out and MorzanZW made the trip with a herniated disc. The first thing I noticed is that DirtyBobombz is tall – probably 6ft 2in. It must be all that Wisconsin cheese and corn. MorzanZW is exactly who he is online. He is as much fun and witty in person – even when in pain. Saturday evening fellow MHG contributor JohnnyCaged85 joined us – not to play, but to hang out. We recently discovered that we live 15 minutes from each other.
We stayed up until about midnight talking, eating and drinking. Nothing was left of the Salmon I smoked the night before. None of us were up for too many shenanigans this evening. In the back of our minds was the reason for the entire weekend – the game. Everyone but me traveled great distances getting to my house just to play D&D around a real table and, for my part with the responsibilities of Game Master and host on my shoulders, I needed to make sure I mentally and physically prepared to deliver a game worthy of their commitment.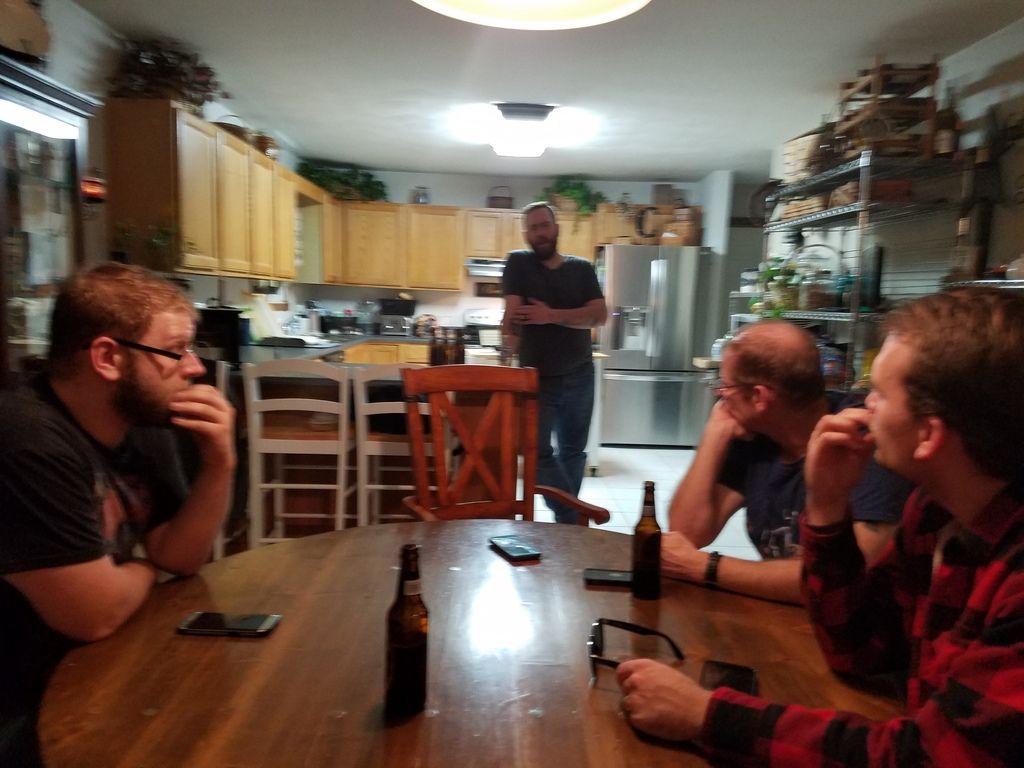 The Throne of Bone
The adventure I chose for our weekend is one I found on DM's Guild called The Throne of Bone by Jeff C. Stevens.
Introduction: The adventure starts with the adventurers coming to the aid of an old farmer whose prized livestock are being attacked by a pack of wolves. This simple quest leads the party to the discovery of the skeletal remains of a bard and a magically resistant door made from an unfamiliar material. The adventuring party must persevere through traps, puzzles, undead and a talking door that mocks them along the journey until they discover the secrets resting upon the seat of the Throne of Bone. Will they sit?
The wolves presented little challenge for the group. At 8th level, the party of five Player Characters is pretty strong. The adventure is for 6th to 8th level PCs, but is easily modified to accommodate more powerful groups. I was able to easily modify it without any invention on my part. I used the suggestions that Jeff Stevens provided and it made for a balanced adventure. I'm not going to say much more than that about The Throne of Bone so I don't spoil it for any future players. All I will say is that they entered the catacombs as a party of two humans, a halfling, a half-orc and a dwarf and exited as a party of 3 dwarves, a halfling and a half-orc. This sets up a nice opportunity for story and roleplay for at least the next handful of Friday night games.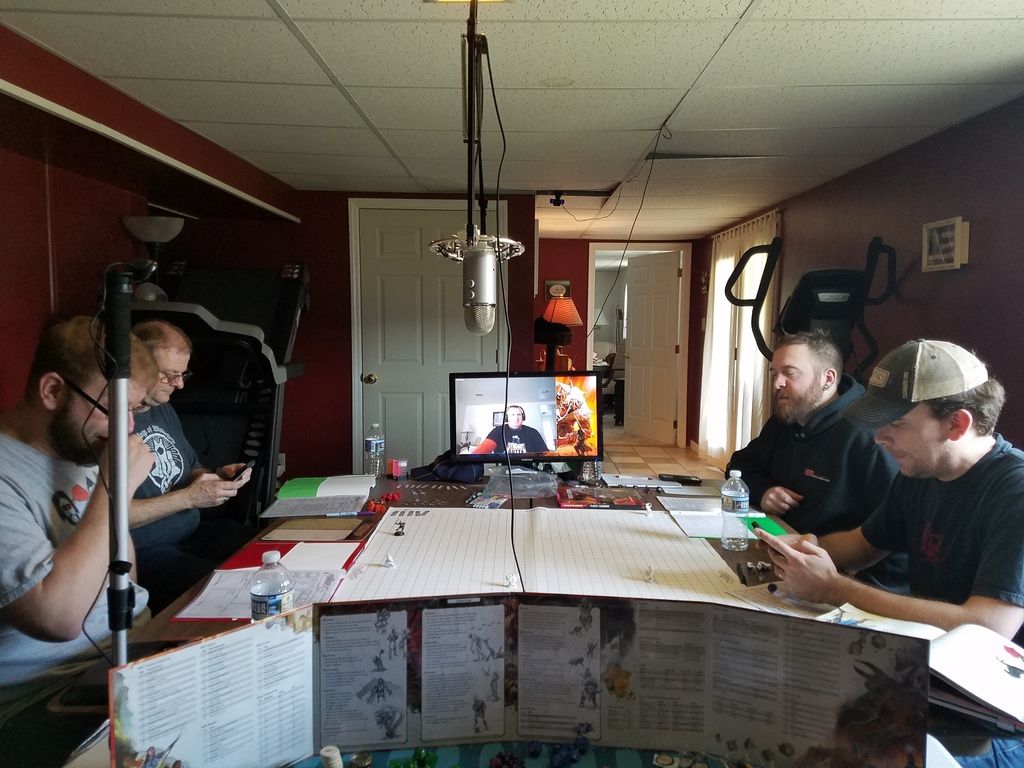 If you would like to join us and see how the characters take to their change of race, we broadcast on BEAM every Friday night at 10pm eastern time. You can find us at beam.pro/scrsdnd (Sword Coast Reclamation Society). You can also follow us on Twitter @SCRSDnD or find me at @Gravykingpin.