Community Spotlight time featuring Gabe from Torpedo Comics in Las Vegas, NV.  We talked about comics, the shop, live claim sales and more!
Torpedo Comics has quickly become a Comic Shop that you have to visit when you come to Las Vegas.  If you have not had the privilege to check out the shop in person, put it on your list of things to do when you visit Las Vegas.  The shop is very unique, however, what really makes it stand out are the people that work there.  I walked into Torpedo Comics for the first time in July of 2017. Gabe was behind the counter and signed me up for my pull box which in turn started my resurgence into comics.
Let's hear from the man himself!
What do you love most about working at Torpedo Comics?
The best part about working at Torpedo Comics is the moment when a new collection comes into the store. Torpedo has so many connections and avenues for buying collections; from traveling to so many conventions, people walking into the store with comics they want to sell, or John (the owner) coming in with a collection he bought from who knows where that we never know what will land in our laps. Those unknown Schrödinger's cat moments when that box could contain anything and everything.
What books are you currently reading? 
Right now I'm neck-deep into Japanese manga. These are a completely new uncharted terrain for me. Titles like; Akira, One Piece, Demon Slayer, My Hero Academia and Berserk. All have re-sparked my excitement for reading comics again.
Do you have a favorite book in your personal collection? 
Just a Fantastic Four #1 CGC 4.0. Nothing special
How did the live claim sale on Instagram idea come about and how long have you been doing them?
The idea of the Live Claim Sale started when I was tasked with being in charge of the social media for the store. I'm a huge propionate that for a business to survive it must adapt to the changing market. Today that big change has been the introduction of social media. Not only for branding and posting pictures of the crazy-cool comics we have in the shop but for sales and marketing.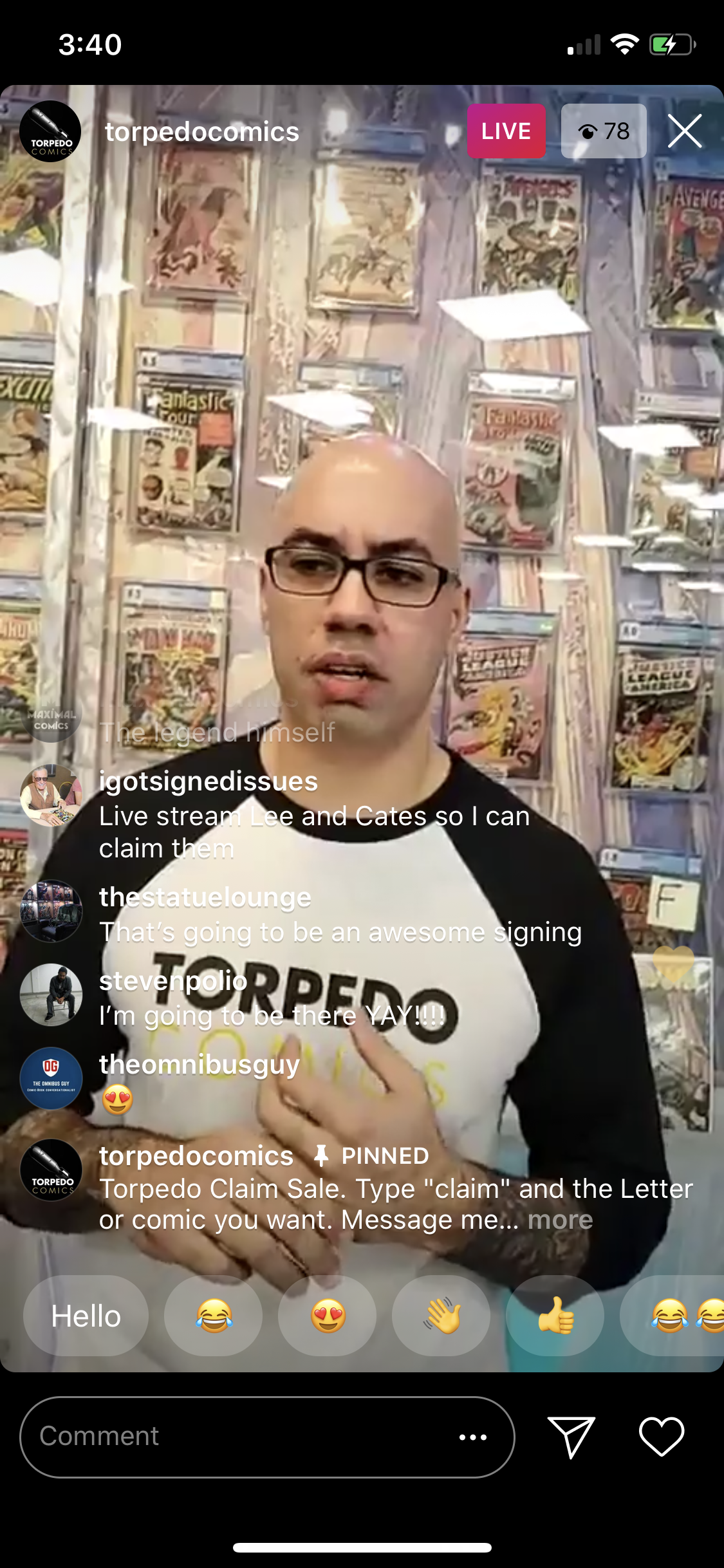 I noticed as Torpedo grew in popularity on Instagram the store started getting customers visiting us from all over the country, and the world, and one of the commonalities these people had was they did not have comic book stores in their area that "felt" like actual comic books stores. Meaning their local area stores carried more ancillary items like gaming and POPs! more so than back issues, CGC or Key issues. Or they didn't have any comic books and could only find the books they wanted through eBay or at conventions. We also get tons of private messages from people asking if we had certain issues they were looking for. That got me thinking of how I could reach out to these people since so many collectors seem to be randomly hitting up every comic shop that was on Instagram hunting for comics they so badly wanted.
That's when I knew that instead of trying to get customers to come to us instead I would go directly to the customers with social media and use Instagram live. And with Torpedo's continuing collection buying habits and constant influx of key comics I knew I could tap into those "orphaned" comic collectors who either didn't have stores that carried back issues or who didn't have shops at all.

It started being a regular weekly event starting in September 2019
How do you and Nick go about picking the titles each week, is anyone else at the shop involved? 
Everyone at the shop is involved with helping to pick what books go into the Live Sale every week. We pay close attention to what is gaining popularity in the comic community and heating up and try to include those in the sale. We also like to throw unusual stuff in there to see what makes an impact. I also write down requests people have and try to find those for future sales.
How have the claims sales impacted business and Torpedo's social media presence?
Big time. The sales from the Live Sale have continued to increase week after week. Now when we look at collections or go out buying at conventions we started saying, "this will be great for the live sale." It's quickly become a new channel of business revenue for us.
What do you love most about the live sale – hosting, selling a ton of books or high ticket books, the chat, or something else?  
Everything! From the hosting and getting to interact with people and joking around. We have a lot of fun.

But, really it's the opportunity to give collectors without a comic book shop the chance to get their "grail" or to cross off those key books from their lists they wouldn't be able to find elsewhere.
You average anywhere from 70 to 100+ people in your live sales at any given moment, what's your biggest pet peeves?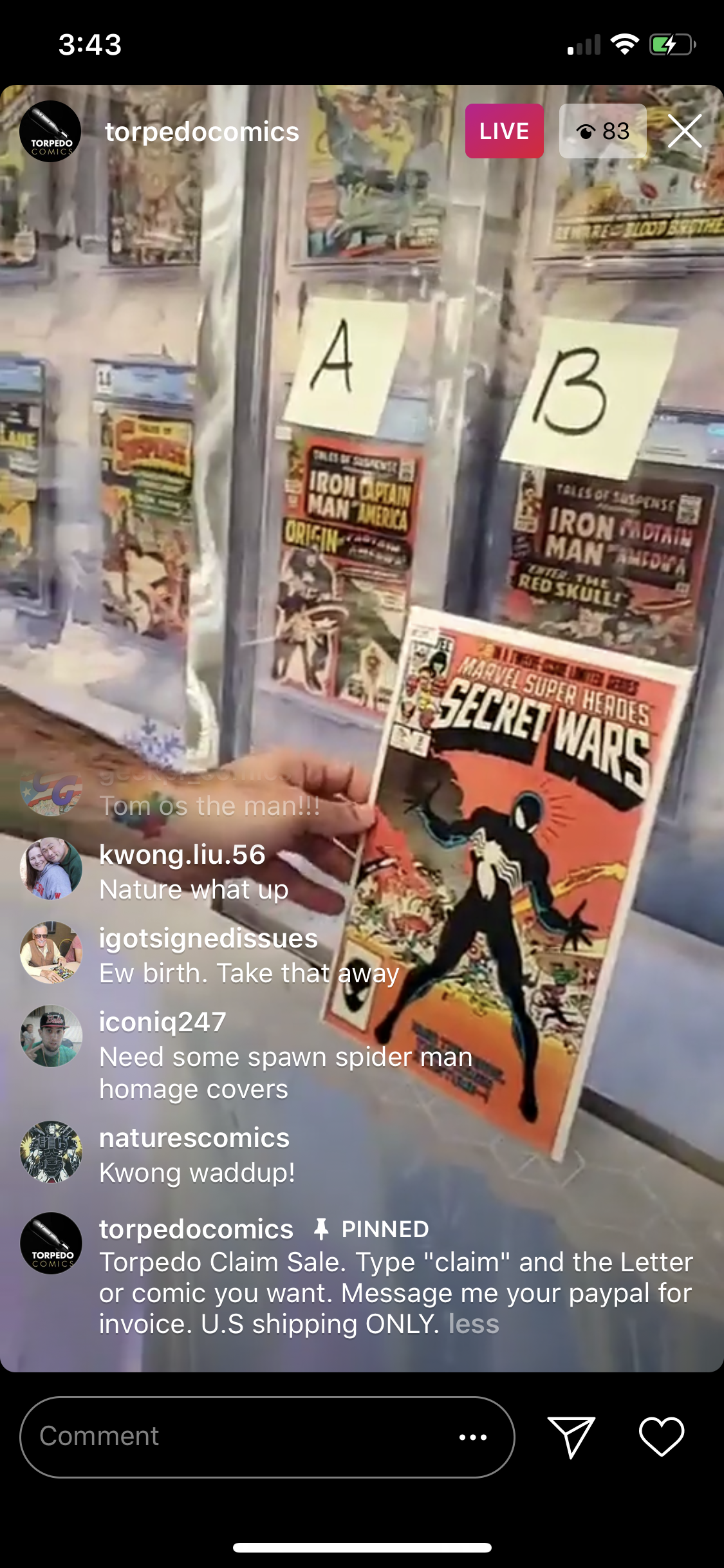 I try my best to explain how to properly "claim" a book. Over and over, to be as clear and transparent as possible. Yet, there are always a few people who just say "Claim" or "Spider-Man" and that's too vague since I normally have multiple titles up at once that are Spider-Man related or Avengers or Batman. But no big deal. Otherwise everything is great.
What's the biggest book you've sold on the claim sales? 
Recently a Hulk #181 for $2,000
Tell us about your most memorable moment at the shop?
Our signing event from December 2018. Jim Lee, Scott Williams, Alex Sinclair and Marc Silvestri. What an amazing gathering of the best talent in comics. 
Always sipping on some Starbucks, what's your go-to coffee?
Iced Americano. No caramel frappuccinos for me. I'm an adult.
You can find Gabe working at the shop most days or hosting the Torpedo Comics Live Claim Sales on Saturday afternoons!  He also is a rabid Ominbus collector so be sure to check out the Omnibus Collectors Network channel on YouTube where he and friends post a ton of content.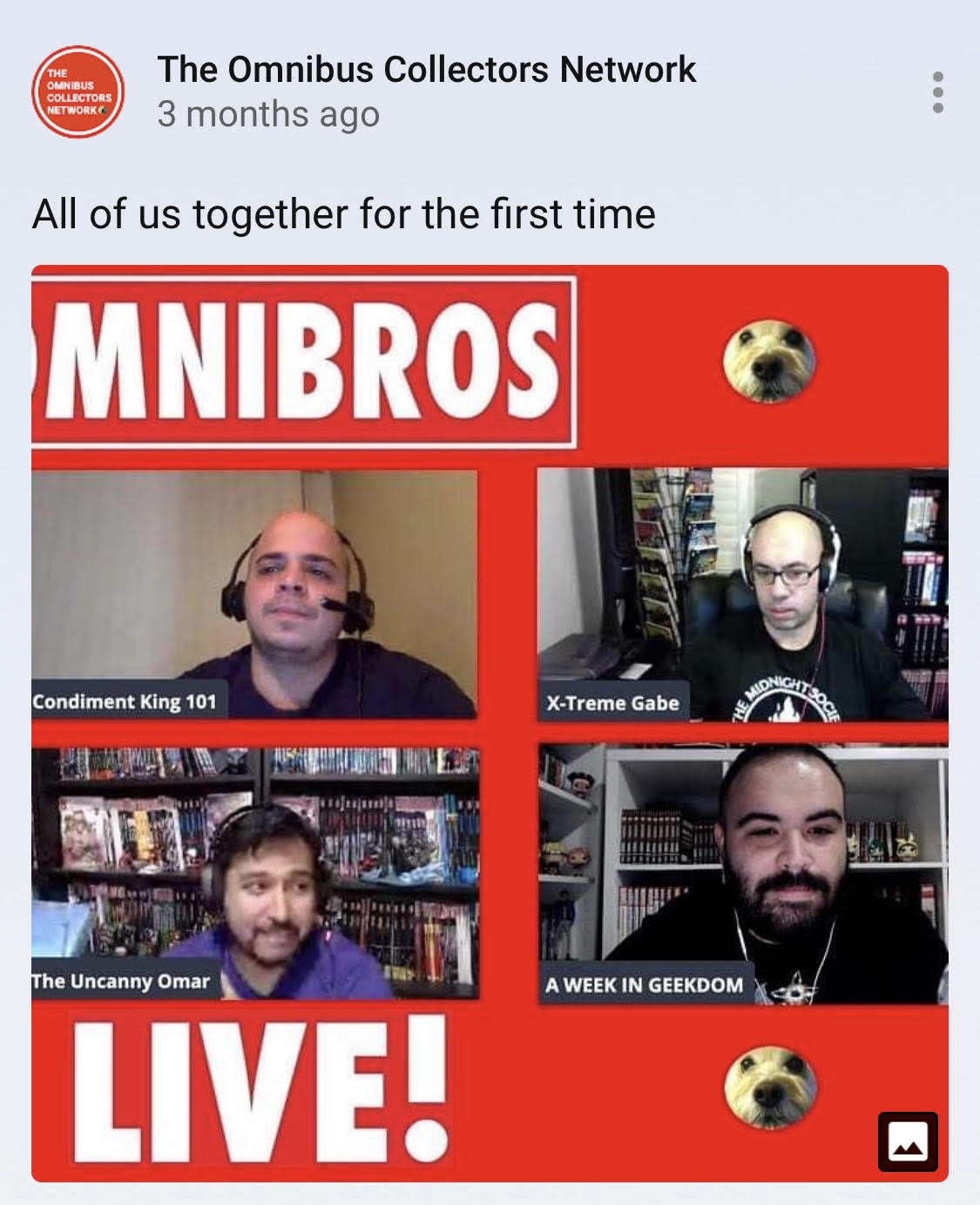 Community Spotlight is about celebrating individuals that help bring people together!  It is an opportunity to highlight those individuals and get to know more about them.
View previous roundups, news, interviews, and reviews at the comics landing page, or jump into the Mulehorn Gaming Discord – #comics_collectibles anytime to talk comics