This past weekend I attended what's probably the most fun and joyful video games event I've ever been to – Classic Game Fest 2019 in Austin, TX. If you weren't able to make it this year, here's why you should add it to your summer schedule for next year!
It's Affordable!
Wristbands for the weekend were about $20 each, and kids 12 and under were able to enter for free. This makes it super easy on the wallet so you can bring the whole family and still have plenty to spend on…
The Artists!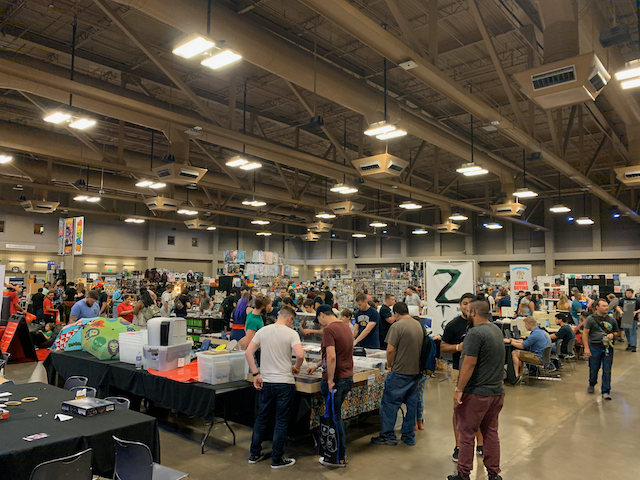 I was honestly stunned by the quality and volume of amazing artists present at the show. In hindsight, I shouldn't have been that surprised given that it is Austin after all. But seriously, there were all manner of artists representing – stunning hand-drawn prints, cufflinks, t-shirts, bath bombs, soaps, and everything in-between — there's something for everyone to rep their geekdom or their favorite…
Games!
From ancient classics of yesteryear to obscure platforms – arcades and pinball wizardry to unique takes on popular favorites, Classic Game Fest had plenty of hands-on experiences. It was a lot of fun to show my kids some of the games I grew up with and to try out new things.
One of my favorite things I got to do was at a booth called "This Controller Sucks" where some enterprising engineers had devised alternative methods of controlling games. Some of the best games I played were Duck Hunt with a bazooka controller, and Sonic the Hedgehog with a series of light switches!
Had an absolute blast playing Sonic with a bunch of light switches at This Controller Sucks at @classicgamefest today for @MulehornGaming pic.twitter.com/qM5tgIKOSZ

— sudo-nym ? PAX South (@josh_nash) July 28, 2019
If you missed out on the fun this year, have no fear! Classic Game Fest returns to Austin July 25-26, 2020!