Have you ever bought something off Instagram? Chances are you use your Amazon Prime account frequently and shop online with most of your favorite retailers. What about shopping through social media? Everyone has clicked on a link or page and seconds later found themselves on a website. The comic book community has a strong presence on Instagram. Over the past year, I have found myself connecting with more and more of that community. Unknown to me – there's a hidden treasure of access to any book you could want. More and more people are turning to the platform as a way of adding to their collections.
Why Instagram?
The most familiar way to buy a comic book is to head out to your local comic shop and buy that book from that guy or gal behind the counter. The next most common way would be to head to eBay which has been a longtime favorite for sellers and buyers of anything, but especially collectibles. Of course – there are plenty of options to shop through retailers' websites as well. 
Now we must mention that in today's digital age yes, some people purchase digital comics to read from a smartphone or tablet as it's the read that is important to them. However, for the sake of this discussion, we will stick to those of us that buy comics to collect them! 
This leads us to one of the newer players in the comic book market, Instagram. According to sproutsocial.com, Instagram has over 1 billion active users. Of those 1 billion active users, 50% of them scroll their feed each day. That is a huge audience. Now let's dig into some posts data by looking at tags: 
#comics – 20.9 million posts
#comicbooks – 4.2 million posts 
#igcomicfamily – 930k posts 
#comicsforsale – 435k posts 
#comics4sale – 254k posts
As the saying goes, numbers don't lie the comic community is strong on IG!
Buyer Beware
Before we go any further it's disclaimer time! Everyone does NOT have good intentions. Like with anything else, there are people who are running scams on Instagram. DO YOUR RESEARCH. This is critical, look at the activity and content. Read the comments, DM other people and interact with people before you go open that PayPal wallet or Venmo app. ASK QUESTIONS. The condition of books greatly impacts the value and if you are going to spend money with someone they should have no problem with questions. Verify what printing the book is and get some photos if you are worried about the condition. Ask about their shipping process and costs! I can only vouch for the pages below because I have personally worked with them – these contacts ONLY all receive the Morbid stamp of approval!
Buyer Options
This part of the experience can look very different depending on the seller, and how they are choosing to interact with their buyers. The most common approaches are outlined below
Live Claim Sales

Now, this is where things get "sweaty" as we say in the gaming community. This involves being in an Instagram live feed and the first to claim in the chat gets the book. Literally, a who has the fastest thumbs contest if multiple people want the same book.
Live Auctions

Similar to live claim sales but add a sense of competition and the intensity of auction bidding. This can get intense if there's a book up for auction that two people want, who's got the deeper pockets? Bids are entered in the chat and continue until timer or bidders go "out."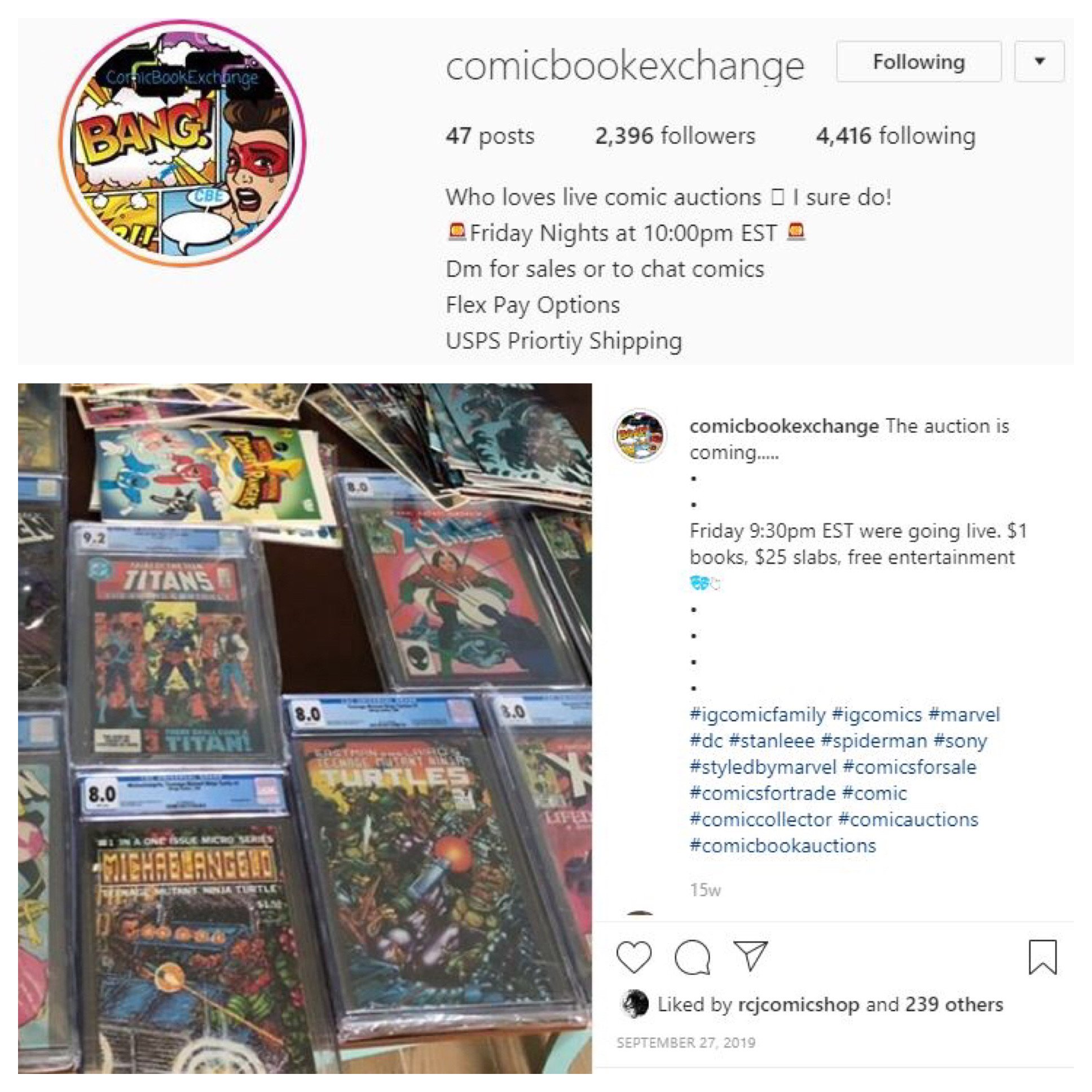 Websites via Posts

There are some of the larger websites out there that use their IG page to drive people to their websites. This approach is used by both comic shops and online stores.
Claims via Posts

This method is simple, post a comic that is for sale and first to type "claim" in comments gets it.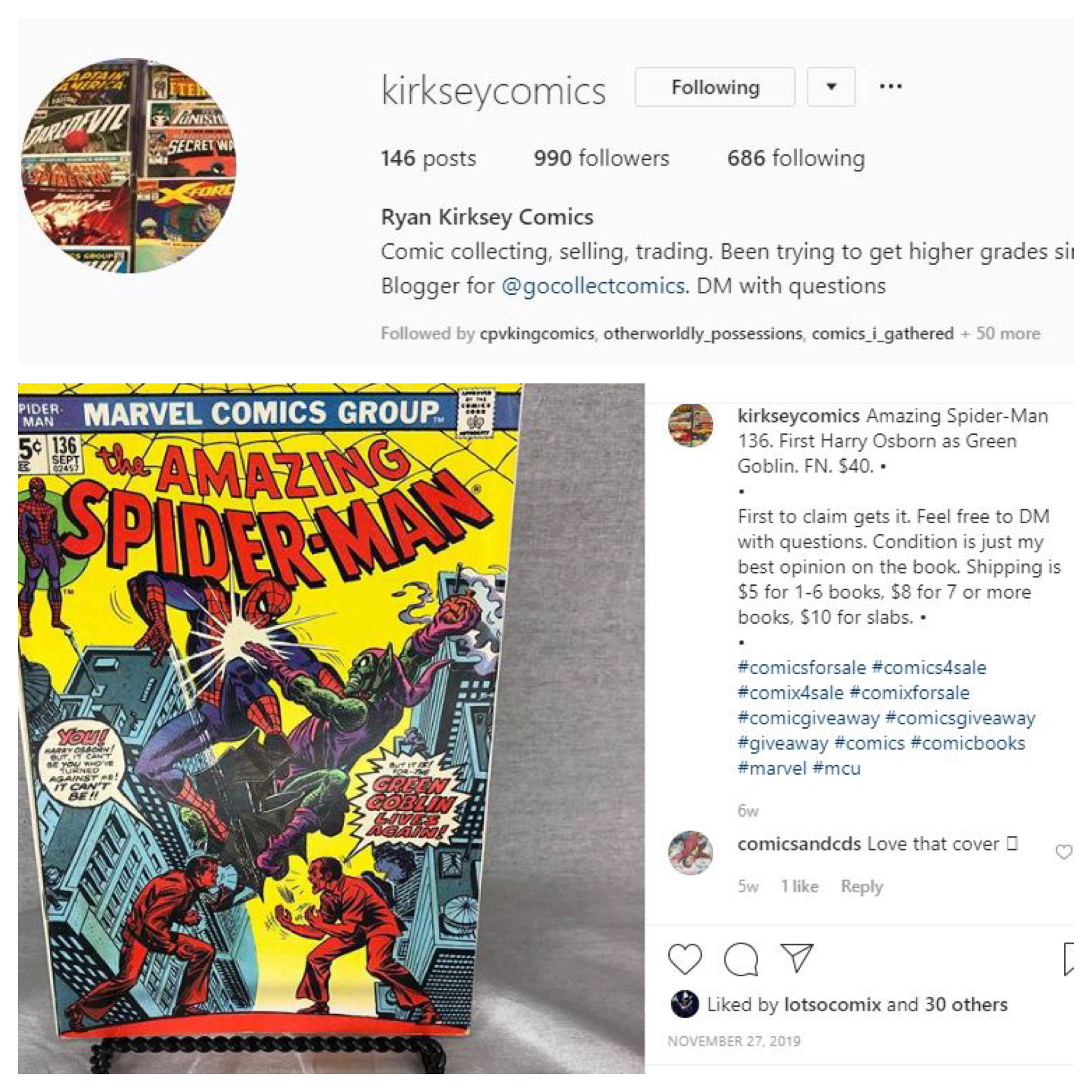 Live Raffles

The premise is you buy spots in a raffle to be drawn live on Instagram. If your number is drawn you win the book. Typically sellers either have more spots available with a cheaper buy-in per spot or fewer spots but then the spot per cost increased. To date, I have opted into one paid raffle and have yet to win so, therefore, nobody receives the feature or Morbid Approved stamp!
Live Claim Sale or Auction – "The Experience"
The live auctions and sales are incredibly fun and addicting. Aside from that, they are interactive! The hosts interact with the chat and sometimes that even drives what books are sold. Sometimes the chat interacts with each other, and often you see the same people in the chat which builds community. This borders on the side of entertainment, as you get to watch people claiming and or bidding on great books LIVE. The host and chat interactions are often highly entertaining as well. Being on this side of the feed, I took some time out to speak with two of our featured friends and they were both recently featured in Community Spotlight Interviews as well.
In our Community Spotlight interview with Gabe from Torpedo Comics he talked about what he loves most about the live sales.
"Everything! From the hosting and getting to interact with people and joking around. We have a lot of fun. But, really it's the opportunity to give collectors without a comic book shop the chance to get their "grail" or to cross off those key books from their lists they wouldn't be able to find elsewhere.
King of the "every book starts at a dollar" Friday night auction – here's what was shared in a recent Community Spotlight Interview with Instagram's Comic Book Exchange. 
I love the people. I used to spend my college years always hanging with my friends on Friday nights till the late hours. It brings me back to that in a lot of ways. And, I know I am providing a service to those who don't have the same access to inventory.
What's the best option?
This really depends on what your goals are and what experience you are looking to have. When you are hunting for particular books you may want to go with the direct approach of using someone's page or website. If you are looking for bargains or deals you would want to stick to claim posts and DM sellers to see if they are open to negotiations. Another option would be attending some auctions and hope that you can get a "steal" on a book. The live claim sales and auctions by far are the most fun. You never know what book may pop up next. I've added several books to my collection that I would not have even thought of to look for. I encourage anyone to give the guys above a follow and attend one just to experience it for yourself. Remember admission is free!
Whether you are trying to build the ultimate personal collection, looking to trade up to bigger books, or looking to connect with others in the comic book community Instagram is a great place to be. Showcase that personal collection off and grow it one "like" at a time! 
View previous roundups, news, and reviews at the comics landing page, or jump into the Mulehorn Gaming Discord – #comics_collectibles anytime to talk comics! 
All images courtesy of @torpedocomics, @comicbookexchange, @sactosanctorumcomics, & @kirkseycomics