The Assassin's Creed Valhalla 1.1 Update from Ubisoft is set to drop on 12/15/20. This update brings many bug fixes both minor and major. MHG has outlined some of the highlights for you. Title Update 1.1.0 will affect the Xbox Series X|S, Xbox One consoles, PlayStation®5 and PlayStation®4, Ubisoft Connect, Epic Games Store, Stadia, and Amazon Luna. The patch will be deployed across all platforms at 1 pm CET | 7 am ET | 4 am PT | 11 pm AEDT.
In short, the patch fixes many game-breaking bugs. If you have experienced one of these then the good news is that Ubisoft has worked to eliminate them and you should now be able to continue your quest. See the full list of the patch here. 

Patch Sizes
Xbox Series X|S: ~6.3 GB
Xbox One: ~5.7 GB
PlayStation®5: ~2.46 GB
PlayStation®4: ~2.4 GB
PC: ~5.6 GB
The Yule Festival And Notable Fixes
The patch contains in-game support for the upcoming event, The Yule Festival. More on this event is going to be announced by Ubisoft soon. What we know so far is that we will begin seeing revelers arrive just east of our current settlement. This is a time-limited event that will contain seasonal rewards and festivities to enjoy and obtain. The patch has also fixed the Longhouse trophy bug and all Legendary animal trophies will now correctly display. Stay tuned to MHG for a review of the event once it drops.
The Grand Magaester's hideout has also had loot-able chests added. Please note that this hideout is only available from a very specific moment in the game. Other details cannot be shared, because, you know, spoilers! 
Power Level Changes
The NPCs power levels have been adjusted to be set to never dip below 51 power below the player and they will be highlighted green. World bosses will always match the player's power level when the player's power level exceeds the world bosses' base level. This also applies to Alpha animals and Zealots. The power level changes are being applied across all difficulties of the game.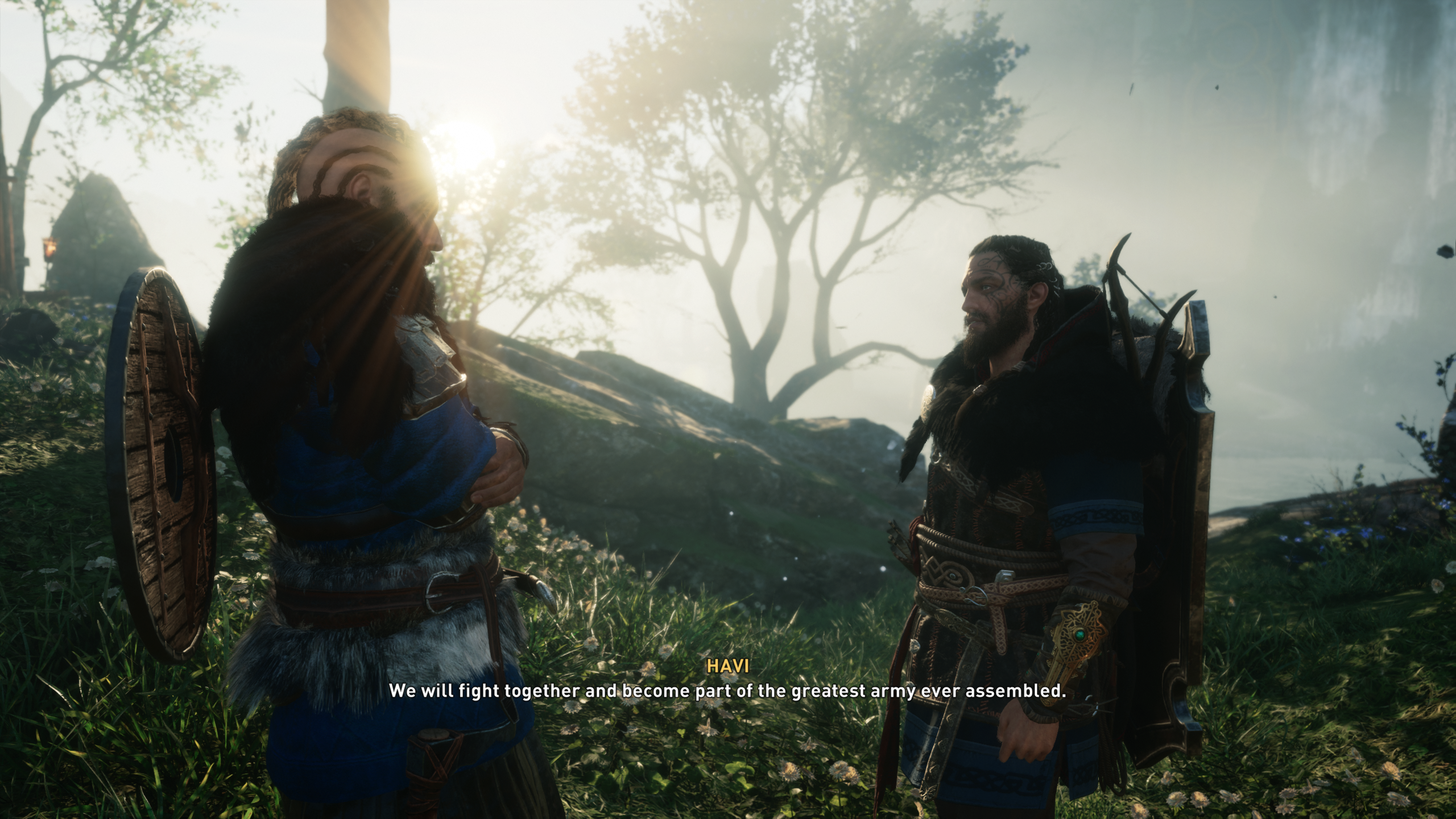 Live by the Sword, Die by the Sword
The weapons below have been fixed to show their appropriate weapon stats whereas the wrong stats were being displayed previously.
Royal Guard
Viper Bow
Death-Speaker
The Mark of Sol
Doppelhander
Hundtoth
Performance And Stability
Improved stability and performance.
(PC) Addressed some freezes when performing specific actions for the first time.
(PC) Addressed an issue that could cause freezes during Splash Screen.
Graphics, Audio, Animation
Addressed various graphics issues.
Addressed various character or NPC animation issues.
Addressed various clipping issues.
World
Addressed various object or texture placement issues.
Addressed various instances where the player could become stuck on objects.

Gameplay, Combat, AI
Addressed various NPC behavior/animation issues.
Addressed an issue that allowed players to shoot targets through walls (without using Piercing Shot).
Addressed an issue with spears not being effective to destroy windows.
Abilities, Perks, Skills
Addressed an issue where players couldn't perform heavy attacks with Frostruin or Sinner Skull.
Addressed an issue where Frostruin's perk wouldn't activate even when conditions are met.
Addressed instances where players were able to open barred doors with the Dive of the Valkyries ability.
Addressed an issue where the Level 2 Incendiary Power Trap couldn't be detonated a second time when the first trap was set off by an NPC.
Addressed an issue where Man's Best Friend wouldn't deal any damage to Zealots in some instances. 
Largely increased Mastery Points cap.

System
(PC) Addressed an issue with the benchmark tool that caused the tool not to collect data for a moment after unpausing the session.
(PC) Addressed an issue where VRAM indicators did not correspond with actual VRAM consumption.
Reduced-intensity and duration of the parry rumble. (I've actually just experienced this one last night).
(PS5) Addressed an issue on PlayStation®5 where the Season Pass wouldn't be displayed as OWNED after purchase.
Please note that this list is not exhaustive. We have listed those items that we thought are the most relevant and impactful. See Ubisoft's Patch Details for a full list of fixes.  
Stay tuned to Mulehorn Gaming for more Valhalla news and remember, BLOW IT UP!