Lilith Games' AFK Arena is garnering some attention from mobile gamers with over 10 million downloads since launch.  What is it about the game that gamers are finding irresistible? Let's explore this, shall we?

The Look
I love the art of AFK Arena, even the loading screen is gorgeous.  The main screen of the game shows your characters fighting on the bottom complete with damage numbers and loot drops. The map shows which level you are currently on and will keep track of your guild-mates or friends; what's wrong with some healthy competition, right? The characters themselves are adorable, ranging from Light bearers to the Maulers each one is drawn and animated beautifully, it drives the desire to collect more. Everything about this game is "cute" it appeals to me visually.  Even the Graveborn are cute, some of them are close to what I would consider "Disney" style, and some even resemble Disney heroes and villains. But that's ok, it looks like a winning move on Lilith Games' part.  

The Gameplay
This game has quite a few aspects that mesh well together. There are 6 factions of heroes to collect and level.  The campaign goal of this game is to traverse through the maps, eliminating enemies until the end. Every level gets more complicated with different factions of enemies.  In later levels it requires you to change up the types of heroes you are using, there are fan favourites, but as with most of this type of game, it has a tiered damage system.  Light Bearers> Maulers> Wilders> Graveborn>Light Bearers. Then there are 2 special factions: Celestials and Hellborn, each of which deals increased damage to the other. As you collect heroes any duplicates you have can be merged to make the hero stronger.  Heroes range from common (green) to Ascended+ (white). Common heroes can be "retired" for materials that will help increase the level of your other heroes. As I mentioned before your heroes fight along the bottom of the main screen which can earn you up to 12 hours of materials, gold and gear for doing absolutely nothing.  You can set all fighting to auto so you can be very hands-off with the game if you so choose.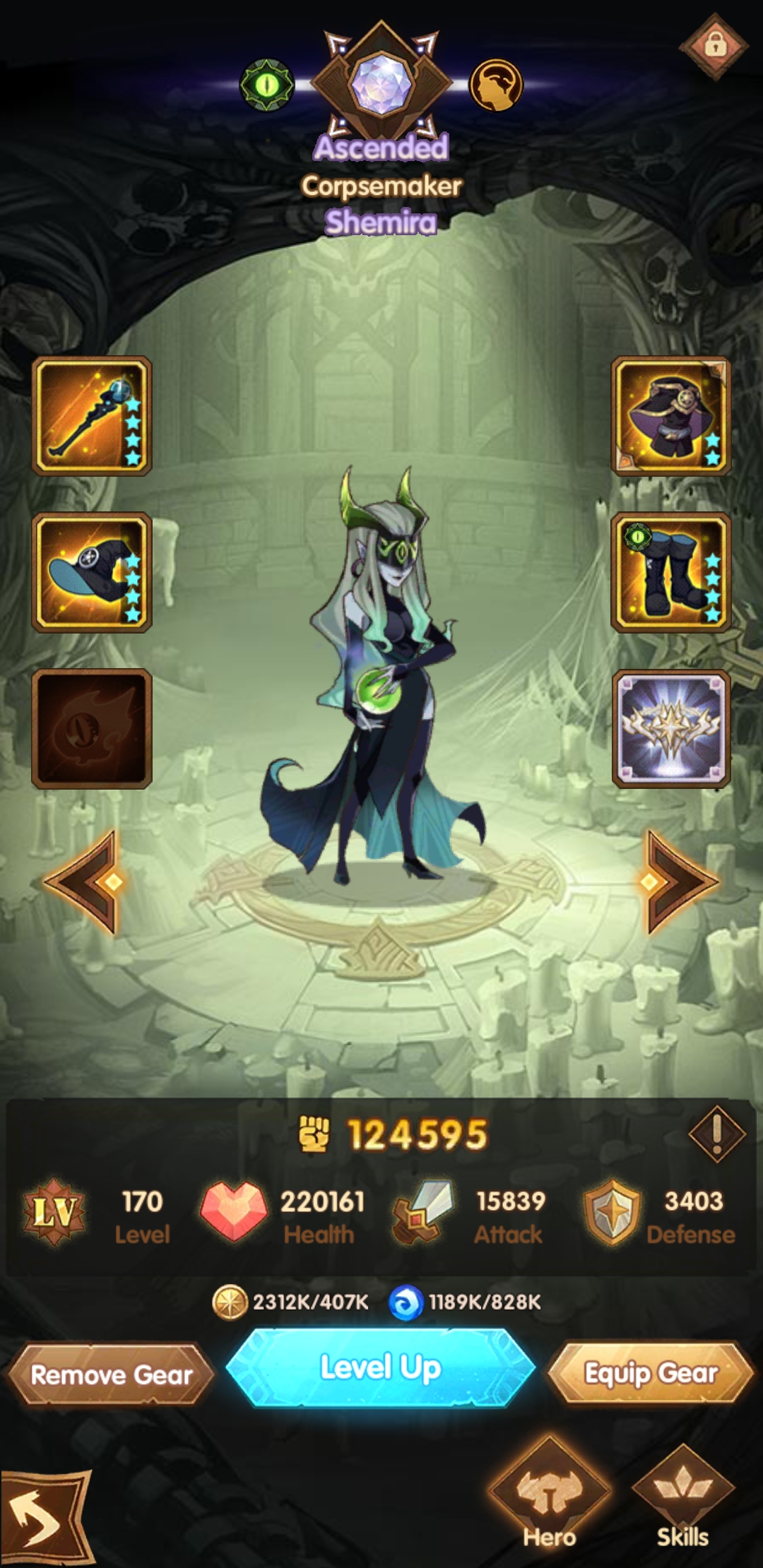 The Multiplayer
There are Arenas where you can pit your team against others for money, materials and diamonds (the game's real-money currency).  There are 3 levels to the Arena. The basic Arena of Heroes is for casual play for average rewards. The Legends' Challenger reward players with Gladiator coins that can be used to purchase heroes from the Challenger Store. Then the Championship.  Top players compete in this tier, however, everyone can make a wager on who they think will win the match. There are also guilds. Active guilds are obviously the best as each guild member can get more opportunities for gear from "Guild bosses", which helps to level up the gear on your favourite heroes.  Each guildmate must complete dailies to earn enough tokens to open this boss. I have noticed that 8:00 pm Eastern is when the daily reset happens, so I often finish up dailies before bed.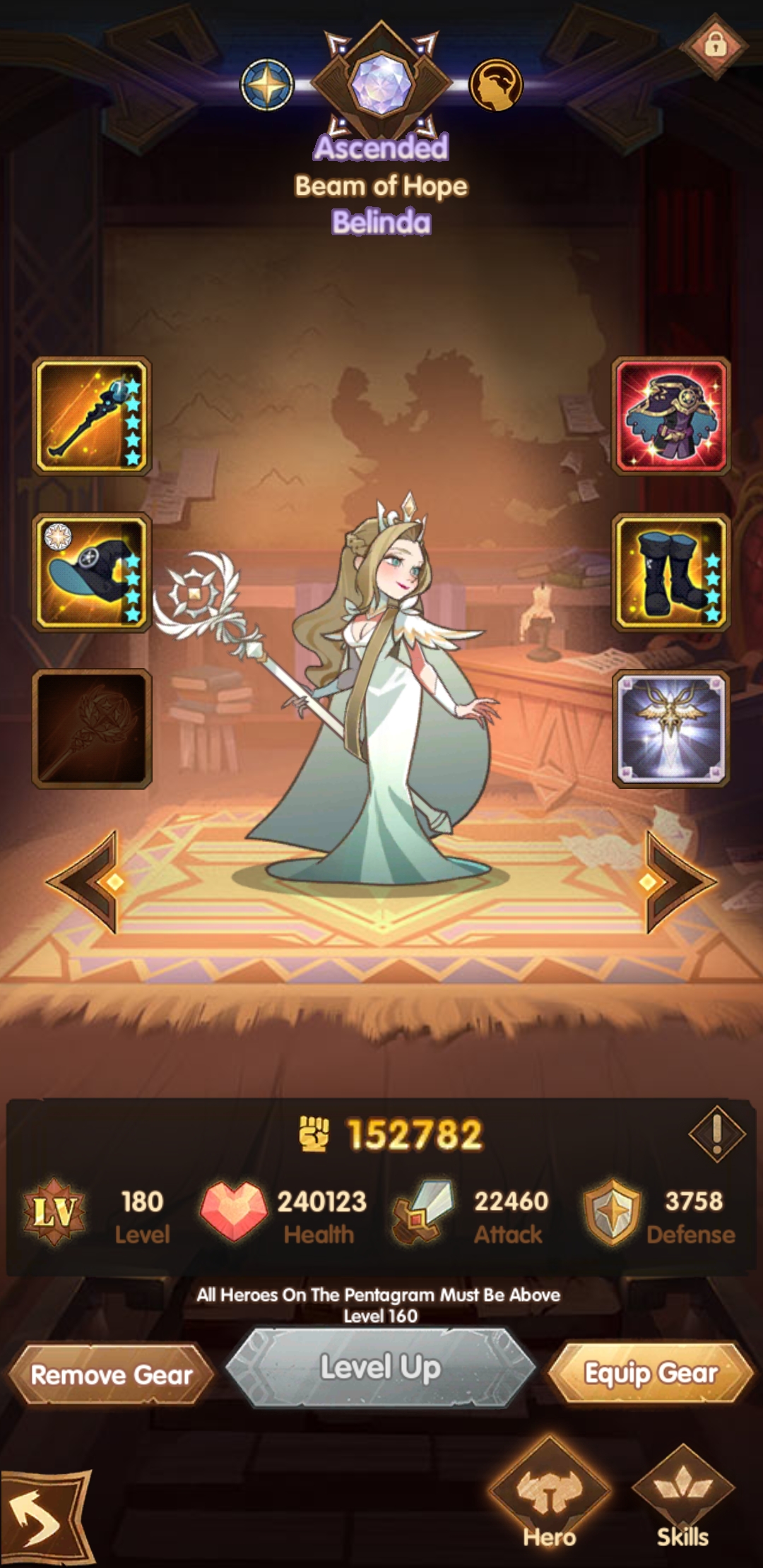 The Draw
Everyone that plays this game knows about the Hero cards you collect.  You can spend real money on scrolls or diamonds to draw 10 heroes, which is always exciting.  That is until you draw only common and rares. Elite heroes are few and far between, which can leave a player feeling bitter.  That doesn't mean the rare heroes are worthless, you can collect them and combine them to elite to use in turn to raise the status of other heroes.  It can get a little complicated, but worth the frustration in the end. They add heroes pretty regularly and each has their own backstory, some of which have much feels.  If you are a completionist like me you will want to own every single hero, if for nothing else, just to read their story. 

My Take
I really enjoy this game.  I have spent a great deal of time with my heroes and have a couple of them ascended. Lilith games are on to something special, and they are really great with their players, rewarding them with diamonds for any server downtime, free heroes when milestones are reached.  They really care about their fanbase and it shows in how wildly popular this game has become! Give it a try if you haven't already! I have a hard time staying interested in mobile games, most of the ones I've played to this point have been one and done games.  To say that I have been playing this game daily for months now is a big thing.  It's a great way to kill a little time.  Or just drop in every 12 hours for your AFK rewards!  Hit me up in comments below with your favorite team of heroes!