To the excitement of  Xbox gamers everywhere Microsoft, announced the list of the first 13 Original Xbox games coming to backwards compatibility tomorrow, October 24, 2017. Many iconic classics are making their way back with a newly enhanced 1080p resolution, higher framerates, and faster load times.
If you would like to know more about each one of these games we have linked some game information and a link to purchase each of the games from the Microsoft store.
(MHG may be compensated for the links below)
Star Wars Knights of the Old Republic was developed by BioWare and Published by LucasArts in July of 2003. The game was directed by Casey Hudson, who has recently rejoined the BioWare team, and tells a unique story set during the Old Republic era. Taking place almost 4,000 years before the formation of the Empire, you face off against two Sith Lords who unleash a Sith armada against the Republic. Your character, a Jedi, must venture to different planets across the galaxy in order to defeat Darth Malak. Throughout the story your interactions, choices, and darkside or lightside alignment will determine how your story plays out.
Ninja Gaiden Black was developed by Team Ninja, and published by well known studio Tecmo back in March 2004. This action adventure, hack and slash style video game follows the fictional story of Ryu Haybusa. As a master ninja his quest is to recover a stolen sword, and avenge the death of his clan.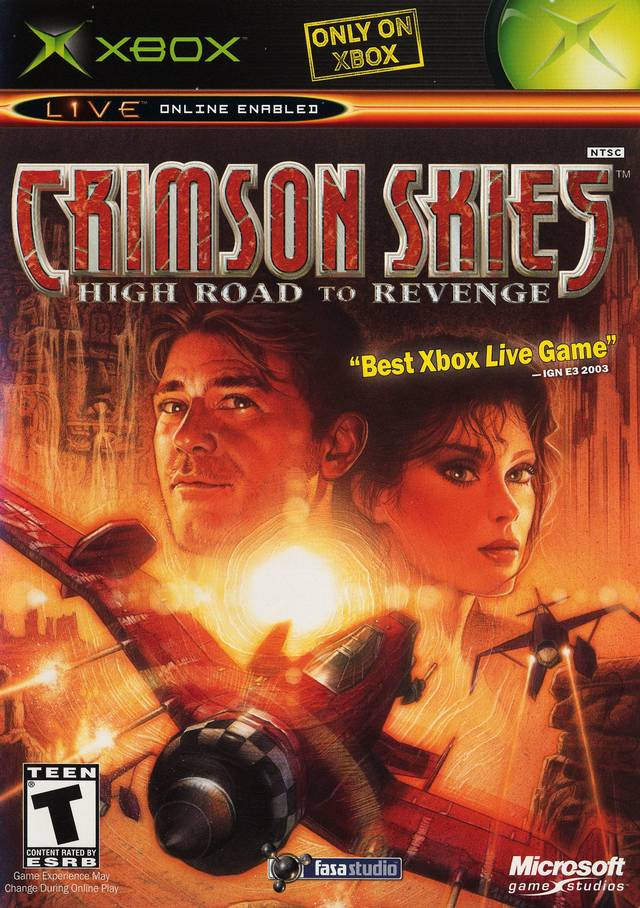 Microsoft Studios developed and published Crimson Skies in October 2003. The game is styled as an action oriented arcade flight game.
Developed by Blitz Games and published by Microsoft in November 2001 in the US, and in March 2002 in the EU. Fuzion Frenzy is a four player party game that featured 45 different mini-games, and was original a launch title for the first Xbox console.
Prince of Persia: The Sand of Time is a third-person action-adventure, puzzle-platformer game developed and published by Ubisoft. The game was released in October 2003, and some say paved the way for Assassin's Creed-style gameplay. It was ahead of it time when it come to wall running, jumping, and the other acrobatics the game helped make common place.
Psychonauts was published by Majesco Entertainment in 2005 and then later in 2006 for Microsoft. In Psychonauts you follow Raz, a gifted boy with psychic abilities who ran away from the circus, and tries to sneak into a camp for those with similar powers. As you play you gain several psychic abilities that are used in game for attacking enemies and solving puzzles.
Dead to Rights is a third person shooter developed and published by Namco. The game was released in August 2002 where you get to play as Jack Slate, a police officer partnered with his K-9 unit, Shadow. The two of you patrol Grant City, which is filled with crime and criminals, where you respond to a call at a construction zone. There you find your own father has been murdered.
Black was developed by Criterion Games and published by EA. Black is a FPS video game released in February 2006. Taking place in Ingushetia and Chechnya, you are a black ops soldier  named Jack Keller. Keller tells most of the story in first-person at an interrogation four days after the events in the story begin.
Grabbed by the Ghoulies was developed by Rare and published by Microsoft Studios. Grabbed by the Ghoulies, as an Xbox exclusive was released in the US in October 2003, and in Europe in November 2003. This game is a 3D action adventure game with platforming elements mixed in.
Sid Meoer's Pirates! was developed and published by MicroProse in 1987. The game is a simulation of the life of a privateer set in the 16th, 17th, and 18th centuries. The original game was ported from the original Commodore 64 version.
Red Faction II was released in April 2003 and is a FPS video game developed by Volition and published by THQ. The game takes place on Mars in the year 2080, which is five years after the events of Red Faction. The player is introduced to their role as an explosives expert (code named "Alias") as he embarks on a special operations mission to claim the research data for the Republic of the Commonwealth.
This action hack and slash game was released in October 2004 and developed by Terminal Reality. The game opens with a flashback set shortly after the first game.
Released in July 2004, and developed by SNK, The King of Fighters Neowave is a 2D competitive fighting game. This game was original released as a coin operated arcade game. The game is set in a classic three player elimination style.
If you are one of the lucky few, and have collected the games over the years the original disc will work with the Xbox One, just by inserting into your console. The digital copies will also work, or you may purchase them from the digital Xbox Store for $9.99 ($14.99 for Red Faction II).  This is a great lineup of original Xbox games coming to the Xbox One. Which one are you the most excited for? Sound off in the comments below.
The following two tabs change content below.
Mulehorn117
Founder and Podcast Host
at
Mulehorn Gaming & Analog Assault Podcast
Wade, also known in the gaming world as Mulehorn117. Founder of MHG, Podcast Host for Analog Assault Podcast, and Part of theSHED team on Mixer.
Latest posts by Mulehorn117 (see all)